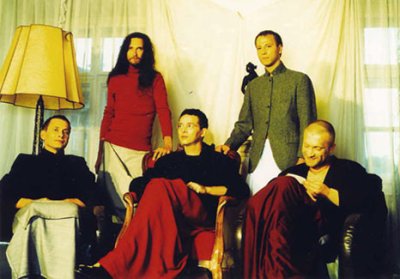 Deishovida is a group of musicians who re-feel the paths of living cultures where they always bump into new and exciting forms of musical expressions. In their own personal way they develop a common language in which they let their instruments sing about suffering, melancholy, joy and ecstasy. Deishovidas style flows like their music - endlessly becoming more independent.

Personal:
Kurt Bauer - violin
Classical & jazz violin studies. Always on the lookout for new and traditional european techniques of violin playing. Perfomances of klezmer-music together with Joshua Horowitz, Merlin Shepherd and the group Budowitz. Various projects with Martin Moro, Aniada a Noar, theatre-music etc.
Lothar Lässer - chromatic button-accordion
Contempory accordion studies with Mogens Elegaard. Concerts and recordings of klezmer-music and founding member together with Joshua Horowitz of the group Budowitz. Performances with the sephardic singer Ruth Yakoov, the mongolian singer Urna etc.
Matthias Loibner - hurdy-gurdy
Composition and conducting studies. First prize for hurdy-gurdy-playing in St. Chartier [F] 1994. Musical cooparation with Le Concert Spirituel, Belinda Sykes, Riccardo Delfino, Ross Daly, Hubert v. Goisern, Linsey Pollak, Alex Deutsch etc.
Sašenko Prolic - electric bass
study of classical guitar; performances and recordings together with Toxic Lounge, Private Curtain, Caviar to the General; musicals [Black Rider, Sugar] etc.
Stefan Bauer - sound
experimantal studio Gogol PlexPlex [1990-1993], mobile soundstudio ohrbyte [since 1999], live engineering and studio work with "musikprotokoll-steirischer herbst", Vanilla Beuys, Last Boy Shout etc.
* * *