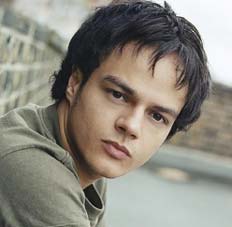 Jamie Cullum (born August 20, 1979) is an English jazz/pop pianist and singer-songwriter.

Biography

Cullum was born at Romford hospital in Essex. His mother, Yvonne, is a secretary of Anglo-Burmese origin, whose family settled in Wales after Burma's de-colonization; his father, John Cullum, worked in finance. His paternal grandfather was a British Army officer, while his paternal grandmother, Omi, was a Jewish refugee from Prussia who sang in Berlin nightclubs; Cullum sees her as his "cultural icon". He was raised in Hullavington, Wiltshire but currently lives in North West London, with his girlfriend.

Cullum released his first album, Jamie Cullum Trio—Heard it All Before, in 1999. A mere 500 copies were made. Original copies have sold for as much as £600 (and above) on eBay. The success of Heard It All Before resulted in Jamie being invited to appear on Geoff Gascoyne's album Songs of the Summer. After graduating from the University of Reading in 2001 (with a 1st), Cullum - who is completely self-taught, bar a few piano lessons as a youngster - released a best-selling album, Pointless Nostalgic, which stirred interest from Michael Parkinson and Melvyn Bragg. Following that, in April 2003 he signed a contract with Universal, for three albums, who beat Sony in a bidding war.
Cullum then started recording his third album, Twentysomething, in May of 2003, which was released in October 2003. It went platinum and became the #1 selling studio album by a jazz artist in the United Kingdom. Although primarily a jazz musician, Cullum performs in a wide range of styles and is generally regarded as a "crossover" artist with his musical roots firmly based in jazz. Cullum draws his inspiration from many different musicians and listens to a very eclectic mix of music from Miles Davis to Tom Waits and many more. Cullum has been part of quite a long list of bands, ranging from banging drums in a hip-hop group to playing guitar in rock bands such as Raw Sausage and The Mystery Machine, in his teenage youth.

Together with his elder brother, Ben Cullum, he wrote the music for a West End stage version of When Harry Met Sally.... Cullum names his brother as his biggest musical influence and claims he would not be making music if it wasn't for Ben Cullum. He also played the part of DJ English Hughie in the computer game, The Movies.
Jamie Cullum is well known, not only for his abilities on the piano, but also for his unique entertainment style and charisma. One of the many things that features in Jamie's concerts is the stompbox, made from a small wooden block. The stompbox is used to amplify a musician's tapping foot. Jamie found this in Australia and uses it to enhance upbeat and fast-paced songs such as Seven Nation Army originally by the White Stripes and Golddigger originally by Kayne West. He is also often found using a looping machine. This plays a heavy part in Cullum's versions of Seven Nation Army and Teardrop by Massive Attack. Cullum is also often found beatboxing at nearly every gig.

Many cite Cullum's gigs as indescribable, but most agree it's an eclectic experience. Not only does Cullum play songs from his albums, but nearly every concert will see Cullum cover something out of the ordinary. As previously mentioned he has been known to cover White Stripes, Kayne West as well as the likes of Massive Attack, Pussycat Dolls, Gnarls Barkley, Elton John, John Legend, Joy Division and many others. Jamie's show are a forever evolving experience. No two gigs are the same and some avid fans prove this point by going to multiple shows in the same week. Cullum rarely works to a set list and on average his gigs last two and a half hours. Instead of a setlist he plays what he feels like and the gigs are improvised, meaning the shows are rooted in jazz even if the music doesn't always sound like it.

Cullum has played at many large music festivals, including Glastonbury Festival 2004, Coachella 2005, 2006 South by Southwest, and the 2006 Playboy Jazz Festival. On the 29th of April 2006 Cullum played his biggest ever crowd on Queensday in The Netherlands. Jamie gave a 45 minute performance for 180,000 people who crowded around the massive stage in Amsterdam, Museum Square. As a tribute to The Netherlands, Cullum wore a shirt from the Dutch Artist Anouk and orange Converse. Jamie is an avid Swindon Town fan and when he is visiting his parents home, in Bath, he is often found watching his team from the stands at the County Ground, although he also supports Liverpool FC.

Cullum will be taking most of 2007 off to write new music, collaborate with various musicians, make a new album, as well as enjoying some well deserved time off, at home. Cullum will also be pursuing another musical project with his brother Ben, to be released early next year.

Awards

The British Jazz Awards first recognised Cullum's growing success by awarding him the "Rising Star" award, at the 2003 ceremony in July. At the 2004 Brit Awards, Cullum was nominated in the "British Breakthrough Act" category. He performed live in the ceremony at Earl's Court, a duet with Katie Melua of The Cure's "Love Cats". In the 2005 Brit Awards, Cullum was nominated for two awards: "Best Male Artist" and "Best Live Act". Following that, Cullum was nominated for a prestigious Grammy award in 2005, and went on to win yet another award at the BBC Jazz Awards, this time scooping BBC Radio 2 "Artist Of The Year", as voted for by listeners of Radio 2.