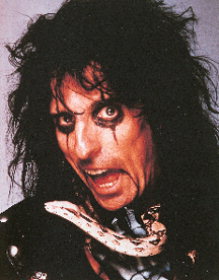 The son of a preacher, seminal shock rocker Alice has made a career out of combining hard rock music with disturbing lyrical themes and controversial stage shows, blazing a trail followed by later artists such as KISS, Ozzy Osbourne and Marilyn Manson.

Born Vincent Furnier in Detroit in 1948, Cooper was raised in Phoenix, Ariz., where he got his music start as a teenager in the garage rock band the Earwigs with guitarists Glen Buxton and Michael Bruce, bassist Dennis Dunaway and drummer John Spear. After graduation the group moved to Los Angeles, where they recruited new drummer Neal Smith and changed their name to the Spiders. Derrided by critics as "the worst band in L.A." for causing hundreds of fans to walk out of clubs when they played, the Spiders set out to "drive a stake through the heart of the Love Generation" with their twisted, angry brand of acid rock. They quickly found an ally in rebel musician Frank Zappa, who signed the group to his Straight Records label.

After renaming themselves Alice (allegedly the name of a 17th century witch who spoke to Furnier via ouija board) in 1969, the quintet released their acid rock debut album, Pretties For You to little mainstream attention. After releasing 1970's Easy Action, the group signed to Warner Bros., where they recorded 1971's Love It to Death with hip producer Bob Ezrin, who went on to work with Cooper for most of the decade. That LP launched the hit single "Eighteen," paving the way for a series of gold-selling albums like Killer (1972), School's Out (1972), Billion Dollar Babies (1973) and Muscle of Love (1974).
Though radio hits like "School's Out" and "No More Mr. Nice Guy" boosted the band's popularity, most of Alice's loyal following was built through touring, their live shows (in)famous for flaming objects, huge snakes and gruesome theatrics like mock hangings and "guillotinings" and the "murder" of infant dolls that gushed blood. Alice's larger-than-life concerts inspired similar shows by KISS (who copied his use of makeup), and by extension, dozens of `80s pop-metal bands and even modern day icon Marilyn Manson; he also became the subject of a Marvel comic, befitting his cartoonish stage image.

In 1974 Alice the frontman parted ways with Alice the band, who went on to record under the name Billion Dollar Babies. Now solo, Cooper recruited members of Lou Reed's backing band, including guitarists Dick Wagner and Steve Hunter to record 1975's Welcome to My Nightmare. The album, which featured cameos by Vincent Price and the hit single "Only Women Bleed," was yet another massive hit. But Cooper soon transcended the title "musician" to become an all-around entertainer, concentrating more on TV cameos ("The Muppets," "Celebrity Squares") than on his music. After a period of decline in the late 1970s that included a high-profile battle with alcoholism, Cooper recovered and returned to music with a vengeance in 1978, releasing the confessional From the Inside, co-written with Elton John lyricist Bernie Taupin.

Alice's early `80s albums like Special Forces and Zipper Catches Skin attempted to bring his music into a new decade, but fans revolted. After appearing in the "B" horror movie Leviathan (1984), Cooper rebounded with 1986's Constrictor, his first album under a new deal with MCA. In 1989 Trash, produced/written by hard rock powerhouse Desmond Child (Aerosmith, Bon Jovi, KISS, Ratt), became Cooper's biggest hit in more than a decade, spawning the MTV single "Poison" and selling over 1,000,000 copies. It also featured cameos by Aerosmith, Jon Bon Jovi and Richie Sambora (Bon Jovi), Kip Winger (Winger) and Stiv Bators (Dead Boys), all of whom were influenced by Cooper's sound and image.

Following 1991's Hey Stoopid, Cooper made a high-profile cameo in a Nightmare on Elm Street sequel and in the hit 1992 film Wayne's World. His latest studio album, The Last Temptation, came out in 1994. In 1997 original Alice guitarist Glen Buxton, who co-wrote hits like "Eighteen," passed away. That same year, Cooper released a new live album, A Fistful of Alice, recorded live in Mexico with special guests like Slash (Guns `N' Roses), Rob Zombie (White Zombie), and Sammy Hagar (ex-Van Halen).

Cooper's latest, the nightmarish concept album Brutal Planet, was released in 2000.
Official Site: www.alicecooper.com