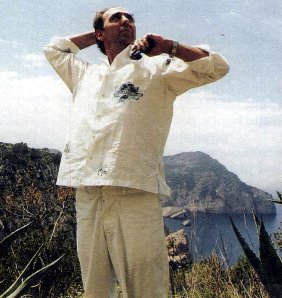 Each summer, a new flock of dance compilations stake claim to be 'the real Ibiza'. But, if anyone deserves that accolade, it is José Padilla, who first arrived on the White Island in 1975 and who has been DJing there ever since. With the 'Café Del Mar' series he is the spiritual father of chill-out, and now, with the release of his masterful second solo album 'Navigator', Padilla is setting out his stall as a new kind of post-dance artist.
José Padilla's celebrated 'Café Del Mar' compilation series introduced eccentric English pastoral groups like Penguin Café Orchestra, maverick singer-songwriters like John Martyn, flamenco and bossa nova into a seamless sonic canvas of more modern ambient, dub and breaks. With his first debut album 'Souvenir' and solo tracks like 'One Day In Paradise' and 'Agua' he took those twilight chill-out tones a stage further. He has gone from a poor barrio in Northern Spain, to a jet-set DJ lifestyle; guesting in London, Leeds, Miami, Paris, Australia and Amsterdam and serving as an ambassador for the island. This year, he even played Rock In Rio.
Now 'Navigator' represents a new creative peak. And with songs like the lazily funky 'Something'; 'Adios Ayer', his dramatic farewell to the Café Del Mar that stars vocals from Seal; and the stunning, down-beat version of Bacharach & David's 'The Look Of Love' with singer N'Dea Davenport and an 18 piece orchestra, it's more than just a chill-out album. "I like quality music. If it's a good bossa nova, good jazz, good funk, it's good music," says José. "My roots are jazz, soul, rock and flamenco. All these beats will come up in my music." 'Navigator' gently winds its way through futuristic jazz and funk, into gentle melodies, dreamy dub and breakbeat, washed with violins, Spanish guitars, pianos, harmonicas. And even a flamenco dancer's clacking heels and castanets are heard on the title track.
"It has to have something that I really feel, something emotional, a message in it," says José. "When you see a painting, if it's a good painting, it sends you a message. It doesn't have to be a Picasso. My music is the same."
Now 45, José Padilla grew up the son of a construction worker, in a poor Southern Spanish family who had moved to Gerona, outside Barcelona. His grandfather played the guitar. "Southern Spanish people are very musical, singing all the time," he says. "My older brother Antonio was a teddy boy, he bought our first record deck, one that you opened like a suitcase."
The teenage José and his friends used to bus it into Barcelona to go clubbing and chase English girls. José got a job as a waiter in the city's bohemian centre, where he first fell in love with the simplicity and sophistication of bossa nova. He also fell in love with the idea of becoming a DJ and would hang around the DJ booth until whoever was on the decks needed to take a leak, giving José take a few glorious, stolen minutes in charge. But it wasn't enough to stave off a deeper dissatisfaction. "When you grow up in a barrio, a ghetto, like I did, there's nothing to do. You sit all day in the park smoking joints, talking about your dreams," says José. His family wanted him to be an accountant, work in an office, wear a suit. "I didn't want to be what they want me to me. I was a bit of rebel. I was always a dreamer. I knew I had to get out of that, go somewhere, so I did."
José headed for a Barcelona harbour and took the first boat out. It happened to be sailing to Ibiza. "I was escaping from many things," he says now. "I think I was escaping from myself." Over the next 15 years José established himsef on the island, starting as a waiter, ending up in the high-profile position he holds today. He DJed in a hotel for tourists; in clubs like Es Paradis, Playboy 2, Privilege (then called Ku), Pacha and Space. "The crowd was fantastic. People would dance to anything," he says. "More communication, without so much chemicals. More wild, more spiritual." He built a bar called Museum in Cala Vadella, and developed his unique DJing style in its lush garden.
But when his Museum partner and friend shot himself in the bar, the tragedy threw José off course: "Two or three years actually lost," he admits. He got a stall in Ibiza's famous hippie market to sell his idiosyncratic mix tapes. In 1991, when Café Del Mar realised how well those same mix tapes were going down with their clientele, they brought José in to DJ – and the rest, as they say, is history. "Everything kicked off. It was the right moment, the right place, the right music," remembers José.
At Café Del Mar, José DJed not to people sprawled out watching the view, but to the sunset. "That came naturally. You've got this big motherfucking thing in front of you: King Ra. I paced my set around the sunset time. It was great to experience different music and play around the colours. If it was grey I'd play one way, if it was very bright I'd play happy. I'd play with the mood."
Those sunset sets became legendary – an essential part of the Ibiza experience, climaxing in warm applause as the sun finally disappearing beneath the waves. You can hear the same 'sunset' vibe everywhere today: in the plethora of 'chill-out' compilaton abums clogging up the shelves, at a night like South London's Sunday Best; in the folksy tones and laid-back clubs of London's 'new acoustic' movement. "Ibiza has always had fantastic music being played," says José. "The environment really gives you a different sense. Your ambition is different."
The Island runs through 'Navigator'. "Every track is a small story, inspired by some experience or place or person around me." José came up with a name and a concept for the album and its beautifully landscaped title track relaxing on a perfect white beach in Formentera, the island paradise next to Ibiza. "I was sitting there getting some inspiration and saw this little boat in front of me. Really, my album is a way of navigating through emotions, through stories. I wanted to get that feeling from Pink Floyd, Mediterranean textures, and it came out really well." The gentle funk and trumpet flourishes of 'Las Cazuelas' are a tribute to a small, hidden bar run by José's friend Pedro, a retired croupier. 'Karyn's heart-rending ambient bursts are named after an exgirlfriend. 'Bosaxi' has a sensuous, writhing groove and the stifled moans of a Parisian beauty. "It's a shagging track," laughs José.
Throughout, 'Navigator' is an album that is rich in melody, that can feel the sun on its face, that oozes a refreshing Mediterranean ease with itself. "You've got to have some beauty. That's Ibiza," says José. "The good life. The happy life." Let yourself enjoy it.