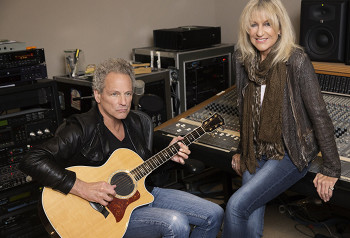 A few months after Christine McVie rejoined Fleetwood Mac in 2014, she and guitarist Lindsey Buckingham went to Studio D at the Village Recorder in Los Angeles to rebuild some chemistry. The band had previously used the studio to record their 1979 album Tusk. Despite initial doubts from Buckingham, the recording sessions proved to be very successful. "When someone takes such a long hiatus, you don't know if that was a moment in time; if that [working relationship] is still there... But actually, it's better than ever." To flesh things out, the rhythm section of Mick Fleetwood and John McVie came to the studio to make some additional contributions. By the end of the two-month session, they had already laid down eight songs, including "Carnival Begin", "Too Far Gone" and "Red Sun". Recording was then put on hold when Fleetwood Mac began preparations for their On with the Show tour.

In 2015, Stevie Nicks announced her plans to work with Fleetwood Mac in the studio, and claimed that the band had plenty of material to work with. However, she later rescinded those promises, and sessions were backed up even further. Nicks instead opted to go on tour for her solo album 24 Karat Gold: Songs from the Vault. McVie and Buckingham ultimately decided to release the album as a duo rather than wait for Nicks to participate. Work commenced at the end of 2016, more than two years after the initial recording sessions.

In January 2017, a new album, tentatively titled "Buckingham McVie", was announced. In similar light to Buckingham Nicks, "Buckingham McVie" was created as a duet album. In the album's early stages, McVie would send Buckingham some demos to work on. McVie contributed lyrics and helped Buckingham develop his own compositions. "She would write lyrics and maybe paraphrase the melody — and come up with something far better than what I would have done if I'd taken it down the road myself." Two of those songs, "Red Sun" and "Too Far Gone", started off in this fashion.

The complete track list was released on April 11. Additionally, the album will now be called "Lindsey Buckingham/Christine McVie" instead of "Buckingham McVie". Buckingham also released this joint statement: "We were exploring a creative process, and the identity of the project took on a life organically. The body of work felt like it was meant to be a duet album. We acknowledged that to each other on many occasions, and said to ourselves, 'What took us so long?!'" "Feel About You", was released on April 27 as a promotional single. Co-written by both Buckingham and McVie, Rolling Stone described the track as "bubbly pop-rock" in nature with a "jangly, infectious chorus".

"Sleeping Around the Corner", the album's opening track, was previously included as a bonus track on the digital edition of Buckingham's 2011 solo album, Seeds We Sow in the US. McVie took an immediate liking to the track, so Buckingham made some minor adjustments to finish it off.

Buckingham and McVie released some commentary and footage of some tracks, including "On With the Show" and "Carnival Begin" in a mini behind-the-scenes documentary released on May 25. The documentary revealed that the sessions had a much more positive and relaxed vibe, which proved to be very therapeutic for McVie.

"For me, this is all a fresh beginning. I didn't know myself I'd end up coming back into the band after so long: 16 years...I guess I've rediscovered my love for writing and my love for music. I seemed to have evolved quite organically because I've been sending Lindsey some rough demos; He's refined them and shaped them into some of our best material ever."