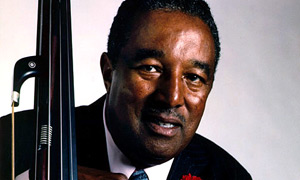 Ray Brown
bass (b. 10/13/26 Pittsburgh, PA).
Though he was not the first to play the bebop or modern jazz sound on the bass, he is arguably the most deeply influential bassist from that era. His dexterity, and rich sound has been characteristic of virtuous bedrock in jazz for over 50 years. And since he became a bandleader his small ensembles have been among the most swinging and soulful in the music.
He studied the piano from age eight and began playing the bass at seventeen, playing his first professional job at a Pittsburgh club in 1943. His first significant tour was with bandleader Snookum Russell in 1944, whereupon he moved to New York City the following year. By 1946 he was working in Dizzy Gillespie's band, and in 1948 he formed a trio with Hank Jones and Charlie Smith. In 1948 he married Ella Fitzgerald, and became her musical director on her own tours and on Jazz at the Philharmonic tours. They broke up in 1952, however the year prior to that he began a fruitful stint with the Oscar Peterson Trio which ran to 1966. That year he moved to Los Angeles and was able to immerse himself in studio work. In 1974 he was part of the cooperative unit known as the LA Four, with saxophonist-flutist Bud Shank, guitarist Laurindo Almeida, and drummer Chuck Flores, who was later succeeded by Shelly Manne, then Jeff Hamilton. This was actually a continuation of a relationship with Shank and Almeida that dated back to the 1950s.
Always a very business-savvy musician, in the late 1970s-early 1980s he exercised those proclivities in the areas of management, music composition and publishing. His tune "Gravy Waltz," for which Steve Allen wrote lyrics, won a Grammy Award. A consummate bassist, he co-led a quintet with vibist Milt Jackson, with whom he had actually worked in the 1940s as part of Dizzy Gillespie's rhythm section, then as the Milt Jackson Quartet, the precursor to the Modern Jazz Quartet. His first full-time trio -- which was to become his favored touring and performance unit for the next decades -- featured pianist Gene Harris, late of the Three Sounds. Other pianists who worked in his trios included Monty Alexander, Benny Green, and Geoff Keezer. Among his drummers have been Geryck King, Grady Tate, Mickey Roker, Jeff Hamilton, Lewis Nash, Gregory Hutchinson, and Kariem Riggins
He has been a multiple poll winning bassist and done stints in jazz education, including authoring the Ray Brown Bass Book l, an instructional volume. And he has served as mentor to numerous young musicians, including not only those who have passed through his groups, but also special guests he has invited onto a series of 1990s recordings for the Telarc label titled Some of my Best Friends are.... These have included pianists, saxophonists, trumpeters, and vocalists. Some of the greatest younger bassists, such as John Clayton and Christian McBride, count him as a mentor.