..:: audio-music dot info ::..

Baccara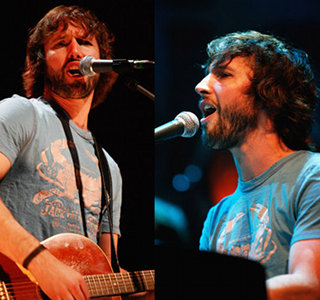 James Hillier Blount (born 22 February 1974), better known by his stage name James Blunt, is an English singer-songwriter and musician, and former army officer, whose debut album, Back to Bedlam and single releases, including "You're Beautiful" and "Goodbye My Lover", brought him to fame in 2005. His repertoire can be best described as a mix of acoustic-tinged pop, rock and folk. After recording on the independent American label Custard Records, Blunt won two BRIT Awards, two Ivor Novello Awards, and by 2006 was nominated for five Grammy Awards. The following year, he released his second album All the Lost Souls (2007). Blunt's third studio album, Some Kind of Trouble, was released in November 2010. Worldwide, Blunt has sold over 15 million albums, and his debut album, Back to Bedlam, is the best-selling album of the 2000s in the UK. Blunt was an officer in the Life Guards, a Cavalry regiment of the British Army, and served under NATO in Kosovo during the conflict there in 1999. While posted to Kosovo, Blunt was introduced to the work of Médecins Sans Frontières (MSF or "Doctors Without Borders"). Since then, Blunt has supported MSF by holding meet-and-greet auctions at many of his concerts. As of 4 October 2009 Blunt's primary residence is on the Spanish island of Ibiza.
James Blunt was born at an army hospital in Tidworth, Wiltshire, England; the first child born to Jane A.F. (née Amos) and Charles Blount. James spent his early childhood living in England, Cyprus, and Germany, where his father, a Colonel in the British Army Air Corps, and military helicopter pilot, was posted at various times. James Blunt has two younger siblings. The Blount family has a long history of military service, dating from the 10th century. His father instilled in him a love of flying, and he earned his pilot's licence at age 16. He has a keen interest in motorcycles after learning to ride when he was 16. Blunt was educated at two independent schools: at the age of seven, he was enrolled at Elstree School in Woolhampton in Berkshire, before continuing to Harrow School in Harrow on the Hill in north-west London (Elmfield House) on an army bursary. From Harrow School he gained an army-sponsored place at the University of Bristol, where he first studied Aerospace Manufacturing Engineering and then subsequently moved on to the study of Sociology. He graduated with a BSc in Sociology in 1996. Because the British Army sponsored his university education, Blunt was obliged to serve a minimum of four years in the armed forces. James stated on an interview in his Back to Bedlam sessions that he chose to join the military as "his Father was pushing for it, so that Blunt could obtain a secure work placement and income". Blunt trained at the Royal Military Academy Sandhurst. He was commissioned as a second lieutenant in the Life Guards, a unit of the Household Cavalry, where he rose to the rank of captain. One of his first assignments was to British Army Training Unit Suffield in Alberta, Canada, where his battalion was posted for six months in 1998 to act as the opposing army in combat training exercises.
Blunt's second studio album, All the Lost Souls, was released on 17 September 2007 in the United Kingdom and one day later in North America. It sold 65,000 units in its first week, and was certified gold in the UK after only four days. By the end of January 2008, the album had sold 600,000 copies in the UK, and 4.5 million copies internationally. Blunt completed the album's songs at his home in Ibiza in the winter of 2006–2007. He performed five of the ten album tracks during his 2005–2006 tours; lyrics, melodies, and harmonies were refined for the studio recording, on which his touring band played and Tom Rothrock worked as producer. While Blunt's first album received very little critical attention, critics from every major music publication, and newspapers around the world, weighed in on All the Lost Souls. The album maintains a 53/100 rating at Metacritic, which the website describes as "mixed or average reviews." Eric Danton, of the Milwaukee Journal Sentinel and The Hartford Courant wrote that the album is "a collection so bland, it makes hardtack seem sumptuous", while Rolling Stone said that the album contains "forgettable ballads that make Coldplay seem like the Arctic Monkeys." Yet, in her review of the album, Kerri Mason of Billboard said Blunt "shows the abandon and confidence of a long-term artist, not just a one-hit wonder". And of the album, Mason wrote, "there is not a misstep throughout". Equally effusive, Liz Hoggard of The Observer wrote that "it's impossible to resist Blunt's troubadour yearning."
The first single from All the Lost Souls, "1973", was inspired by Blunt's nights out at Pacha, an Ibiza club, which opened in that year. The song became another hit for Blunt reaching number one the Billboard European Hot 100 Singles chart. D.J. Pete Tong remixed "1973" and played the track during his set at Pacha over the summer of 2007. The second single, "Same Mistake", was released in early December 2007 but did not fare well in the UK charts, peaking at number 57. It was Number 1 in Brazil and a hit in many South American countries. The third single from the album was "Carry You Home", released in March 2008, peaking at number 20 in the U.K charts and bringing the album back into the Top 10, six months after its release. The fourth and final single from the original "All The Lost Souls" album was "I Really Want You". Blunt collaborated twice during this album cycle. In the end of 2007, he worked with French rapper Sinik. They released "Je Réalise", which took elements of Blunt's song "I'll Take Everything", which hit the top 3 in France. On 14 November 2008, "Primavera in anticipo", Laura Pausini new album, was released. The title track is a duet with Blunt. The album reached the Number 1 in Italy.
Throughout 2007 and 2008, Blunt went on his second world tour, including a performance in London's O2 Arena. On 24 November 2008, All The Lost Souls was re-released as a deluxe edition, with new album artwork, new single "Love, Love, Love" and the documentary James Blunt: Return to Kosovo. James Blunt's third studio album titled Some Kind of Trouble, was released on November 8, 2010. The album debuted at #4 in the UK with over 100,000 copies sold in the first week. The album's first single "Stay the Night" was released on October 27, 2010. The single charted in the UK top 40 at number 37, and sat at Number 2 on the European Airplay Chart for 5 consecutive weeks. The second single from the album, "So Far Gone" was for released on the UK on January 3, 2011. Overall critical reception has been mixed and as of February 2011, worldwide sales stand at over one million copies, making it a commercial success. The third single from the album, "If Time Is All I Have" was released in the UK on April 4, 2011.

Official Site: www.jamesblunt.com


Some Kind of Trouble (Atlantic Records, 2010)