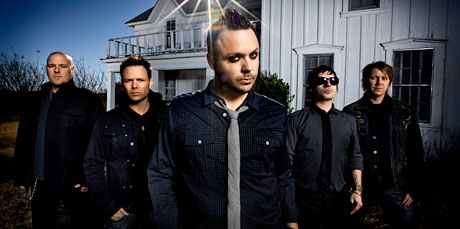 Blue October is a rock band from Houston, Texas. The band was formed in 1995 and currently consists of Justin Furstenfeld (lead vocals, guitar), Jeremy Furstenfeld (drums, percussion), Ryan Delahoussaye (violin/viola, mandolin, piano, backing vocals), Matt Noveskey (bass guitar, backing vocals), and Julian Mandrake (lead guitar).

Blue October was formed by lead singer/songwriter/guitarist Justin Furstenfeld, his brother Jeremy, and multi-instrumentalist Ryan Delahoussaye. The band was discovered by former Kid Rock manager Michael Rand performing at the Atchafalaya River Cafe. While working with Rand, fellow ATI agent David Kanaan proceeded to book over 350 dates on the group unsigned. Extensive publicity and artist development was regimented. This work eventually led to Michael bringing the band to Universal Music Group CEO Doug Morris under the direction of long time A&R rep Reen Nalli.They were later joined by former guitarist/vocalist C.B. Hudson and bassist Matt Noveskey.

As of October 2012 Justin Furstenfeld had nearly completed writing the songs for Blue October's 7th album. He plans to complete the writing process by the end of the year and enter the studio with the band and producer David Castell who also produced Foiled and History For Sale at the beginning of 2013. The anticipated release date is summer 2013. Furstenfeld has confirmed three songs on the album are "Things I Do At Night", "Light You Up" and "A Skirt Undressed" The band plans to release the first single from the album in February 2013. The song "Light You Up" made it's live debut on September 21, 2012 at a concert in Florida.