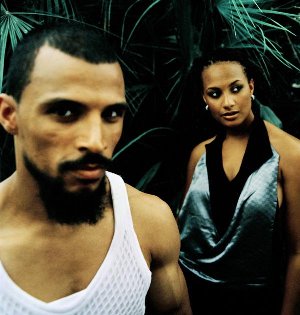 By this time most people in Sweden have heard the story of how
Martin Jonsson
and
Conny C. Lindström
started the club at Jazzclub Fasching and how they named it after an album by Rashaan Roland Kirk. We know that Martin Jonsson and Christian Falk formed the rhythm section and thus the core of the club house-band. And we all experienced how they made Sweden conscious of great soul music!
When Martin and Christian took Blacknuss further to record albums, they invited many of the guests from the club. They put together such brilliant musicians as Mattias Torell (guitarist of Eagle-Eye Cherry), Malando Gassama, Desmond Foster, David Nyström, Pierre Swärd, Esbjörn Svensson (of E.S.T.), Goran Kajfes and Per "Ruskträsk" Johansson. To top that, they invited great vocalists such as Titiyo (who has had an international hit with Come Along), Robyn (who had a big hit in the States with Show Me Love) , Jennifer Brown, Lisa Nilsson, Stephen Simmonds, ADL, SwingFly, Dilba, Viktoria Tolstoy and André De Lang. The result is music history.
So far the collective has recorded three albums; Made in Sweden, Allstars and 3.
The line-up has changed as much as the musical direction. In each and every incarnation, Blacknuss has given the artists and musicians room to be creative and free in mind. The large and dynamic collective took off in the jazz oriented dance music of the early nineties to move on via funk, disco and fusion, and has elegantly landed in the well polished r'n'b of today.
With the drummer and producer, Martin Jonsson, as the assembling force, Blacknuss has kept in pace with the evolving styles on the dance floor without ever forgoing the rock solid groove. New talents have been introduced in constellations with established stars, and covers such as Last Night A DJ Saved My Life, Rising to the Top and It Should Have Been You have been mixed with own material and instrumental jazzfusion.
The same fearless adventurousness as in the repertoire has also made Blacknuss one of Swedens best live bands, and they have been rewarded with a Swedish Grammis in the category Best Modern Dance. With the new single, All Your Lovin', Blacknuss yet again show their flair at looking ahead. ADL and Awa Manneh complement each other perfectly in the duet with oriental influences. This is r'n'b for the new millennium. Pure Gold.