..:: audio-music dot info ::..

Jeff Beck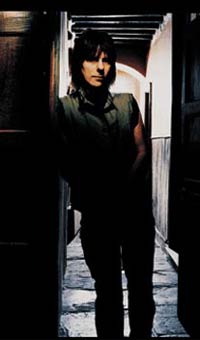 The electric guitarist
Jeff Beck
(born June 24, 1944) is a British rock musician who played in a number of influential bands in the 1960s.
Beck was born in Wallington. Like many rock musicians in the early 1960s, he began his career working as a session guitarist. In 1966, Beck joined the Yardbirds (after Eric Clapton left the group for John Mayall's Bluesbreakers) and shared the dual-lead guitar role with Jimmy Page, who had also recently joined the band. Beck's tenure in the Yardbirds was a short one; he left the same year, partly for health reasons.

The following year, Beck formed a new band, Jeff Beck Group, which featured him on lead guitar, Rod Stewart on vocals, Ron Wood on bass, Mick Waller on drums, and Nicky Hopkins on piano. The group produced two albums, Truth in 1968 and Cosa Nostra Beck-Ola the following year. Owing to friction within the band, Stewart and Wood left the group in 1971 to form The Faces. Wood later joined The Rolling Stones.

After the failure of the second Jeff Beck Group (it disbanded in 1972), Beck formed the power trio Beck, Bogert, and Appice, with Carmine Appice on drums and Tim Bogert on bass. This group, too, failed to attract much critical attention and soon split up, although they did have a minor hit with an instrumental version of Stevie Wonder's "Superstition" (Beck later played lead guitar on Wonder's Talking Book album). In 1975, Beck did a solo, all-instrumental jazz fusion album entitled Blow by Blow which received unexpectedly positive critical reviews. It was followed up by a collaborative effort with keyboardist Jan Hammer and his band on the 1976 Wired album, which also received critical acclaim.

During the 1980s and 1990s, Jeff Beck recorded sporadically: Flash (1985, including performances with Rod Stewart and Jan Hammer), Guitar Shop (1989), The Fire Meets The Fury (1989, with Stevie Ray Vaughan), Crazy Legs (1993), Who Else (1999), and You Had It Coming (2001). Jeff Beck has won a Grammy Award for 'Best Rock Instrumental Performance' for the track "Dirty Mind" from You Had It Coming. The 2003 release of Jeff showed that the new electro-guitar style he used for the two earlier albums would continue to dominate.

Beck was one of the first electric guitarists in the 1960s to experiment with electronic distortion (most notably in the Yardbirds 1966 album, Roger The Engineer), redefining the sound and role of the electric guitar in rock music and anticipating what Jimi Hendrix shortly thereafter took further. Beck's work with the Yardbirds and the Jeff Beck Group's 1968 album Truth were seminal influences on heavy metal music, which emerged in full force in the early 1970s.
Official Homepage: www.jeffbeck.com


Truth & Beck-Ola (Epic Records, 1975)
Blow by Blow (Epic Records, 1975)
Wired (Epic Records, 1976)
Jeff Beck with the Jan Hammer Group Live (Epic Records, 1977)
There and Back (Epic Records, 1980)
Flash (Epic Records, 1985)
Jeff Beck's Guitar Shop with Terry Bozzio and Tony Hymas (Epic Records, 1989)
The best of (feat. Rod Stewart) (Disky Records, 1996)
Shapes of things (Pilz Records, 1998)
Who else! (Sony Music, 1999)
You Had It Coming (Epic Records, 2001)
Jeff (Epic Records, 2003)
Performing this Week... - Live at Ronnie Scotts (Eagle Records, 2008)
Emotion & Commotion (ATCO, 2010)
Live + (Atco Records, 2015)
Loud Hailer (Atco Records, 2016)