..:: audio-music dot info ::..

Balanescu Quartet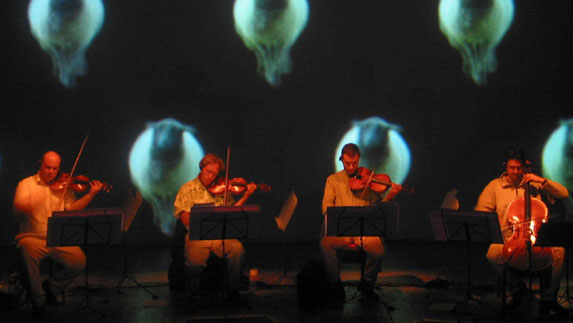 "The string quartet has been unchanged for 200 years or so," considers Alexander Balanescu, "but the format seems to be infinitely flexible." Having worked with Michael Nyman, The Pet Shop Boys, John Lurie and Kate Bush, Balanescu has made it his business to utilise that flexibility and apply the ingenuity of The Balanescu Quartet to explore uncharted territories. "We were looking for a new generation of composers, and we could not find them! So we said to ourselves, 'Why should we be restricted to what is called serious classical music?"

Alexander Balanescu was born in Romania, the son of a University lecturer, who moved his family to Israel in 1969 to escape the regime of Ceaucsecu. Alexander lived the globe trotting life of an exile, studying the violin in London and at the Julliard school in New York. Upon his return to London, he joined the Arditti Quartet, who, renowned for their commitment to new composers, would perform up to 100 new works a year. "During the three years I spent with them, I got to play the music of Ligeti, Xenakis, Carter and many others," Balanescu recalls. "I learnt a tremendous amount. But I also realised this type of contemporary music is addressing itself to a very small circle of people, really. In fact, mainly critics and other composers! So I left the Arditti Quartet to create my own, in order to do music that can immediately communicate with people."

Attracted to jazz and the work of composer Michael Nyman (who scored for many of Peter Greenaway's films, including The Draughtsman's Contract, Drowning By Numbers and The Belly Of An Architect), Balanescu formed his Quartet in 1987 with Clare Connors (violin), Bill Hawkes (viola) and former LSO cellist Nick Price. They soon formed a close working relationship with Nyman and Gavin Bryars. They chose to use amplification and unconventional costumes when playing live, and their shows soon started to sell out. Their first collision with pop culture came in 1989, when Neil Tennant hired the Quartet to play his own choice of Stravinsky, Webern and Shostacovich on The Pet Shop Boys' first tour, and then had Balanescu arrange their 'October Symphony'. The Quartet went on to play strings for Kate Bush, and work with Lounge Lizards frontman John Lurie and former Talking Head David Byrne. Balanescu wanted to go further than Nyman or Bryars.

An opportunity arose when, having signed to Mute, Balanescu turned his attention to the music of Kraftwerk, for 1992's 'Possessed' LP. "I feel they're a very important name in new music, " he commented at the time. "In a sense they are electronic composers in the same way that Berio and Stockhausen are. Actually, I think Kraftwerk's music has even more power than Stockhausen's; because of its simplicity. Their sound world is enormous. They've never worked for art's sake; they're also commentators on modern life. The music is tied in with ideas about our society, and that's what really attracted me."

Clare Connors was given the task of arranging Kraftwerk's Top 20 hits 'The Robots', 'The Model', 'Autobahn', 'Computer Love' and 'Pocket Calculator' for the string quartet. "There is a classical quality about these songs," enthused Balanescu. "They are almost mechanistic in terms of harmonic and melodic structures. And a string quartet itself is a very finely tuned mechanism. Perversely, I did not want to use any electronic effects to recreate their sound world. We had to develop a special way of playing to find new sounds and translate this music into string language. We wanted to emphasise the hardness of their sound as well as its romantic side."

Together with a reappraisal of David Byrne's 'Hanging Upside Down' and three of Balanescu's own compositions 'Possessed', 'Want Me' and 'No Time Before Time', the 'Possessed' album was released in September 1992, and crossed the pop and classical critical divide as effortlessly as Balanescu had envisaged. "Balanescu isn't alone in marrying contemporary sounds with a more sophisticated presentation, but he is the most imaginative," said NME. "Kraftwerk's electronic blueprints have made the jump to the rarefied chamber format with consummate elegance," agreed The Guardian. The Quartet performed their Kraftwerk set at London's Queen Elizabeth Hall in May 1993, and after an enthusiastic response from Kraftwerk themselves, with the German pioneers on two consecutive evenings at the 1993 ARS Electronica Festival in Linz.

The Quartet's touring schedules took them back to Romania, where the genesis for their next LP took shape in Balanescu's mind. 'Luminitza', meaning 'little light' in Romanian would become partially an expression of feelings for his old country and more significantly, "a little bit of hope in the darkness that, even after the downfall of Ceaucescu's totalitarian regime in 1989, still shrouds Romania," he would explain. "It started from a strong but vague desire to express something about what is happening in Eastern Europe. The older I get, the more I realise how much I owe, musically, to that part of the world. When we went to Romania to play, it was clear that daily life is very, very difficult, perhaps more difficult than before the so-called revolution. There are tremendous shortages; food, electricity, sometimes water. Inflation is incredible. Romania's case is further complicated because Ceaucescu was shot. Because he was not put on trial, people still don't know what really happened. In Romania there has been no cleansing process, no catharsis."

'Luminitza', released in January 1994, was entirely self-penned, and combined the powerful emotional charge of traditional Romanian music with the advanced playing techniques the Quartet developed for their Kraftwerk pieces. It also contained hints of a history of oppression that still colours Romanian art. "There is a folk poem which makes an analogy between death and liberation," Balanescu elucidated. "The philosophy is: be like a willow. When the wind blows, bend with the wind. It's a fatalistic philosophy. In Romania, everyone dresses in black when there's a birth and in white when in mourning. Life is suffering and death is liberation from suffering. Oppression is the grain of daily life. It is very deeply ingrained." The results, once more, struck a deep chord with the Quartet's listeners. "The second Balanescu Quartet album is a minor masterpiece," stated the NME. "'Luminitza' is like learning a rich new musical language." "A piece of overwhelming emotional power, subtly and beautifully constructed," added The Wire.

The Balanescu Quartet appeared on two contrasting albums in 1995; 'Bryars: The Last Days: String Quartets Nos. 1&2' was their rendering of Gavin Bryars' compositions, while 'Spread Your Wings' saw them teaming up with contemporary psychedelic space rockers Spiritualized Electric Mainline. Jason Pierce, SEM's mainman, had heard the Quartet on 'Possessed', and asked them to contribute to his album. "It was very much common ground," Pierce said at the time. "Kraftwerk were never cold, it's soul music but constructed with machines." The Quartet also performed in a televised Channel 4 contemporary opera 'Camera' and accompanied Campagnie Philip Saire at the UK premiere of 'La Nebuleuse de Crabe', then consolidated their versatile appeal by backing ABC singer Martin Fry at the 1995 Dream Ball at London's Le Palais.

Alexander Balanescu had also been working on the score for Philip Haas' film Angels And Insects, based on the AS Byatt novella of the same name. Upgrading to a 15 piece orchestra and produced by Claire Connors he composed and performed the entire soundtrack. The Quartet also appeared in two scenes of the film, dressed in full Victorian costume. "Balanescu shows himself a composer who manipulates his cues so deftly that the joins become imperceptible," wrote Ikon, "while the Quartet's music is lyrical, fluid and subtle." The album 'Angels And Insects' was released in February 1996. For the present, Balanescu's aim is to be equally at home in the conservatory, at a pop concert or on MTV.

Possessed (Mute Records, 1992)