..:: audio-music dot info ::..

Jon Anderson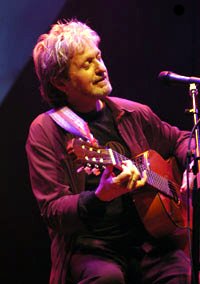 Jon Anderson, longtime Vangelis collaborator, was born in Accrington, Lancashire, England, on October 25, 1944. He is probably best known to the public at large as frontman for the perennial progressive-rock entity Yes. Vangelis fans should know him from a series of collaborative albums that were issued under the masthead Jon and Vangelis. Jon cut his musical teeth in his brother Tony's band The Warriors; he stepped in to fill in for the departing vocalist. He liked it so much he stayed on after his brother left, touring the German club circuit for a solid year and a half. Decca released a lone Warriors single in 1965 ( Don't Make Me Blue / You Came Along ). The Warriors folded in 1967 and Jon found himself for a brief period singing in a band called the Party. Germany was wearing thin, and he soon returned to London. Jon got a job at a club called La Chasse. He kept his hand in the music scene, hoping something would break, gigging with various bands. He agreed to sing a couple demos for a producer friend, which were later released under the moniker Hans Christian, but although the music press thought highly of the material, the gig went nowhere.

It was about this time that Jon was introduced to Chris Squire, another regular at La Chasse. After flirting around with Chris' band Mable Greer's Toyshop, they finally put together the first official Yes lineup: Anderson, Squire, Bruford, Kaye, and Banks. A record deal was forthcoming from Atlantic, and the rest, as they say, is history. Jon with Yes in the round - 1978Yes grew from its inauspicious beginnings to become the quintessential progressive-rock powerhouse; Anderson was its leader and spiritual torch-bearer. During his period with Yes, Jon collaborated with precious few other musicians (notably King Crimson and Vangelis), and put out his first solo album OLIAS OF SUNHILLOW in 1976; it is widely regarded as a masterpiece. He stayed with Yes through 10 albums and 6 staff changes before throwing in the towel after 1978's ill-conceived TORMATO. Jon did not go idle after his split from Yes: he immediately produced his second solo work: SONG OF SEVEN, and began collaborating with long-time friend (a brief Yes keyboardist) Vangelis. Their first album, SHORT STORIES, followed SONG OF SEVEN and consisted primarily of improvisational works. Jon spent the next three years alternating between solo projects and Jon and Vangelis projects: FRIENDS OF MR. CAIRO (J&V), ANIMATION (J - finally bringing to fruition ideas he began to pursue in SONG OF SEVEN), and PRIVATE COLLECTION (J&V).

Then Jon bumped into Chris Squire. Chris was working on a new band project with Alan White, Trevor Rabin, and Tony Kaye called Cinema. He played Jon some of the demos he was working on; Jon fell in love with the material and expressed an interest in getting involved with the project. Since Cinema was looking for a solid singer, they agreed, and Yes was reborn. Jon stayed with this lineup through the 80's and two albums (it would later reform for a third). Meanwhile, he continued his solo projects - releasing THREE SHIPS (his Christmas album) in 1985. Yes would again disband in 1987, and Jon released his weakest solo project: IN THE CITY OF ANGELS. Sensing the ensnaring grip of the Los Angeles musical system (where Yes-West, as they're called, was based), Jon fled America for Greece, and his friend Vangelis. Another collaboration ensued, which would not find release until 1991 (PAGE OF LIFE). However, Jon pursued a project suggested by his then-wife, Jennifer: a regrouping with former Yes-mates Bruford, Howe, and Wakeman in 1989: Anderson, Bruford, Wakeman, Howe. An album and tour followed. Jon working on the 1994 release CHANGE WE MUSTWhile beginning work on the second ABWH album, Jon continued various collaborations, notably with Jonathan Elias (REQUIEM FOR THE AMERICAS). In 1991 he fulfilled another Yes-related dream by bringing together eight former Yes-mates: Squire, Howe, Rabin, Kaye, Wakeman, Bruford, and White. New ABWH material was mixed in with new Yes material Rabin was developing, and the curious UNION album was born. The marriage clearly existed for the stage, however, as the UNION tour played to over 80 dates and became a watershed in the band s history. Their success notwithstanding, they couldn't survive in this configuration, so once again Yes disbanded.

Jon began working on an interesting array of musical projects that would find release over the next three years. He contributed to Kitaro's DREAM album, providing lyrics and vocals for a number of tracks. He was also pulled into the ill-fated SYMPHONIC MUSIC OF YES project that Steve Howe was spearheading. Notable for its disastrous arrangements, the SYMPHONIC album disturbed Jon greatly, so much so that he produced his own symphonic album as an act of professional redemption and personal vengeance. The album - CHANGE WE MUST - was released in 1994 and is superlative, consisting of Yes material, Jon & Vangelis material, and solo material both previously released and unreleased. Publicity shot for DESEO - 19941994 proved to be a prolific year for Anderson: it saw not only the release of CHANGE WE MUST, but also the release of the excellent DESEO - an album of original Latin music played with musicians Jon met while touring South America with Yes in 1991 - and the new Yes offering TALK (Yes had reformed under the Yes-West lineup). All three albums were masterful, and the startling change in genre between them finally established Anderson as a musician's musician - a distinction he had been seeking throughout his career. Jon didn't rest: he followed busy 1994 with 1995's new age instrumental album ANGEL'S EMBRACE on which he played all the instruments - a hearkening back to OLIAS. In 1996 Jon was able to issue an album he had completed years before: TOLTEC. This album firmly established Anderson in the new age camp, although it was reputedly produced prior to Yes' UNION under the name THE POWER OF SILENCE. One wonders if there are other unreleased Anderson titles lying in the vault.

Jon Anderson continues to surprise and please his army of fans worldwide with well produced, beautifully conceived albums that speak to the spirit and not to the flesh. He rarely descends to the baser lyric level of most of his contemporaries, preferring instead to show us the way to a higher spiritual plane. While Jon's religious beliefs border on the surreal, his ability to craft exciting music is virtually unequaled, and his energy seems to have no end. In Yes - his long-time vehicle - he is once again making challenging and inspiring music. The 1996 double-disc hybrid live/studio release KEYS TO ASCENSION featured old mates Squire, Howe, Wakeman, and White - a lineup considered by many to be the "classic" Yes line-up - showcased two new studio compositions "Be The One" and "That, That Is"; the bulk of the two-disc set featured previously unreleased live material from a fans-only show recorded in California in May 1996. Jon on Tour in 1998 with Yes - OPEN YOUR EYESVolume 2 of KEYS TO ASCENSION followed in fall 1997, another double-disc release. Five more new tracks took up the whole of the second disc, and proved to the world that Yes was capable of making music as challenging and progressive as anything they made in the 1970's. "Mind Drive", clocking in at just over 18 minutes, is fit to stand on a pedastal next to any of their epic compositions. And just to show that Yes is not standing still, they released another new studio album the following week! OPEN YOUR EYES - with new member Billy Sherwood (and missing Wakeman, who again resigned from the band) is a masterful wedding of progresive sensiblities and pop songwriting. It's a fit launching pad for Yes to vault into the next millenium. And Anderson's role as chief torchbearer of the Yes legacy remains strong.

Yet, even with looming future Yes committments, Anderson the solo artist refuses to sit still. He has recently released two new discs: THE PROMISE RING, a foray into the Celtic music of his heritage, and EARTHMOTHEREARTH, an acoustic celebration of life and love recorded in his home studio accompanied by birds and his cats! Another recording - THE MORE YOU KNOW - is slated for release in spring 1998. Semingly tireless, Anderson's creative powers continue to grow, and fans worldwide know that whatever musical path Jon may lead them down next, it will surely find them in a destination well worth visiting. Jon Anderson has surely achieved his dream: "To become a musician. A real musician."

Official site: www.jonanderson.com

Olias of Sunhillow (Atlantic Records, 1976)
Song of Seven (Atlantic Records, 1980)
Animation (Polydor Records, 1982)
3 Ships (Opio Media, 1985)
Is it me (Columbia Records, 1988)
In the City of Angels (Columbia Records, 1988)
Deseo (Windham Hill, 1994)
Change We Must (EMI Records, 1994)
Angels Embrace (Higher Octave Music, 1995)
Toltec (Windham Hill, 1996)
Earthmotherearth (Ellipsis Arts, 1997)
The Promise Ring (OmTown Records, 1997)
The More You Know  (Windham Hill, 1998)
Survival & Other Stories (Gonzo Multimedia, 2011)

... with Rick Wakeman:

The Living Tree (Voiceprint Records, 2010)