..:: audio-music dot info ::..

Bryan Adams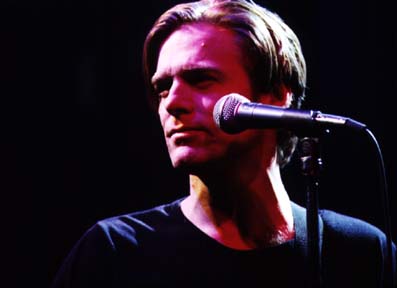 Aged around 15, Bryan had been in garageband Shock and was living in Vancouver. He was often driven by his mother to gigs and appointments. He frequently used to show up at other peoples gigs wanting to sing and jam with them! This must have been something that would get on some people's nerves. But his 'obnoxious' behaviour at the time is probably why he made it, though.

Sweeney Todd was a "glam" or "glitz" rock band on the Vancouver scene at the time. They had released one album. The band was founded by singer Nick Gilder and guitarist Jim MacCullough. In 1976 they both left for L.A. to work on a solo album for Gilder, and Bryan managed to become the replacement for Gilder.

At first, however, Sweeney Todd "signed" up a guy name Clark Perry for the job, but he didn't really fit in all that well with the other band members, and Sweeney Todd's new guitarist Skip Priest had his eyes on Bryan, whom he had noticed while doing some work together with another local band called Slan. Consequently Bryan started to hang around Sweeney Todd, eventually was tested and got the job at the expense of Perry (who actually was with ST for about nine months).

The single "Roxy Roller" sometime in '76 started to receive quite an amount of airplay in Canada. By this time, Sweeney Todd already was "broken up" or "almost broken-up" - meaning that Gilder and McCullough were leaving the group. "Roxy Roller" however ended up receiving a Juno Award for 'Single of the Year' in Canada. The single was, of course, in its original version sung by Gilder, but a version with Bryan as lead singer was also made (as well as one with Perry), being his very first record-release. In the US, Bryan's version was released shortly after Gilder's version, confusing radio list programmers. They both hit the hot 100 shortly after another. Bryan's version spent one week at #99. Check discography for a little more info about "Roxy".

In 1977 a full-length album; "If Wishes Were Horses", which does not feature Bryan's version of "Roxy", was released. Sweeney Todd, however, never came close to such a huge hit again (Roxy was their only hit single), and after their manager suddenly died in a heart attack, they split up. Bryan has said that his career in Sweeney Todd made him realize he needed to do his own material. He had been out on the road with Sweeney Todd playing clubs, but now decided to stop playing gigs until he "had enough own material to put something more original together"

At age 17, he accidently met Jim Vallance in a Vancouver music -store called Long & McQuade. They both happened to be there at the same time, looking at guitars. Bryan and the classicaly trained Vallance, (who also was the drummer in the quite succesful Vancouver rock band "Prism", soon found they were compatible with each other, and started a long-lasting and very successful song-writing partnership. In fact they started to write music together the very day they met. The first song they wrote was Bryan's first solo single; "Let me Take You Dancing". Some of their other early songs were soon being covered by other artists.

Bryan of course needed assistance from someoone who knew the business, and it is told that Bryan just went to the prominent Vancouver-based manager Bruce Allen saying: "I'm your man". At first Bruce, who was managing Bachman-Turner-Overdrive and Loverboy didn't want anything at all to do with him! Bryan did manage to be signed to the record company A&M as a writer, after they'd heard some of his and Jim's material - but only for the nominal payment of one dollar. His first solo single - disco (!) song "Let Me Take You Dancing" acheived limited success in Canada, and became a hit record, especially in New York where it climbed the disco charts. I have information that it ended up selling 250.000 copies worldwide, most of which was in the US. However it did not enter the Billboard Hot 100. It peaked at #62 in the canadian magazine RPM, which had a combined airplay/sales chart. I have information that indicates that it's most succesful province in Canada was British Columbia. The success of "Dancing" also resulted that Bryan now (Dec. '79) could sign an agreement with Bruce Allen - who still is his manager. A "funny" thing about "Dancing" is that Bryan could never sing the song live in the same key as the studio recording, since A&M had speeded it up to make his voice sound less gravelly and deep. If you have heard the song, you now know why Bryan's voice is so 'light'. Guess he had to adjust, after all this was when disco was big...

The year after (1980), his self-titled debut album came out (with no disco songs included). Two singles were released from it; "Hidin' From Love" and "Give Me Your Love". Both singles did reach positions in the lower region of the RPM, but the album was not succesful, which is why Bryan originally wanted to call the next album "Bryan Adams Hasn't Heard Of You Either". That name was however abandonded for "You Want It You Got It", which was released in early 1981. Like "Bryan Adams" (or 'The Purple Album'), it was not succesful at first, but Bryan kept touring vigoursely hoping something would happen. Finally in late '81 or early '82 some "key guys from upstate New York" (radio stations), to use Bryan's own quote, saw a gig in Toronto, and liked what they saw. They started to play songs from "You Want It", which lead to the songs getting played on other stations, first in the rest of New York state, then across the country in the US, and finally in Canada. "Lonely Nights" spent two weeks in the hot 100 in March '82, peaking at #84, but went as high as to #3 on the genre chart Album Rock Tracks.

Still Bryan wasn't exactly a major star, but had made a name for him among programmers. Then the album; "Cuts Like A Knife" was released a year later the title track climbed the singles chart in Canada, peaking at #15 at the same time as "Straight From The Heart" paved it's way up to #10 in the US. The rest is history.

Official Homepage: www.bryanadams.com

Cuts Like a Knife (A&M Records, 1983)
Reckless (A&M Records, 1984)
Waking up the Neighbours (A&M Records, 1991)
Best Ballads (Columbia, 1996)
On a Day Like Today (A&M Records, 1998)
The Best of Me (A&M Records, 1999)
11 (A&M Records, 2008)
Bare Bones (Columbia, 2010)
Get Up! (Polydor Records, 2016)