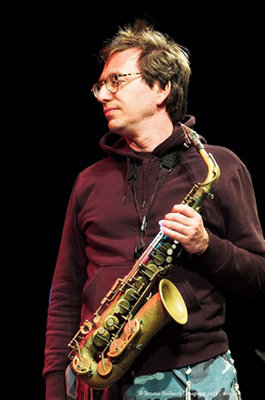 John Zorn (born September 2, 1953 in New York City) is an American avant-garde composer, arranger, record producer, saxophonist and multi-instrumentalist. Zorn's recorded output is prolific with hundreds of album credits as a performer, composer, or producer. His work has touched on a wide range of musical genres, often within a single composition, but he is best-known for his avant-garde, jazz, improvised and contemporary classical music. Zorn has led the punk jazz band Naked City, the klezmer-influenced quartet Masada and composed the associated 'Masada Songbooks', written concert music for classical ensembles, and produced music for film and documentary. Zorn has stated that "I've got an incredibly short attention span. My music is jam-packed with information that is changing very fast... All the various styles are organically connected to one another. I'm an additive person - the entire storehouse of my knowledge informs everything I do. People are so obsessed with the surface that they can't see the connections, but they are there."
After releasing albums on several independent US and European labels, Zorn signed with Elektra Nonesuch and attracted wide acclaim in 1985 when he released The Big Gundown with his interpretations of music composed by Ennio Morricone. This was followed by the album Spillane in 1987, and the first album by Naked City in 1989 which all attracted further worldwide attention.[Zorn then recorded on the Japanese DIW label and curated the Avant subsidiary label before forming Tzadik in 1995, where he has been prolific, issuing several new recordings each year and releasing works by many other musicians.
Zorn established himself within the New York City downtown music movement in the early 1980s but has since composed and performed with a wide range of musicians working in diverse musical areas. By the early 1990s Zorn was working extensively in Japan, attracted by that culture's openness about borrowing and remixing ingredients from elsewhere, where he performed and recorded under the name Dekoboko Hajime, before returning to New York as a permanent base in the mid 1990's. Zorn has undertaken many tours of Europe, Asia, and the Middle East, often performing at festivals with varying ensembles to display his diverse output.

Beginning in 1986 Zorn participated in several projects focused on modern jazz composers which highlighted his saxophone style. These included Voodoo (1986) by The Sonny Clark Memorial Quartet, with Wayne Horvitz, Ray Drummond and Bobby Previte and Spy vs Spy (1989) featuring hardcore punk-informed interpretations of Ornette Coleman's music performed by Zorn and Tim Berne on saxophones, Mark Dresser on bass and Joey Baron and Michael Vatcher on drums. News for Lulu (1988) and More News for Lulu (1992) featured Zorn, Bill Frisell and George Lewis performing compositions by Kenny Dorham, Sonny Clark, Freddie Redd, and Hank Mobley. He performed on two recordings by organist Big John Patton - Blue Planet Man (1993) and Minor Swing (1995) and contributed to the Sax Legends series (later re-released as The Colossal Saxophone Sessions) in 1993 with a version of Wayne Shorter's composition "Devil's Island" alongside Lee Konitz, who Zorn has described as "one of my all-time heroes".
While Zorn is often considered a jazz musician his schema is considerably broader. He stated "The term "jazz", per se, is meaningless to me in a certain way. Musicians don't think in terms of boxes. I know what jazz music is. I studied it. I love it. But when I sit down and make music, a lot of things come together. And sometimes it falls a little bit toward the classical side, sometimes it falls a little bit towards the jazz, sometimes it falls toward rock, sometimes it doesn't fall anywhere, it's just floating in limbo. But no matter which way it falls, it's always a little bit of a freak. It doesn't really belong anywhere. It's something unique, it's something different, it's something out of my heart. It's not connected with those traditions." "But the music is not jazz music, it's not classical music, it's not rock music. It's a new kind of music... So I feel like that created a deep misunderstanding in what this music is. People started judging this new music with the standards of jazz, with the definitions of what jazz is and isn't, because stories about it appeared in jazz magazines. And now I'll do a gig at the Marciac Jazz Festival and I'll get offstage and Wynton Marsalis will say, "That's not jazz." And I'll say, "You're right! But this is the only gig I've got, man. Give me another festival and I'll play there.""