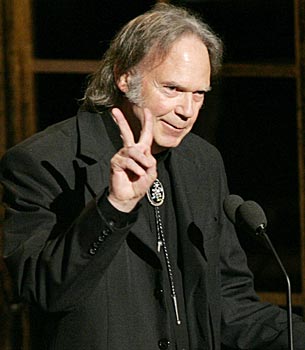 Neil Percival Young OM (born November 12, 1945, Toronto, Ontario) is a Canadian singer-songwriter, musician and film director. Young's work is characterized by deeply personal lyrics, distinctive guitar work, and signature nasal tenor (and frequently alto) singing voice. Although he accompanies himself on several different instruments—including piano and harmonica—his style of hammer-on acoustic guitar and often idiosyncratic soloing on electric guitar are the linchpins of a sometimes ragged, sometimes polished sound. Although Young has experimented widely with differing music styles, including swing, jazz, rockabilly, blues, and electronic music throughout a varied career, his best known work usually falls into either of two distinct styles: folk-esque acoustic rock (as heard in songs such as "Heart of Gold", "Harvest Moon" and "Old Man") and electric-charged hard rock (in songs like "Cinnamon Girl", "Rockin' in the Free World" and "Hey Hey, My My (Into the Black)"). In more recent years, Young has started to adopt elements from newer styles of music, such as industrial, alternative country and grunge, the latter of which was profoundly influenced by his own style of playing, often bringing him the title of "the godfather of grunge". Young has directed (or co-directed) a number of films using the pseudonym Bernard Shakey, including Journey Through the Past (1973), Rust Never Sleeps (1979), Human Highway (1982), and Greendale (2003). He is also an outspoken advocate for environmental issues and small farmers, having co-founded the benefit concert Farm Aid, and in 1986 helped found The Bridge School, and its annual supporting Bridge School Benefit concerts, together with his wife Pegi. Although Young sings frequently about U.S. legends and myths (Pocahontas, space stations, and the settlement of the American West), he remains a Canadian citizen and has never wanted to relinquish his Canadian citizenship. He has lived in the U.S. for "so long" and has stated, about U.S. elections, that he has "got just as much right to vote in them as anybody else."
Neil Young was born in Toronto, Ontario, Canada to sportswriter and novelist Scott Young and Edna Ragland (known as Rassy) , who had moved to Toronto from their family home of Manitoba to pursue a sport journalism career. Neil spent his early years in the small country town of Omemee, 130 km northeast of Toronto. Young was diagnosed with diabetes as a child[6] and a bout of polio at the age of 6 left him with a weakened left side; he still walks with a slight limp. His parents divorced when Young was 12, and he moved with his mother back to the family home of Winnipeg, Manitoba, where his music career began. When Neil Young arrived in Winnipeg from Ontario, he already knew what it was like to be uprooted, since his family had gone wherever his father's career in journalism had taken him. But after the break-up of his parents' marriage, Neil and his mother Rassy settled into the working class suburb of Fort Rouge where the shy, dry-humoured youth enrolled at Earl Grey Junior High School. It was there that he met Ken Koblun, later to join him in The Squires, he liked them and there that he formed his first band the Jades. While attending Kelvin High School in Winnipeg, he played in several instrumental rock bands. Young's first stable band was called the Squires, and they had a local hit called "The Sultan." Young dropped out of high school[7] and also played in Fort William, where they recorded a series of demos produced by a local producer named Ray Dee, whom Young called "the original Briggs."[8] While in Thunder Bay, Young first encountered Stephen Stills. In the 2006 film Heart of Gold Young relates how he used to spend time as a teenager at Falcon Lake, Manitoba where he would endlessly plug coins into the jukebox to hear Ian Tyson's "Four Strong Winds." After leaving the Squires, Neil worked folk clubs in Winnipeg, where he first met Joni Mitchell.[9] Here he wrote some of his earliest and most enduring folk songs such as the classic "Sugar Mountain" about his lost youth. Mitchell wrote "The Circle Game" in response. In 1965 Young toured Canada as a solo artist and composing music for commercial advertisements. In 1966, he joined Rick James-fronted Mynah Birds. The band managed to secure a record deal with the Motown label. Unfortunately, as their first album was being recorded James was arrested for being AWOL from the army.[10] After the Mynah Birds disbanded, Young and bass player Bruce Palmer relocated to Los Angeles. Young has admitted in an interview that he was in the United States illegally until receiving a green card in 1970.
The 1980s were a lean time for Young both critically and commercially. After providing the incidental music to a biopic of Hunter S. Thompson entitled Where the Buffalo Roam, he recorded Hawks & Doves (1980), a folk/country record. Re-ac-tor (1981), once again with Crazy Horse, was a façade of distortion and feedback obscuring a relatively weak selection of songs, but his strangest record of the decade came with Trans (1982). Recorded partially with vocoders, synthesizers, and other devices that modified instruments and vocals with electronic effects, it is sometimes considered an experiment related to finding a technology that would become a means to communicate for Young's son (with his wife Pegi), Ben, who has severe cerebral palsy and cannot speak. Many fans were baffled by the radical forms of this album and rockabilly-styled Everybody's Rockin' (1983), and record company head David Geffen even sued Young for making "unrepresentative" music—i.e. music that did not sound like Neil Young—that deliberately lacked commercial appeal.[25] Young later stated that he would have preferred to release the songs featuring the synclavier and vocoder as an EP, and that their inclusion with the Hawaiian-themed rockabilly was a mistake. Also premiered at this time though little seen was an eclectic full-length comedy film Human Highway starring, co-directed and co-written by Young. In 1983, Young worked with British video director Tim Pope, making two videos - "Wonderin'" and "Cry, Cry, Cry." In 1985, he reunited with Crosby, Stills and Nash at Live Aid at Philadelphia's John F. Kennedy Stadium. The two songs that they played, "Only Love Can Break Your Heart" and "Daylight Again/Find The Cost of Freedom," were the first songs they had played as a quartet in front of a paying audience since 1974. Old Ways (1985) saw a return to country music, recorded with a group of friends and session musicians. Landing on Water (1986) is entertaining for the blending of synthesizers and other instruments related to the 80's into Young's own style, with lyrics that take pot shots at some favourite targets, including CSN in "Hippie Dream," with a chorus that goes: "But the wooden ships/Were just a hippie dream," and David Geffen in "Drifter," with the line: "Don't try to tell me what I gotta do to fit." The resumption of his partnership with Crazy Horse on Life (1987) fulfilled his contract with Geffen, and Young was finally able to switch labels. Director Pope again made a series of videos from the album, including "Touch the Night" and "People on the Street". Signing with Warner Brothers (which distributed Geffen at the time) and returning to Reprise Records, Young produced This Note's For You (1988) with a new band, The Bluenotes, whose name rights were owned by musician Harold Melvin. Young named his band after a cafe called the Blue Note on Main Street in Winnipeg Manitoba, where he had played. The addition of a brass section provided a new jazzier sound and the title track became his first hit single of the decade. Accompanied by a witty video which parodied corporate rock, the pretensions of advertising and Michael Jackson in particular, the song was initially banned by MTV (although the Canadian music channel, MuchMusic ran it immediately) before being put into heavy rotation and finally given the MTV Video Music Award for Best Video of the Year for 1989. After Melvin sued over the use of the Bluenotes name, Young renamed his back-up group "Ten Men Workin'" for the balance of the concert tour. Young also contributed to that year's CSNY reunion American Dream (1988) and CSNY played a few benefit concerts. Young, however, refused to book a full tour with CSN and the foursome would not embark upon a nationwide tour until 2000.
Freedom was a mixture of acoustic and electric rock dealing with the state of the U.S. and the world in 1989, alongside a set of love songs and a version of the standard "On Broadway." "Rockin' in the Free World", two versions of which bookended the album, again caught the mood. Some say it became a de facto anthem during the fall of the Berlin Wall, a few months after the record's release. However, most Germans don't remember the song being related to the reunification, understandably so, since the lyrics are not about political repression. Like Bruce Springsteen's "Born in the U.S.A.", the anthemic use of this song was based on largely ignoring the verses, which evoke social problems and implicitly criticize American government policies. In the summer of 1989, record executive Terry Tolkin conceived and produced a tribute album to Young's songs called "The Bridge: A Tribute To Neil Young," released on his No.6 Records label. It featured cover versions of 15 of Young's songs by the cream of the up and coming Alternative Music and Grunge music bands including Sonic Youth, Nick Cave, Soul Asylum, Dinosaur Jr,and The Pixies. By 1990, grunge music was beginning to make its first inroads in the charts and many of its prime movers, including Nirvana's Kurt Cobain and Pearl Jam's Eddie Vedder, cited Young as a major influence. Using a barn on his Northern California ranch as a studio, he rapidly recorded Ragged Glory with Crazy Horse, whose guitar riffs and feedback driven sound showed his new admirers that he could still cut it. Young then headed back out on the road with LA punk band Social Distortion and alternative rock elder statesmen Sonic Youth as support, much to the consternation of many of his old fans.[26][27] Yet the influence of Sonic Youth could be clearly heard on the accompanying home video and live album, Weld, which also included a bonus CD entitled Arc, a single 35-minute-long collage of feedback and guitar noise that Neil included, evidently at the suggestion of Sonic Youth's Thurston Moore.[28] Arc was later sold separately. Young's next move was another return to country music. Harvest Moon (1992) was the long awaited sequel to Harvest and reunited him with some of the musicians from that session, as well as singers Linda Ronstadt and James Taylor. The title track was a minor hit and the record was reviewed and sold equally well, containing songs such as "From Hank to Hendrix" and "Unknown Legend", a tribute to his wife. His resurgent popularity saw him booked on MTV Unplugged in 1993. In 1992 he accompanied fellow Winnipegger Randy Bachman on "Prairie Town," a song that recounts their days in the Winnipeg music scene of the 1960s. That year, he contributed music to the soundtrack of the Jonathan Demme movie Philadelphia, and his song "Philadelphia" was nominated for the Academy Award for Best Song, losing out to Bruce Springsteen's contribution to the same film. A summer tour covering both Europe and North America with Booker T. and the MGs (with whom he played two songs at a 1992 Bob Dylan tribute concert at Madison Square Garden) was widely praised as a triumph. On a few of these dates, the show ended with a rendition of "Rockin' in the Free World" played with Pearl Jam. Young was back with Crazy Horse for 1994's Sleeps with Angels, a much darker record. The title track told the story of Kurt Cobain's death; Young had reportedly made repeated attempts to contact Cobain prior to this event.[29] Cobain had quoted Young's "It's better to burn out than fade away" (a line from "My My, Hey Hey (Out of the Blue)") in his alleged suicide note, causing Young to emphasize the line "'cause once you're gone you can't come back" in live performances at the time. Other songs dealt with drive-by shootings ("Driveby"), environmentalism ("Piece of Crap") and Young's own vision of America (the archetypal car metaphor of "Trans Am"). Young was inspired to make the record after viewing Cobain's performance on MTV Unplugged. Still admired by the prime movers of grunge, Young eventually performed with Pearl Jam at the MTV Music Awards during what was described as the highlight of a lackluster show.[30] Their collaboration led to a joint tour, with the band and producer Brendan O'Brien backing Young. The accompanying album, Mirror Ball (1995), recorded as live in the studio captured their loose rock sound, and featured the standout track "I'm the Ocean". The year of 1995 also featured Young's entry into the Rock and Roll Hall of Fame.
After composing an abstract, distorted feedback-led guitar instrumental soundtrack to Jim Jarmusch's acid western film Dead Man Young recorded a series of loose jams with Crazy Horse that eventually appeared as the critically denigrated Broken Arrow. The return to Crazy Horse was prompted by the death of mentor, friend, and longtime producer David Briggs in late 1995. The subsequent tours of Europe and North America in 1996 resulted in both a live album and a tour documentary directed by Jim Jarmusch. Both releases took the name Year of the Horse. In 1997, Young participated in the H.O.R.D.E. Festival's sixth annual tour. In 1998, Young shared the stage with the rock band Phish at the annual Farm Aid concert, and later offered them an opportunity to headline both nights of the Bridge School Benefit concert. Phish passed on Young's offer and also declined Young's later invitation to be his backing band on a 1999 tour. The decade ended with Looking Forward, another reunion with Crosby, Stills and Nash. The subsequent tour of the United States and Canada with the reformed super quartet was a huge success and brought in earnings of $42.1 million, making it the eighth largest grossing tour of 2000. Young's next album, Silver & Gold (2000), contained a number of understated songs with personal lyrics, which was promoted through a mini-tour of solo acoustic shows. This style was continued in Are You Passionate? (2002), an album of love songs dedicated to his wife, Pegi.
Young's 2001 single "Let's Roll", was a tribute to the victims of the September 11, 2001 attacks, and the passengers and crew on Flight 93 in particular. At the "America: A Tribute to Heroes" concert he performed a cover version of John Lennon's "Imagine". In 2002, Q magazine named Neil Young in their list of the "50 Bands To See Before You Die." Young hauled out his concept album Greendale in 2003 -- about an extended family in a small town called Greendale, and how they are torn apart by a murder. Greendale was recorded with Crazy Horse members Billy Talbot and Ralph Molina. This tale of the Green family also resulted in a movie called Greendale, written and directed by Young (again using his "Bernard Shakey" pseudonym) and starring a few of his friends, who act out and lip sync the songs from the album. The film was indeed thoroughly experimental, from Young's rambling on-stage between-song narratives, to his reading apparent transcriptions of these ramblings in the liner notes. "When I was writing this I had no idea what I was doing, so I was just as surprised as you are," Young said later. Young toured extensively with the Greendale material throughout 2003 and 2004, first with a solo, acoustic version in Europe, then with a full-cast stage show in North America, Japan, and Australia. While audience reaction was sometimes mixed (drunken requests for "Southern Man" being an aesthetic impediment at most Young performances), the live stage version of Greendale was for many critics the most satisfying incarnation of the material, and bootlegs of the shows have been widely traded. The second half of each concert consisted of high-decibel renditions of Young classics such as "Hey Hey, My My," "Cinnamon Girl," "Powderfinger," and Rockin' in the Free World, as well as rarities such as "The Losing End," "The Old Country Waltz," and "Danger Bird." Young spent the latter portion of 2004 giving a series of intimate acoustic concerts in various cities with his wife, Pegi, who is a trained vocalist.
On March 31, 2005, Young was admitted to a hospital in New York for treatment for a brain aneurysm. He was treated successfully by a minimally invasive neuroradiological procedure. Prior to undergoing the procedure, he wrote the first eight songs of a new album, Prairie Wind, in Nashville, with session musicians that included regular Young sideman Ben Keith on lap and pedal steel guitars. The last two songs on the album were written after his aneurysm procedure. Many of the songs, such as "Fallin' Off the Face of the Earth," seem to be inspired by Young's brush with mortality, the recent death of his father (who suffered senile dementia), as well as a connection with his Manitoba roots. Two days after the procedure, Young was forced to cancel a scheduled appearance on the Juno Awards telecast in Winnipeg when the area where the surgeons did his procedure (via the femoral artery) suddenly began to bleed. Young finally was able to return to Winnipeg in 2006 with Crosby, Stills and Nash. He next performed on July 2, 2005, at the close of the Live 8 concert in Barrie, Ontario. He presented a new song, a soft hymn called "When God Made Me," and ended with "Rockin' in the Free World". He began his set with a cover of the Canadian folk classic "Four Strong Winds" by Ian & Sylvia Tyson. (He had recorded this song on his Comes a Time album). On September 28, 2005, Prairie Wind was released as a regular CD, a special limited-edition CD and DVD package, and on vinyl. In an interview given to Time magazine, Young revealed that he had planned to keep the news of his aneurysm private until he had the bleeding scare, after which he decided to make news of his condition public.
In 2006, Neil Young: Heart of Gold, a film made by Jonathan Demme, premiered at the Sundance Film Festival. Filmed over two nights at the Ryman Auditorium in Nashville, Tennessee during the premiere of Prairie Wind, it includes both new and old songs as well as behind-the scenes-commentary by Young, his wife Pegi and others. In April 2006, Young confirmed on his website[32] that he was going to release an album full of protest songs, titled Living with War, one of whose songs is titled "Let's Impeach the President." Recorded using his famous Les Paul electric guitar, "Old Black," along with Chad Cromwell (drums), Rick Rosas (bass), and Tommy Brea (trumpet), it was intended to be a stinging rebuke of U.S. President George W. Bush and the War in Iraq. The album was recorded in a two week period in April, and was then made available over the internet from 28 April 2006 before being released as a CD on 5 May. Living with War was Young's most talked about release for years, creating heated political debate and a return to form with perhaps his most critically-acclaimed album since the early 1990s "Godfather of Grunge" era when he was hailed as major influences on grunge pioneers Pearl Jam and seminal indie band Sonic Youth among others. In April 2006, it was announced that Crosby, Stills, Nash & Young would embark on their "Freedom Of Speech Tour '06" with Chad Cromwell and Rick Rosas making up the rhythm section. The tour would see them play dates all across North America. The entire Living with War album was performed on the tour, in addition to other CSN and Neil Young classics such as "Ohio" and "Rockin' in the Free World." In September 2006, the first release from his long awaited Archives project was announced. Live at the Fillmore East features a live set with Crazy Horse including Danny Whitten from 1970. Young had stated in interviews that the release would be followed by a much larger box set of recordings from his early career. In October 2006, it was announced that a rough-mix version of Living with War, titled Living with War - Raw, would be made available for digital download on November 7. It was also announced that a CD/DVD set of this early version of the album would be released on December 19. The DVD includes videos directed by Young of every song on the album, and contain footage of the Iraq War, demonstrations in the US, and Al Gore's An Inconvenient Truth. However, when the CD was released, it was titled Living with War: In the Beginning.
It was announced January 16, 2007 that the next release in the Archives Performance Series project would be from January 19, 1971 where Neil performed at Toronto's Massey Hall. The new release, titled Live at Massey Hall 1971 was released March 13. The first installment of Young's oft-delayed box set The Archives Vol.01 1963-1972 was officially announced with a trailer and website[33] [34] The box set will feature 8 CDs and 2 DVDs comprising unreleased studio and live recordings, film footage, photographs and personal letters. Also accompanying the release is a 150-page book. It was announced in August 2007 that Neil Young's Greendale will be made into a graphic novel. A release date has yet to be confirmed. On August 15, 2007, Young played a new album for 100 people at Reprise Records entitled Chrome Dreams II. (Chrome Dreams was an album he scrapped in 1977, and the name of two different bootlegs.) The new album includes two long songs that time in at 18:13 ("Ordinary People") and 14:31 ("No Hidden Path"), respectively. The album consists of three songs written previously and seven new songs, all by Young. The album was released on October 23, 2007, timed to coincide with a seven-week tour that had kicked off in Boise, Idaho, ten days earlier.On January 25, 2008 the premiere of Young's latest work CSNY Deja Vu was viewed at the Sundance Movie Festival. On February 11, Neil Young started the European leg of his tour with a concert in Antwerp, Belgium. British director and old-time collaborator, Tim Pope, is again working with Young, filming two of the concerts at Hammersmith Apollo.Young has given the green light to complete unreleased material from sessions at the studio Toast in San Francisco. Neil Young said on Tuesday May 6,2008 that he is teaming up with Sun Microsystems Inc. to release a music video archive on Blu-ray DVDs. Young currently lives on a 1500-acre (6 km²) ranch in La Honda, California, called Broken Arrow. He also owns property in Fort Lauderdale, Florida, and on the islands of Hawaii.