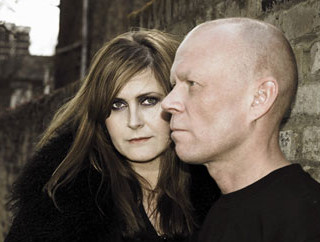 Yazoo (known as Yaz in North America for legal reasons with Yazoo Records) were a British synthpop duo from Basildon, Essex, England, consisting of former Depeche Mode member Vince Clarke (keyboards) and Alison Moyet (vocals). Formed in late 1981 after Clarke responded to an advertisement Moyet placed in a UK music magazine, over the next 18 months the duo made two critically acclaimed albums, Upstairs at Eric's and You and Me Both, blending Clarke's synthesizer melodies with Moyet's blues- and soul-influenced vocals. Yazoo enjoyed worldwide success, particularly in their home country where three of their four singles reached the top three of the UK Singles Chart and both their albums made the top two of the albums chart. In North America they are best known for the song "Situation", originally only a B-side in the UK but which was a club and airplay hit in the US and Canada before being released as the band's debut single in North America.

Despite their success, the duo split acrimoniously in May 1983 due to a combination of Clarke's reluctance to make more records under the Yazoo name, a clash of personalities, and a lack of communication between the pair. Clarke went on to form Erasure, another successful and longer-lasting synthpop duo, while Moyet embarked on a solo career. Although their musical career was short, Yazoo's combination of electronic instrumentation and soulful female vocals has been cited as an influence on the house music scene that emerged in the mid-1980s, as well as bands such as LCD Soundsystem (who name-checked them on their debut single "Losing My Edge"), Hercules and Love Affair (whose leader Andy Butler has said that "Situation" was his biggest musical inspiration as a child), La Roux, Shiny Toy Guns and Blaqk Audio.

In 2008, 25 years after splitting up, Clarke and Moyet reconciled and reformed Yazoo to play a successful tour of the UK, Europe and North America in support of the reissue of Yazoo's two studio albums and a box set of their material. The pair briefly reunited again in May 2011 to play three Yazoo songs at a music festival organised by their record label.

Following Yazoo's split, Clarke formed The Assembly with his label boss Miller. Intending to record a series of one-off singles featuring different vocalists, in the end The Assembly produced just two singles, "Never Never" with Feargal Sharkey, and "One Day" with Paul Quinn of Bourgie Bourgie, before also splitting up. Around this time, Clarke also produced the album The Peter Pan Effect for the singer Robert Marlow, an old friend of both his and Moyet's. Clarke then teamed up with singer Andy Bell to form the successful synthpop duo Erasure. Moyet spent several months out of the limelight before signing a deal with CBS Records and embarking on a successful solo career.

"Situation" was finally released as a single in the UK in 1990 in another remixed form, which was moderately successful, reaching number 14 on the UK singles chart. A compilation entitled Only Yazoo: The Best of was released in 1999 and was preceded by a re-release of Yazoo's debut single, "Only You", featuring a new remix of the title track and several more of "Don't Go". The band's output was book-ended with yet another release of "Situation", accompanied by many remixes. Clarke was tapped to remix Moyet's 1994 single "Whispering Your Name" and, with Erasure, Clarke and Moyet tried to record her single "This House" as a duet. This project never came to surface because Sony Music Entertainment would not permit it.

The band's songs have appeared in a number of films and television shows. In 1988, "In My Room", "Ode to Boy", and "Only You" were used in the film The Chocolate War (the adaption of the book of the same title). "Only You" was used in the film Napoleon Dynamite, the BBC television series The Office, the film Can't Hardly Wait, the Fringe episode "Transilience Thought Unifier Model-11", and the "The Americans" episode "Dimebag"; a cover version of "Only You" by Joshua Radin was used in 2007 in a J. C. Penney commercial; "Don't Go" appeared in the BBC series I'm Alan Partridge and was used in the film Tango and Cash. The song "Situation" was used in the 1990 TV movie Exile and was also used in a Nintendo commercial highlighting the classic edition of the Game Boy Advance SP and the NES games ported to it. In 2007, "Bring Your Love Down (Didn't I)" was used in The Sarah Silverman Program episode "Not Without My Daughter".

Antony Hegarty, lead vocalist in Antony & The Johnsons, talked with Terry Gross in February 2009 about recording the debut self-titled Hercules & Love Affair album. He said he had been asked by New York-based DJ Andy Butler to join the project and that the objective was or became "Let's sound as much like Yazoo as we can .... We loved Yazoo."