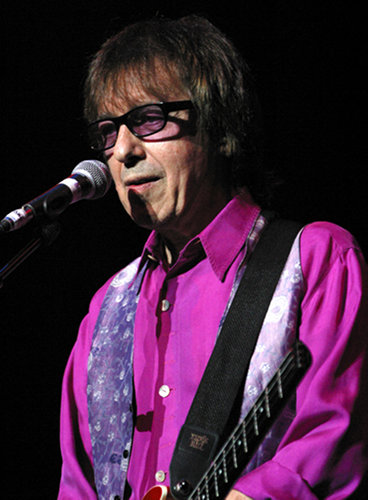 Bill Wyman (born William George Perks on 24 October 1936) was the bass guitarist for the English rock and roll band The Rolling Stones from 1962 until 1993. Since 1997, he has recorded and toured with his own band, Bill Wyman's Rhythm Kings.
Bill Wyman was born in Lewisham Hospital, Pied Heath Road, Ladywell, Lewisham, South London, the son of William Perks, a bricklayer,and his wife, Molly. One of five children, Bill spent most of his early life living in a terraced house in one of the roughest streets in Sydenham, south east London. He describes his childhood as "scarred by poverty".[1] He attended Beckenham and Penge Grammar School from 1947 to Easter 1953, leaving before the GCE exams after his father found him a job working for a bookmaker and insisted that he take it.
Wyman took piano lessons from 10 to 13. A year after his marriage on 24 October 1959 to Diane Cory, an eighteen year old bank clerk, he bought a Burns electric guitar for £52 on hire-purchase, but wasn't satisfied by his progress.[2] After hearing a bass guitar at a Barron Knights' concert, he fell in love with the sound of it and decided this was his instrument. He created the first fretless electric bass [3][4] by removing the frets from a bass guitar he was reworking, and played this in a south London band, The Cliftons. He began calling himself Bill Wyman using the surname of a friend with whom he had done National Service in the Royal Air Force from 1955 to 1957. On 29 March 1962, Stephen Paul Wyman, the only child of his marriage to Diane, was born. When drummer Tony Chapman told him of a fledgling rhythm and blues band called The Rolling Stones that needed a bass player, he applied and was hired in December 1962, as a successor to co-founder, Dick Taylor. "The Stones" were impressed by his instrument and amplifier and his abilility to provide cigarettes, but because he was married and a little older than the rest of the members, Wyman always remained somewhat of an outsider in the group. His work rarely involved vocals. One exception was "In Another Land", released both on the Their Satanic Majesties Request album and also as a solo Bill Wyman single. A second Wyman song, "Downtown Suzie" (sung by Mick Jagger), was released on a collection of Rolling Stones outtakes, with the title altered by Rolling Stones manager Allen Klein without informing Wyman or the band (the subject of the song is actually named "Lucy"). In his autobiography Stone Alone, Wyman claims to have come up with the riff of Jumpin' Jack Flash, though this has been denied by Keith Richards. In the 1970s and early 80s Wyman released three solo albums, none of which was successful. The last gave him a European hit single, "(Si, Si) Je Suis Un Rock Star", a parody of his French rock star exile status. In the mid-80s Wyman composed music for two films by Italian film director Dario Argento: 1985's Phenomena and 1987's Terror At The Opera. He also produced and managed groups such as rockers Tucky Buzzard. Wyman kept a journal of his days with the Rolling Stones. He used it in writing his history, Rolling with The Stones and also his autobiography, Stone Alone. Wyman was friends with guitarist Mick Taylor, the only member of the Rolling Stones to leave the band voluntarily besides Wyman. He worked with Taylor on solo projects after Taylor left the band. Wyman kept a low profile compared to Jagger and Richards. Although his personal life was stormy and his relationship with a 13-year-old (Mandy Smith) publicised, he came through his tenure as a Stone relatively unscathed. Wyman is recognised as the most level-headed of the Stones, refusing alcohol and drugs,[citation needed] while admitting that he became "girl mad" as his crutch. In the 1980s, the distance between Wyman and the other band members grew due to, among other things, the Mandy Smith affair (see below). After contributing to the album Steel Wheels (1989), Wyman decided he had had enough and took time to retire. The Stones regretted his leaving but did not seem weakened. (However, the group's 2005 compilation album Rarities 1971-2003 features a cover photo from 1979 from which the bass player has been airbrushed out, which has been interpreted as ill will by Jagger and Richards (or, alternatively, avoidance of a financial obligation considering Wyman was retired and no longer a financially participating Rolling Stone). Over the years of over-seeing the business affairs of the band, Jagger and Richards had become financially and contractually much more experienced and sophisticated. For example, as an alternative to a new, permanent bassist replacement for Wyman (i.e., a new band member and business partner), the band chose to recruit from among several younger bass guitar players to hire various 'side men' bassists for future recordings and concerts. The most promising, Darryl Jones, made the strongest impression, was compatible with founding band members, and was, more or less, available to future touring having no permanent band affiliation which conflicted. Jones, a Chicago born African-American musician and jazz protege of Miles Davis, has since 1993 to date faithfully honored and upheld the bassist legacy inherited from Wyman by routinely touring and recording with The Rolling Stones band for approaching two decades, and in the process has introduced and established an American blues and jazz style of bass guitar playing, which differs from Wyman somewhat, to the band's current concert and studio performances and recent body of work. For nearly the last two decades, concert audiences of The Rolling Stones band have heard and become accustomed to a more energetic, fresher, and American blues-jazz style of bass guitar playing in its famous band rhythm section. Looking back, in Wyman's opinion, he has stated that from the late-1980s onward The Rolling Stones' recorded music had become creatively stagnant, that he had lost interest in the experiences of recording and touring with the band, and that it was simply right for him to retire from the band. Jagger has also said that Wyman had developed claustrophobia and had increasingly disliked air travel typical of band touring.
Wyman continues to tour with The Rhythm Kings, which has featured such musicians as Martin Taylor[6], Albert Lee, Gary Brooker, Terry Taylor (formerly with Tucky Buzzard), Mike Sanchez and Georgie Fame. Following his 70th birthday in October 2006, he undertook another British tour. On the 10 December 2007, Wyman and his band appeared alongside a reunited Led Zeppelin at the Ahmet Ertegun Tribute Concert at The O2 in London.
Wyman taught himself several instruments, including autoharp, guitar, vibraphone, glockenspiel, piano, organ, synthesiser, percussion and cello. He has also contributed backing vocals. His bass sound came not only from his home-made fretless bass, but the "walking bass" style he adopted, inspired by Willie Dixon and Ricky Fenson) and his tight work with Charlie Watts. Their sound not only anchored the group, but exemplified the "heartbeat and pulse" idea behind ideal rhythm sections. Wyman has played a number of basses including a Framus Star bass, a Vox Teardrop bass (similar to Brian Jones' Vox Mark III, but hollow-bodied and later renamed the Wyman bass, with his permission), a Fender Mustang Bass, a Gibson SG Bass and a Rickenbacker 4005.
He was close to Rolling Stones founder-guitarist Brian Jones. He was the only member of the group who did not visit Brian Jones' home to inform him of his dismissal. He attended Jones' funeral a month later, along with Watts. Maxim magazine has Wyman at number 10 on its top ten "Living Sex Legends" list, as he is reputed to have slept with over 1000 women. Away from the Stones, Wyman pursued interests including opening the Sticky Fingers Café in 1989, a rock 'n roll-theme bistro serving American cuisine in Kensington, London. He divides his time between his manor in Suffolk and a house in the south of France. Former Stones manager Andrew Loog Oldham says that of all the Stones, Wyman is the most at peace with himself. Wyman is an amateur archaeologist and has a hobby of Relic hunting, having a letter published in The Times about his hobby (Friday 2 March 2007.) A metal detector is on sale under his name .