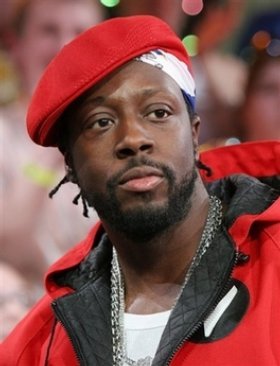 Wyclef Jean (IPA: /ˈwajklɛf ˈʒɑn/) born Nelust Wyclef Jean on October 17, 1972) is a Haitian American musician, actor, producer and member of the hip hop trio The Fugees.
Born in Croix-des-Bouquets, Haiti, he was named Wyclef Jean by his foster father, a pastor who re-named him after John Wycliffe. He moved with his family to Brooklyn, New York when he was nine, then to northern New Jersey. In 1994 he married Haitian-American fashion designer Marie Claudinette Pierre-Jean. Pierre-Jean is a former pre-med student at Montclair State University, New Jersey turned fashion designer. Named after Haitian beauty queen Claudinette Fouchard, Pierre-Jean launched her design collection "Fusha". The couple have one daughter, Angelina Claudinelle, whom they adopted from the United States in March 2005 at three months old. Angelina was not named after their good friend, actress Angelina Jolie. He mentioned on his appearance on the Tyra Banks show that she was named Angelina simply for the fact that she was an angel. Jean has been a resident of Saddle River, New Jersey. In 2005, Jean established the Yéle Haiti foundation. In its first year of operation, the foundation, with funding by Comcel, provided scholarships to 3,600 children in Gonaives after the devastation by Hurricane Jeane. In its second year of operation, it is almost doubling the amount of the scholarships and spreading them throughout Haiti, providing tuition in 5 regions. 6,800 scholarships will be provided to children in Port-au-Prince, Gonaives, Les Cayes, Port-de-Paix and Cap Haitian through Yéle Haiti's efforts.
Ruffhouse Records, which released the group's debut album, Blunted on Reality. It sold poorly, but follow-up album The Score sold over 17 million copies worldwide. Jean announced plans to begin a solo career with 1997's Wyclef Jean Presents the Carnival Featuring the Refugee All-Stars (generally called The Carnival). The album's guests included Hill and Pras along with Jean's siblings Melky Sedeck and Farel Sedeck Guerschom Jean, the I Threes (back-up vocals for Bob Marley), The Neville Brothers and Celia Cruz. The album was a hit, as were two singles: "We Trying to Stay Alive" (adapted from The Bee Gees' "Stayin' Alive") and "Gone Till November" (recorded with the New York Philharmonic Orchestra). The Fugees remained in limbo during this time, with the follow-up to The Score being continually postponed as all three members cultivated solo careers. At the concert Woodstock 1999, Jean paid homage to 1969 Woodstock performer Jimi Hendrix by setting fire to his guitar after playing "The Star Spangled Banner", and burnt his fingers while doing so. Jean's second solo album, released in 2000, was The Ecleftic: 2 Sides II a Book. This was recorded with guests including Youssou N'Dour, Earth, Wind & Fire, Kenny Rogers, The Rock and Mary J. Blige. With Blige he released "911" as a single. He was nominated for Best Hip-Hop Act at the 2000 MTV Europe Music Awards. Jean's third album, Masquerade, was released in 2002. His fourth album, The Preacher's Son, was released in November 2003 as the follow-up to his first solo album, the Carnival. In 2004, he released his fifth album, entitled Sak Pasé Presents: Welcome to Haïti (Creole 101) (released in the United States by Koch Records). Most of its songs are in his native language of Haitian Creole. He also covered Creedence Clearwater Revival's song "Fortunate Son" for the soundtrack of the 2004 film remake of The Manchurian Candidate and wrote the song Million Voices for the film Hotel Rwanda. Jean also produced and wrote songs for the soundtrack to Jonathan Demme's 2003 documentary The Agronomist, about the Haitian activist and radio personality Jean Dominique. With Jerry 'Wonder' Duplessis, Jean also composed the score of the documentary Ghosts of Cité Soleil, in which he appears onscreen speaking by telephone in 2004 to a "chimere" gang-leader and aspiring rapper, Winston "2Pac" Jean. During a period between 2004 and 2006 and fueled by a reunion performance in Dave Chappelle's Block Party, it appeared that the Fugees were on track to record a new album, however Fugees member Pras claims to Billboard "To put it nicely, it's dead." He says the root of this animosity is the third member of the group, Lauryn Hill, saying to Billboard, "Me and Clef, we on the same page, but Lauryn [Hill] is in her zone, and I'm fed up with that shit. Here she is, blessed with a gift, with the opportunity to rock and give and she's running on some bulls**t? I'm a fan of Lauryn's but I can't respect that." Jean announced he would release an album in September 2007 that he recorded in Atlanta, Georgia with the help of T.I.. Right now, Wyclef released a new song called Sweetest Girl (Dollar Bill) featuring Lil' Wayne, Niia and Akon, which references the song C.R.E.A.M. by the Wu-Tang Clan.
Jean has been active in his support of his native country and created the foundation Yéle Haiti to provide humanitarian aid and assistance to Haïti. He describes Yéle as a non-political organization intended to empower the people of Haïti and the Haïtian diaspora to rebuild their nation, saying, "The objective of Yéle Haiti is to restore pride and a reason to hope, and for the whole country to regain the deep spirit and strength that is part of our heritage". Yele Haiti was created in October 2004 with Wyclef's cousin Jerry 'Wonder' Duplessis and humanitarian experts Sanjay Rawal and Natabara Rollosson. Projects were launched in January of 2005. Angelina Jolie and Brad Pitt were present for the first anniversary of the launch in 2006. In January 2007, Jean became a roving ambassador for Haiti, to help improve its image abroad.May 20 2008 - Yele Haiti partners with WFP ( World Food Programme)the United Nations to launch www.togetherforhaiti.org.