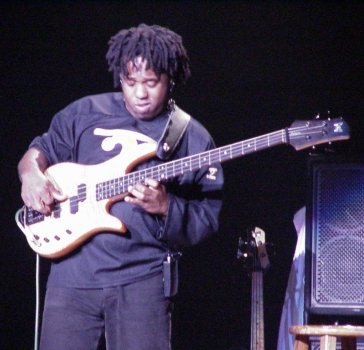 Victor Wooten (DOB: 9/11/64) is one of the most celebrated electric bassists of all time. His secret seems to lie in doing his own thing, breaking boundaries and defying categorization along the way. Chip Stern wrote in Musician Magazine that he is "proof that all men are not created equal." To this Victor says, "A lot of guys who have been around for a long time are shocked when they see some of the things I am doing. Fortunately, they like it."

Victor's performances as a member of the Grammy-award winning Béla Fleck and the Flecktones have gained him the adoration of bass players and music fans worldwide. He was awarded a 1999 Nashville Music Award for Bassist of the Year (his second) and in 1998, he received his third Bass Player of the Year award from Bass Player Magazine (the only bassist to have received this award more than once) and was named one of the Top 10 Bass Innovators of the '90s by the same publication. Also in 1998, Vic won his second Grammy (Best Instrumental Composition for Almost 12 from The Flecktones album Left of Cool) and Down Beat magazine voted him Talent Most Deserving Wider Recognition. It was a very good year.

"Yin Yang"On Yin Yang, his third solo album, Victor again shows why he is considered a master of the electric bass. Throughout the album, Vic astounds with his remarkable technique, all the more exceptional for the fact that it never gets in the way of his earthy feeling for the groove. Together with a collection of guest artists including Kirk Whalum, Bootsy Collins, Peter Rowan, Steve Bailey, Count Bass D, Béla Fleck, Carter Beauford, Jeff Coffin, Rod McGaha, J.D. Blair, Stuart Duncan and The Wooten Brothers, Wooten has created a phenomenal musical offering full of creative compositions

Victor himself would be the first to tell you how his solo work is influenced by those around him. "My brothers and parents were the foundation," he says. "They prepared me for just about anything by teaching me to keep my mind open and to learn to adapt. Musically, that means not being rigid and not having to play in a certain way." Vic grew up in a military family, the youngest of five brothers. His brothers all played and sang, and by the time he was 3, oldest brother Regi was teaching him to play bass. Wooten credits his open-mindedness about music to this early start. "When you're older, you're more hesitant to try something because you're afraid it will look wrong or come out wrong. When you're a child it doesn't matter. We'd try anything. We'd do anything we could think of to try and duplicate the sounds we heard on records. I'd learn songs one note at a time by listening to records on the player, moving the needle back and then listening to it again. Playing the bass was like learning how to talk for me. It was just another language I was picking up."

The Wooten Brothers

Victor made his professional stage debut at age five with "The Wooten Brothers Band", the five-brother band that started out playing covers and later opened concert tours for Curtis Mayfield and War. They also spent several years playing music and honing their skills at Busch Gardens theme park in Williamsburg, Virginia. This experience provided him with a valuable training ground and a vehicle for his musical development.

In 1988, Victor moved to Nashville and was immediately recruited by blues and soul singer Jonell Mosser. The following year he joined New Grass Revival's banjo ace Béla Fleck, who hired him and his brother, known as Future Man, to play in a jazz band for a Lonesome Pine Special TV show. The two brothers became the rhythm section and with Howard Levy on keyboards and harmonica. The Flecktones were born.
Official Homepage: www.victorwooten.com