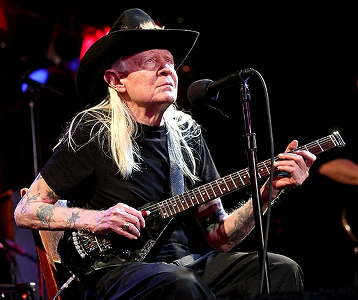 John Dawson Winter III (February 23, 1944 - July 16, 2014), known as Johnny Winter, was an American blues guitarist, multi-instrumentalist, singer, and producer. Best known for his high-energy blues-rock albums and live performances in the late 1960s and 1970s, Winter also produced three Grammy Award-winning albums for blues singer and guitarist Muddy Waters. After his time with Waters, Winter recorded several Grammy-nominated blues albums. In 1988, he was inducted into the Blues Foundation Hall of Fame and in 2003, he was ranked 63rd in Rolling Stone magazine's list of the "100 Greatest Guitarists of All Time".

Johnny Winter was born in Beaumont, Texas, on February 23, 1944. Winter, along with his musician brother Edgar (born 1946), were nurtured at an early age by their parents in musical pursuits. Johnny and his brother, both of whom were born with albinism, began performing at an early age. When he was ten years old, Winter appeared on a local children's show, playing ukulele and singing Everly Brothers songs with his brother.

His recording career began at the age of fifteen, when his band Johnny and the Jammers released "School Day Blues" on a Houston record label. During this same period, he was able to see performances by classic blues artists such as Muddy Waters, B.B. King, and Bobby Bland. In the early days Winter would sometimes sit in with Roy Head and the Traits when they performed in the Beaumont area, and in 1967, Winter recorded a single with the Traits: "Tramp" backed with "Parchman Farm" (Universal Records 30496). In 1968, he released his first album The Progressive Blues Experiment, on Austin's Sonobeat Records.

Winter caught his biggest break in December 1968, when Mike Bloomfield, whom he met and jammed with in Chicago, invited him to sing and play a song during a Bloomfield and Al Kooper concert at the Fillmore East in New York City. As it happened, representatives of Columbia Records (which had released the Top Ten Bloomfield/Kooper/Stills Super Session album) were at the concert. Winter played and sang B.B. King's "It's My Own Fault" to loud applause and, within a few days, was signed to what was reportedly the largest advance in the history of the recording industry at that time—$600,000.

Winter's first Columbia album, Johnny Winter, was recorded and released in 1969. It featured the same backing musicians with whom he had recorded The Progressive Blues Experiment, bassist Tommy Shannon and drummer Uncle John Turner, plus Edgar Winter on keyboards and saxophone, and (for his "Mean Mistreater") Willie Dixon on upright bass and Big Walter Horton on harmonica. The album featured a few selections that became Winter signature songs, including his composition "Dallas" (an acoustic blues, on which Winter played a steel-bodied, resonator guitar), John Lee "Sonny Boy" Williamson's "Good Morning Little School Girl", and B.B. King's "Be Careful with a Fool".

The album's success coincided with Imperial Records picking up The Progressive Blues Experiment for wider release. The same year, the Winter trio toured and performed at several rock festivals, including Woodstock. With brother Edgar added as a full member of the group, Winter also recorded his second album, Second Winter, in Nashville in 1969. The two-record album, which only had three recorded sides (the fourth was blank), introduced a couple more staples of Winter's concerts, including Chuck Berry's "Johnny B. Goode" and Bob Dylan's "Highway 61 Revisited". Also at this time Johnny entered into an intimate, albeit short-lived affair with Janis Joplin, which culminated in a concert at New York's Madison Square Garden, where Johnny joined her on stage to sing and perform.

After his time with Blue Sky Records, Winter began recording for several labels, including Alligator, Point Blank, and Virgin, where he focused on blues-oriented material. In 1992, he married Susan Warford. In 2004, he received a Grammy Award nomination for his I'm a Bluesman album. Beginning in 2007, a series of live Winter albums titled the Live Bootleg Series and a live DVD all entered the Top 10 Billboard Blues chart. In 2009, The Woodstock Experience album was released, which includes eight songs that Winter performed at the 1969 festival. In 2011, Johnny Winter released Roots on Megaforce Records. It includes Winter's interpretation of eleven early blues and rock 'n' roll classics and features several guest artists (Vince Gill, Sonny Landreth, Susan Tedeschi, Edgar Winter, Warren Haynes, and Derek Trucks). His latest album, Step Back, (which features appearances by Joe Bonamassa, Eric Clapton, Billy Gibbons, Leslie West, Brian Setzer, Dr. John, Ben Harper and Joe Perry), was released on September 2, 2014.

Winter continued to perform live, including at festivals throughout North America and Europe. He headlined such prestigious events as the New Orleans Jazz & Heritage Festival, Chicago Blues Festival, the 2009 Sweden Rock Festival, the Warren Haynes Christmas Jam, and Rockpalast. He also performed with the Allman Brothers at the Beacon Theater in New York City on the 40th anniversary of their debut. In 2007 and 2010, Winter performed at Eric Clapton's Crossroads Guitar Festivals. Two guitar instructional DVDs were produced by Cherry Lane Music and the Hal Leonard Corporation. The Gibson Guitar Company released the signature Johnny Winter Firebird guitar in a ceremony in Nashville with Slash presenting.

Winter was professionally active until the time of his death near Zurich, Switzerland, on July 16, 2014. He was found dead in his hotel room two days after his last performance, at the Cahors Blues Festival in France on July 14, at the age of 70. The cause of Winter's death was not officially released. According to his friend and record producer Paul Nelson, Winter died of emphysema combined with pneumonia.

Writing in Rolling Stone magazine, after Winter's death, David Marchese said "Winter was one of the first blues rock guitar virtuosos, releasing a string of popular and fiery albums in the late Sixties and early Seventies, becoming an arena-level concert draw in the process ... [he] made an iconic life for himself by playing the blues.