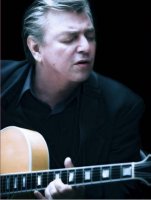 Jack Wilkins is an American guitarist born on June 3, 1944. He has played with many jazz greats including Stanley Turrentine, Jimmy Heath, The Mingus Epitaph, and bassist Eddie Gomez, as well as with singers Mel Tormé, Ray Charles, Morgana King, Sarah Vaughan, Tony Bennett, The Manhattan Transfer, Nancy Marano and Jay Clayton.
Wilkins was awarded an NEA grant in recognition of his work with the guitar.
Wilkins is a New York City resident; he currently teaches at The New School, New York University, Long Island University, and the Manhattan School of Music.
Wilkins' cover of the Freddie Hubbard standard "Red Clay", from his 1973 album Windows, was sampled by the hip-hop group A Tribe Called Quest on the song Sucka Nigga, on their 1993 album Midnight Marauders. His full cover was subsquently included on the 1998 breakbeat compilation Tribe Vibes Volume 2.