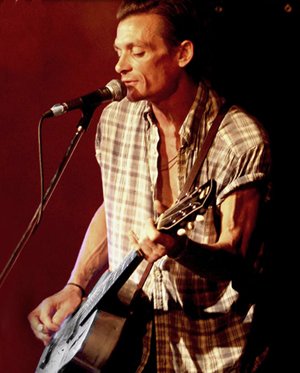 Christopher Becker Whitley (August 31, 1960 – November 20, 2005) was an iconic American singer, songwriter and guitarist. Highly acclaimed by critics, Whitley achieved modest mainstream success, but had a devoted following. Whitley's style was rooted primarily in blues, but drew on an array of influences. In 2001, the New York Times called him "restless ...evoking Chet Baker and Sonic Youth as much as Robert Johnson".
Whitley was born in Houston, Texas. Though relatively unknown to the mainstream, he worked with many top named musicians throughout his career. In 1991, U2/Peter Gabriel producer Daniel Lanois and his protégé, Malcolm Burn, recorded Whitley's debut album Living With the Law (Malcolm Burn also produced 2005's Soft Dangerous Shores). In 2000, Whitley worked with Chris Wood and Billy Martin from the famed trio of Medeski, Martin and Wood, on the Perfect Day album. Others like Dave Matthews and Bruce Hornsby also appeared on 2001's Rocket House. Whitley played a brand of confessional acoustic and electric blues, mixed with modern rock. His lyrics often contained overt sexual references and sometimes bordered on the surreal. An avid fan of jazz legend John Coltrane, Whitley played the National / Dobro, made famous by many of the great Mississippi delta blues players of the 1930s. Whitley also appeared in the concert film documentary Hellhounds on my Trail - The Afterlife of Robert Johnson, with Grateful Dead guitarist Bob Weir, Fleetwood Mac co-founder Peter Green, jam band Gov't Mule, and blues guitarist Keb' Mo. Because of his unique style of playing, he used many alternate tunings for his guitars. Whitley has also recorded with Shawn Colvin, Cassandra Wilson, Rob Wasserman, Little Jimmy Scott, Mike Watt, Johnny Society, Joe Henry, Michael Shrieve, Chocolate Genius, DJ Logic, Ely Guerra, Goat, Dave Pirner (of Soul Asylum), Clint Mansell and Jeff Lang.
In fall 2005, Whitley cancelled his tour due to health issues. Dan Whitley, his brother, revealed on November 11, 2005 that he was "in a comfortable warm home with hospice care at his disposal". Later that week it was revealed that Whitley was terminally ill with lung cancer. He died on November 20, 2005; his brother, Dan, and daughter, Trixie, publicly announced his passing.
Although Whitley wasn't a mainstream act, his passing resonated throughout the music community and garnered coverage and press throughout the world, ranging from Time, the New York Times, and National Public Radio to a tribute mention at the 2006 Grammy Awards. His albums Living With The Law and Dirt Floor are regarded as classics, and passionate advocates abound for any of his dozen or so other releases, from the hard rock driven Din Of Ecstasy to the somewhat more experimental sound of Rocket House to the dark, jazzy minimalism of Hotel Vast Horizon and the raw sonic power of his epitaph Reiter In. Bruce Springsteen, Bruce Hornsby, Tom Petty, Don Henley, Iggy Pop, Alanis Morissette, John Mayer, Gavin DeGraw, Joey DeGraw and Keith Richards all count themselves admirers of Whitley's music. Dave Matthews has said, "I feel more passion for his music than I do for my own. I have a fervent, religious devotion to the magic that Chris Whitley makes". Longtime friend and producer Daniel Lanois said, "Chris Whitley, my friend since 1988. The deep soul he was gifted with is the soul that challenged his life journey. I will forever remember his beauty." The Faroese artist Teitur has a tribute song to him on his album The Singer. He claims to be a great admirer and to have met Whitley drinking beers on a musty hotel floor.
"The notable constant has been the quality of craftmanship, and the consistent question of how Whitley's combination of super songs, muscular-but-poetic lyrics, athletic voice and rock-god guitar work hasn't earned him a wider audience." - Detroit Free Press
"The post-Hendrix explosion of whammybar wankers hasn't produced a single axeman who can compare to Chris Whitley. His eerie, bluesy voice and American gothic tunes frequently draw attention from the fact that he picks like a pissed off Doc Watson jacked through a Marshall stack" - RollingStone.com