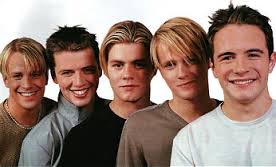 Westlife were an Irish boy band, formed in July 1998 and disbanded in June 2012. Originally signed by Simon Cowell and managed by Louis Walsh, the group's final line-up consisted of Nicky Byrne, Kian Egan, Mark Feehily and Shane Filan. Brian McFadden was a member from July 1998 until his departure in March 2004. Westlife sold over 50 million records worldwide, a total that included studio albums, singles, video releases, and compilation albums. The group accumulated 14 number-one singles in the United Kingdom. They achieved a total of 26 UK top ten singles over their 14-year career. In 2012, the Official Charts Company listed Westlife 34th amongst the biggest-selling singles artists in British music history. Despite their success worldwide, Westlife never managed to break into the U.S. market, achieving only one hit single in 2000, "Swear It Again". Based on current BPI certifications, the group have sold a minimum of 11.1 million albums and 6.8 million singles in the UK alone.

Kian Egan, Mark Feehily and Shane Filan, along with fellow Sligo men Derrick Lacey, Graham Keighron, and Michael Garrett, were part of a six-member pop vocal group called Six as One, changed in 1997 to IOYOU. The group, managed by choreographer Mary McDonagh and two other informal managers, released a single titled "Together Girl Forever". Louis Walsh, the manager of fellow Irish boy band Boyzone, came to know the group after he was contacted by Filan's mother, but the group failed to secure a BMG record deal with Cowell. Cowell told Walsh: "You are going to have to fire at least three of them. They have great voices, but they are the ugliest band I have ever seen in my life." Three members of the band (Lacey, Keighron and Garrett) were told they would not be part of the new group, and auditions were held in Dublin where Nicky Byrne and Brian McFadden were recruited. The new group, formed on 3 July 1998, was renamed Westside but that name was already in use by another band, so it was changed to Westlife. In Westlife – Our Story, Byrne revealed that, unlike the others in the group, he was keen to change the name to West High. McFadden also changed the spelling of his name to Bryan to make it easier to sign autographs. Boyzone singer Ronan Keating was brought in to co-manage the group with Walsh. The band then released an EP titled Swear It Again.

Westlife's début album and single coincided with the apogee of boy band popularity, and their success was most apparent in their homeland and the UK. They had 12 worldwide concert tours over their 14-year career.

Westlife performed for the Sultan of Brunei, an occasion on which they were paid £2.5 million to play a private concert of seven songs. They also performed at the Nobel Peace Prize Concert in 2000, and in 2005 with the songs "World of Our Own" and "You Raise Me Up" with Rolf Løvland and Fionnuala Sherry, and in 2009 with "What About Now" and "You Raise Me Up".

Despite their success worldwide, Westlife were unable to break into the U.S. market. They had only one hit single in the United States, "Swear It Again", which peaked at number 20 on the Billboard Hot 100 in 2000. The band made an appearance on MTV's Total Request Live and the U.S. edition of their debut album, Westlife was released, but it didn't meet with success. In 2002, with the two most prominent boy bands in the US, the Backstreet Boys and *NSYNC, going on hiatus that year, an attempt was made to promote and release a US version of World of Our Own, but was never successful.


"We sent over a CD of World of Our Own with no name on it. They didn't know it was Westlife and every single radio station in the States – all came back and said that this is an absolutely huge hit. They said it was great for radio and people are gonna love it, especially as there's just a slight bit of rock guitar to it. But as soon as we revealed it was Westlife, the radio pluggers all went, 'Whoa, not Westlife – it's a boyband.' And we cannot break that down, no matter what song we come out with. The problem with America is that it's all radio and you've got to break into radio first. And currently radio doesn't want to play boy bands or pop music. If Bono wrote a song with us tomorrow and it was the biggest hit in the world, if Westlife's name is put to it, it won't be a hit in America because radio will not play us."

Nicky Byrne

Though Westlife didn't gain as much success in the States as they did elsewhere, their music was still appreciated. Kid David Corey, assistant PD and music director at top 40 WXKS (Kiss 108) radio station in Boston, MA was a Westlife supporter that was recorded saying "Bands like Backstreet Boys and 'N Sync are still climbing the charts, and radio is supporting them, so I don't think the boy band thing is going to hurt them. Besides, this song ["Swear it Again"] is just too good for any of that to be a concern. I can't imagine anyone not playing this because it's another boy band, especially when it doesn't even sound like those other guys."
"Flying Without Wings" peaked at No.2 in the USA when American Idol Season 2 winner Ruben Studdard recorded and released it as his debut single. In 2003, Westlife went to Nashville to film a TV documentary. While they were there, they gave a live performance of the song "Daytime Friends", originally by country music singer Kenny Rogers.
Celebrities including Alexandra Burke and Robert Pattinson have said that they are fans of Westlife. Some well-known music artists like Ronan Keating, Will Young, Shayne Ward and Ruben Studdard have also covered their songs.