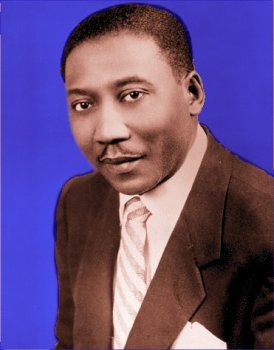 McKinley Morganfield (born April 4, 1913, Issaquena County, Mississippi; died April 30, 1983, Westmont, Illinois), better known as Muddy Waters, was an American blues musician and is generally considered "the Father of Chicago blues". He is also the actual father of blues musicians Big Bill Morganfield and Larry 'Muddy Junior' Williams. Considered one of the greatest bluesmen of all time, Muddy Waters was a huge inspiration for the British beat explosion in the 1960s and considered by many to be one of the most influential artists of the twentieth century.In 2004 Waters was ranked #17 in Rolling Stone magazine's list of the 100 Greatest Artists of All Time.
Waters usually said that he was born in Rolling Fork, Mississippi in 1915. He was actually born in neighbouring Issaquena County, Mississippi in 1913. (For many years a birth year of 1915 was reported; recent research uncovered documentation showing that in the 1930s and 1940s he reported his birth year as 1913 on both his marriage license and musicians union card; a 1955 interview in the Chicago Defender is the earliest documentation of him shaving off a couple of years and giving 1915 as his year of birth, and which he continued to use in interviews from that point onward.) His grandmother Della Grant raised him after his mother died in 1918. His fondness for playing in mud earned him the nickname "Muddy" at an early age. He later it changed to "Muddy Water" and finally "Muddy Waters". Water started out on harmonica but by age seventeen he was playing the guitar at parties emulating two blues artists who were extremely popular in the south, Son House and Robert Johnson. "His thick heavy voice, the dark coloration of his tone and his firm almost solid personality were all clearly derived from House," wrote Peter Guralnick in Feel Like Going Home, "but the embellishments which he added, the imaginative slide technique and more agile rhythms, were closer to Johnson."
In 1940 Waters moved to St. Louis before playing with Silas Green a year later and returning back to Mississippi. In the early part of the decade he ran a juke joint, complete with gambling, moonshine, a jukebox and live music courtesy of Muddy himself. In the Summer of 1941 Alan Lomax came to Stovall, Mississippi, on behalf of the Library of Congress to record various country blues musicians. "He brought his stuff down and recorded me right in my house," Waters recalled in Rolling Stone, "and when he played back the first song I sounded just like anybody's records. Man, you don't know how I felt that Saturday afternoon when I heard that voice and it was my own voice. Later on he sent me two copies of the pressing and a check for twenty bucks, and I carried that record up to the corner and put it on the jukebox. Just played it and played it and said, `I can do it, I can do it.'" Lomax came back again in July of 1942 to record Waters again. Both sessions were eventually released as Down On Stovall's Plantation on the Testament label. In 1943 Waters headed north to Chicago in hopes of becoming a full-time professional. He lived with a relative for a short period while driving a truck and working in a factory by day and playing at night. Big Bill Broonzy, one of the leading bluesmen in Chicago at the time, helped Muddy break into the very competitive market by allowing him to open for his shows in the rowdy clubs. In 1945 Waters's uncle gave him his first electric guitar, which enabled him to be heard above the noisy crowds. In 1946 Waters recorded some tunes for Mayo Williams at Columbia but they weren't released at the time. Later that year he began recording for Aristocrat, a newly-formed label run by two brothers, Leonard and Phil Chess. In 1947 Waters played guitar with Sunnyland Slim on piano on the cuts "Gypsy Woman" and "Little Anna Mae." These were also shelved, but in 1948 Waters' "I Can't Be Satisfied" and "I Feel Like Going Home" became big and his popularity in clubs began to take off. Soon after, Aristocrat changed their name to Chess and Waters' signature tune, "Rollin' Stone", became a smash hit. In fact the Muddy Waters recording that they (The Rolling Stones) got their name from was Mannish Boy. Muddy sings "I'm a rolling stone" in the song.
Initially, the Chess brothers would not allow Waters to use his own musicians (Jimmy Rogers and Claude "Blue Smitty" Smith) in the studio; instead he was only provided with a backing bass by Ernest "Big" Crawford. However, by 1952 Waters was recording with arguably the best blues group ever: Little Walter Jacobs on harmonica; Jimmy Rogers on guitar; Elga Edmonds (a/k/a Elgin Evans) on drums; Otis Spann on piano; Big Crawford on bass; and Waters handling vocals and second guitar. The band recorded a string of blues classics during the early 1950s, some with the help of bassist/songwriter Willie Dixon. "Hoochie Coochie Man" (Number 8 on the R&B charts), "I Just Want to Make Love to You" (Number 4), and "I'm Ready". These three were "the most macho songs in his repertoire," wrote Robert Palmer in Rolling Stone. "Muddy would never have composed anything so unsubtle. But they gave him a succession of showstoppers and an image, which were important for a bluesman trying to break out of the grind of local gigs into national prominence." Waters reigned over the 1950s Chicago blues scene; he was its most popular artist and led its tightest band, fueled by hits from Willie Dixon, its most successful composer. On all these fronts, however, Waters contended with fierce competition from the gravel-voiced singer Howlin' Wolf. Wolf's band rivaled Waters's all-star lineup, notably featuring the now-legendary guitarist Hubert Sumlin. Wolf also competed with Waters for the songwriting attention of Willie Dixon and recorded a large number of Dixon tunes. Nonetheless, Waters consistently retained an edge in popularity and esteem. Both Waters and Wolf are held in immense regard by modern rock and blues aficionados, but Waters scored far more chart hits and is generally considered to be the more commercially successful and the more well-known of the two; especially to the casual listener. By 1954, Waters was at the height of his career. "By the time he achieved his popular peak, Muddy Waters had become a shouting, declamatory kind of singer who had forsaken his guitar as a kind of anachronism and whose band played with a single pulsating rhythm," wrote music critic Peter Guralnick in his book The Listener's Guide to The Blues. The success of Waters's ensemble paved the way for others in his group to break away and enjoy their own solo careers. In 1952 Little Walter left when his single "Juke" became a hit (although he would continue to play on Muddy's recording sessions until the late '50s), and in 1955 Rogers quit to work exclusively with his own band, which had been a sideline until that time. Waters could never recapture the glory of his pre-1956 years as the pressures of being a leader led him to use various studio musicians for quite a few years thereafter.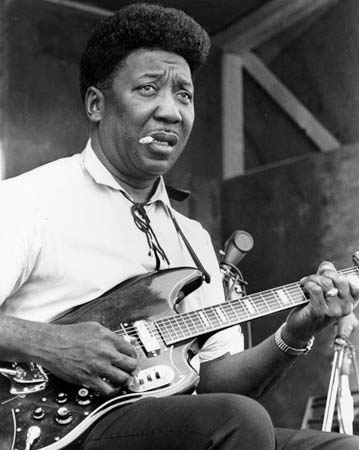 He headed to England in 1958 and shocked audiences (whose only previous exposure to blues had come via the acoustic folk/blues sounds of acts such as Sonny Terry & Brownie McGhee and Big Bill Broonzy) with his loud, amplified electric guitar and a thunderous beat. His performance at the 1960 Newport Jazz Festival, recorded and released as his first live album, At Newport 1960, helped turn on a whole new generation to Waters's sound. He expressed dismay when he realized that members of his own race were turning their backs on the genre while a white audience had shown increasing respect for the blues. However, for the better part of twenty years (since his last big hit in 1956, "I'm Ready") Waters was put on the back shelf by the Chess label and recorded albums with various "popular" themes: Brass And The Blues, Electric Mud, etc. In 1967, he joined forces with Bo Diddley, Little Walter and Howlin' Wolf to record the Super Blues and The Super Super Blues Band pair of albums of Chess blues standards. In 1972 he went back to England to record The London Muddy Waters Sessions with four hotshot rockers — Rory Gallagher, Steve Winwood, Rick Grech, and Mitch Mitchell — but their playing was not up to his standards. "These boys are top musicians, they can play with me, put the book before 'em and play it, you know," he told Guralnick. "But that ain't what I need to sell my people, it ain't the Muddy Waters sound. An' if you change my sound, then you gonna change the whole man." Waters's sound was basically Delta country blues electrified, but his use of microtones, in both his vocals and slide playing, made it extremely difficult to duplicate and follow correctly. "When I plays onstage with my band, I have to get in there with my guitar and try to bring the sound down to me," he said in Rolling Stone. "But no sooner than I quit playing, it goes back to another, different sound. My blues look so simple, so easy to do, but it's not. They say my blues is the hardest blues in the world to play."
On November 25, 1976, Muddy Waters performed at The Band's farewell concert at Winterland, San Francisco. The concert was released as both a record and a film, The Last Waltz, featuring Waters' performance of "Mannish Boy" with Paul Butterfield on harmonica. In 1977 Johnny Winter convinced his label, Blue Sky, to sign Waters, the beginning of a fruitful partnership. Waters's "comeback" LP, Hard Again, was recorded in just two days and was a return to original Chicago sound he had created 25 years earlier, thanks to Winter's production. Former Waters sideman James Cotton contributed harmonica on the Grammy Award-winning album and a brief but well-received tour followed. "He sounds happy, energetic and out for business," stated Dan Oppenheimer in Rolling Stone. The Muddy Waters Blues Band was one of the crack outfits on the scene at the time and included guitarist Bob Margolin, pianist Pinetop Perkins, and drummer Willie "Big Eyes" Smith, and all were on this session. Winter played guitar in addition to producing. Waters asked James Cotton to play harp on the session, and Cotton brought his bassist Charles Calmese. According to Margolin's warm and informative anecdotal liner notes, Waters never picked up his guitar during these sessions. It hardly matters. From the opening roar of "Mannish Boy," with shouts and hollers throughout, with incendiary guitars to the old-style Delta blues of "I Can't Be Satisfied", with a National Steel solo by Winter, to Cotton's screeching intro to "The Blues Had a Baby", to the moaning closer "Little Girl", Hard Again is rock solid. Its live feel heralds back to the Chess Records days, and its cooperative musicianship and intimate, good time vibe have rarely been replicated since that time - and never on a major label. The expanded reissue includes one bonus track, a remake of his 1950s single "Walking Through the Park," that could have been part of the original album without a problem -- the other outtakes ended up on King Bee. Margolin's notes state that while the album has been remastered, it was not remixed because its sound holds up. Hard Again showcased Waters as a blues lion, and in its grooves lies all the evidence for the legend he remains. It was the first studio collaboration between Waters and Winter, who produced his final four albums, the others being I'm Ready, King Bee, and Muddy "Mississippi" Waters Live, for Blue Sky, a Columbia Records subsidiary. In 1978 Winter recruited two of Waters' cohorts from the early '50s, Big Walter Horton and Jimmy Rogers, and brought in the rest of Waters' touring band at the time (harmonica player Jerry Portnoy, guitarist Luther "Guitar Junior" Johnson, and bassist Calvin Jones) to record Waters' I'm Ready LP, which came close to the critical and commercial success of Hard Again. The comeback continued in 1979 with the lauded LP Muddy "Mississippi" Waters Live. "Muddy was loose for this one," wrote Jas Obrecht in Guitar Player, "and the result is the next best thing to being ringside at one of his foot-thumping, head-nodding, downhome blues shows." Accompanied by his touring band, augmented by Johnny Winter on guitar, Muddy turns in an enthusiastic performance. The set list contains most of his biggest hits, and the sound quality and performances are energetic. King Bee the following year concluded Water's reign at Blue Sky, and these last four LPs turned out to be his biggest-selling albums ever. King Bee was the last album Muddy Waters recorded. Coming last in a trio of triumphant studio outings produced by Johnny Winter, it is also a mixed bag. During the sessions for King Bee, Waters, his manager, and his band were involved in a dispute over money. According to the liner notes by Bob Margolin, the conflict arose from Waters' health being on the wane and him playing fewer engagements. The bandmembers wanted more money for each of the fewer gigs they did play in order to make ends meet. Ultimately a split occurred and the entire band quit. Because of the tensions in the studio preceding the split, Winter felt the sessions had not produced enough solid material to yield an entire album. He subsequently filled out King Bee with outtakes from earlier Blue Sky sessions and the cover photograph was by David Michael Kennedy. For the listener, King Bee is a leaner and meaner record. Less of the good-time exuberance present on the previous two outings is present here. The title track, "Mean Old Frisco", "Sad Sad Day", and "I Feel Like Going Home", are all blues with ensemble work. The Sony Legacy issue features completely remastered sound and Margolin's notes, and also hosts two bonus tracks from the King Bee sessions that Winter didn't see fit to release the first time.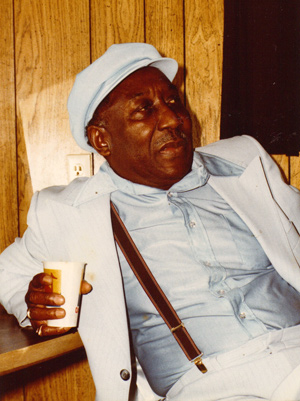 His influence is tremendous, over a variety of music genres: blues, rhythm and blues, rock 'n' roll, folk, jazz, and country. Waters also helped Chuck Berry get his first record contract. His 1958 tour of England marked possibly the first time amplified, modern urban blues was heard there, although on his first tour he was the only one amplified. His backing was provided by Englishman Chris Barber's trad jazz group. (One critic retreated to the toilets to write his review because he found the band so loud.) The Rolling Stones named themselves after Waters' 1950 song "Rollin' Stone", (also known as "Catfish Blues", which Jimi Hendrix covered as well). Cream covered his song "Rollin' and Tumblin'" on their 1966 debut album Fresh Cream, as Eric Clapton was a big fan of Muddy Waters when he was growing up, and Waters' music influenced Clapton's music career. The song was also adapted by Bob Dylan on the album Modern Times. One of Led Zeppelin's biggest hits, "Whole Lotta Love", is based upon the Waters hit "You Need Love", written by Willie Dixon. Dixon wrote some of Muddy Waters' most famous songs, including "I Just Want to Make Love to You" (a big radio hit for the 1970s rock band Foghat), "Hoochie Coochie Man," which The Allman Brothers Band famously covered, and "I'm Ready", which was covered by Humble Pie. In 1993, Paul Rodgers released the album Muddy Water Blues: A Tribute to Muddy Waters, on which he covered a number of Muddy Waters songs, including "Louisiana Blues", "Rollin' Stone", "Hoochie Coochie Man" and "I'm Ready" (among others) in collaboration with a number of famous guitarists such as Brian May and Jeff Beck. Angus Young of the rock group AC/DC has cited Waters as one of his influences. Waters' songs have been featured in long-time fan Martin Scorsese's movies, including The Color of Money, Casino and Goodfellas. Waters' 1970s recording of his mid-'50s hit "Mannish Boy" (a.k.a. "I'm A Man") was used in the hit film Risky Business. Other songs for which Muddy Waters is known include "Long Distance Call", "Rock Me", and "Got My Mojo Working". Screenwriter David Simon has written an unproduced teleplay about Waters' life. The 2006 Family Guy episode "Saving Private Brian" includes a parody of Muddy Waters trying to pass a kidney stone; his screams of pain form a call and response with the Chicago blues band in his bathroom.
In 1983 Waters died in his sleep a few weeks after his 70th birthday. At his funeral, throngs of blues musicians and fans showed up to pay tribute to one of the true originals of the art form. "Muddy was a master of just the right notes," John Hammond Jr., told Guitar World. "It was profound guitar playing, deep and simple. . . . more country blues transposed to the electric guitar, the kind of playing that enhanced the lyrics, gave profundity to the words themselves." Two years after his death, the city that made Muddy Waters (and vice versa) honored him by renaming a portion of 43rd Street near his former home on the south side "Honorary Muddy Waters Drive". Following Waters's death, B.B. King told Guitar World, "It's going to be years and years before most people realize how great he was to American music"