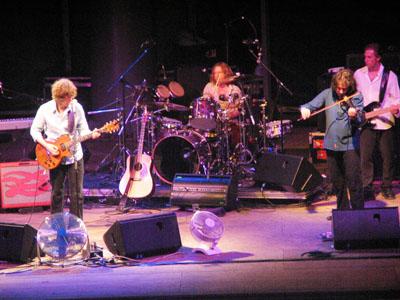 Led by the literate singer/songwriter Mike Scott, the group's sole constant member, the mercurial Waterboys formed in London in 1981. Born December 14, 1958, in Edinburgh, Scotland, Scott first became involved in music as the creator of the fanzine Jungleland and later played in a series of local punk outfits. After college, where he studied English and philosophy, Scott and his band, Another Pretty Face, moved to London; following the group's breakup, he formed the Waterboys, so named after a line in the Lou Reed song "The Kids" but wholly appropriate given Scott's recurring lyrical fascination with sea imagery.
A newspaper advertisement calling for musicians led to a response from multi-instrumentalist Anthony Thistlethwaite; along with drummer Kevin Wilkinson, the Waterboys issued their self-titled debut in 1983. Keyboardist Karl Wallinger and trumpeter Roddy Lorimer joined for the 1984 follow-up, A Pagan Place, which expanded the group's rich, dramatic sound while further exploring Scott's interest in spirituality. With 1985's This Is the Sea, the Waterboys reached an early peak; a majestic, ambitious record, it earned the group a significant hit with the single "The Whole of the Moon."
However, after the album's release, Wallinger departed to form World Party, which prompted Scott and Thistlethwaite to relocate to Ireland and begin with a clean slate. When the Waterboys returned in 1988 with the acclaimed Fisherman's Blues, they were joined by traditional Irish players like fiddler Steve Wickham, drummer Dave Ruffy, keyboardist Guy Chambers, and bassist Marco Weissman, resulting in a stripped-down, folky sound that was continued on 1990's Room to Roam.
In 1991, Scott moved to New York without Thistlethwaite or any other bandmembers; the release of 1993's Dream Harder, cut with session musicians, marked a return to an electric, more rock-oriented sound. Soon Scott moved back to Scotland, where he began a lengthy stay at a spiritual commune; there he recorded the folk-tinged Bring 'Em All In under his own name, apparently putting the Waterboys to rest for good.
On July 17, 1999, drummer Kevin Wilkinson committed suicide in his countryside home in Swindon, Wiltshire, England, just prior to jetting off on an American tour with Howard Jones. Wilkinson, who had also worked with Squeeze, China Crisis, Bonnie Raitt, and the Proclaimers, was a member of the Waterboys since their 1983 self-titled effort.
Good fortune was in the wings, for Mike Scott resurrected the Waterboys name in 2000. Rock in the Weary Land marked the band's first release in seven years. Thistlethwaite and Wickham would return to the group, and tours across the world would prove successful. Fisherman's Blues, Pt. 2, an album featuring previously unavailable material from the Fisherman's Blues sessions, appeared in summer 2002. Scott returned to the studio for 2003's Universal Hall, followed by Book of Lightning in 2007.