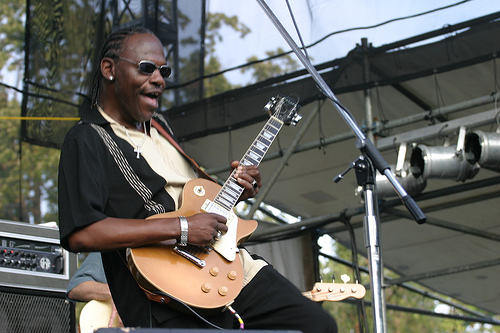 Only a decade ago, Bay Area bluesman Joe Louis Walker was one of the idiom's best-kept secrets despite clearly possessing prodigious talent. His crisp, concise guitar work-whether on conventional single-string lead or employing a crashing slide-slices like a machete; his gospel-influenced vocal delivery grabs hold of a lyric and simply refuses to let go, and his songwriting skills are incisive and prolific. In short, he is the total package. Yet for years he was known only to a loyal following of hip aficionados.
Those days are over. Today Joe Louis Walker reigns as one of the hottest and most-respected names in blues. He has a string of well-received albums for Verve to his credit and now a brand-new release for The Verve Music Group's Blue Thumb imprint, Silvertone Blues. The album takes Walker all the way back to his roots with stirring acoustic performances and stinging, stripped-down electric tracks that vividly display his most traditional leanings.
Backed in extraordinarily sympathetic fashion by harmonica great James Cotton, boogie piano specialist Kenny "Blues Boss" Wayne, and guitarist Alvin Youngblood Hart, Walker returns to the origins of the blues. Anguished, plaintive acoustic pieces and loving tributes to slide guitarist supreme Robert Nighthawk ("Crying Won't Help You," featuring Hart on vocals) and Chicago piano patriarch Sunnyland Slim ("It's You Baby"), alternate with blazing instrumental boogies ("Kenny's Barrelhouse," "Silvertone Blues") in which Walker peels off some of the hottest guitar solos he's ever committed to posterity. Three tracks add a supple rhythm section of acoustic bassist Joe Thomas and drummer Chris Sandoval.
Born on Christmas Day of 1949, the San Francisco native was reared in a household that held gospel near and dear. Yet blues was a family staple; young Walker had full access to fragile 78s by B.B. King, Amos Milburn, and Howlin' Wolf (laying some of the foundation for Silvertone Blues). Walker was playing guitar at age 14, and was proficient enough to open for the legendary Mississippi Fred McDowell, Muddy Waters, John Lee Hooker and Lightnin' Hopkins at the Matrix, a San Francisco blues bar, only a few years later.
Sharing an apartment with Michael Bloomfield in the Haight-Ashbury district exposed the young guitarist to another round of enduring influences. "I was a young guy, 19 years old," says Walker. "Michael turned me on to a lot of things, including slide playing." In 1969, Walker briefly relocated to the Chicago area. "Bloomfield sent me out there to audition for Otis Rush," says Walker. The two didn't work together at the time, but later shared a searing duet on Walker's 1997 Verve album Great Guitars.
A destructive lifestyle eventually took its toll on the young bluesman, so Walker shucked it all in 1975 to return to the church. He joined a gospel group, the Spiritual Corinthians, and stayed with them for a decade, cutting the album God Will Provide in 1980. While performing with the Corinthians at the New Orleans Jazz and Heritage Festival in 1985, Walker suddenly felt a distinct urge to return to the secular arena. After a European tour with the Mississippi Delta Blues Band, a renewed and refreshed Walker formed his own combo, the Bosstalkers, and began playing blues in the Bay Area once again.
Teaming with HighTone Records producers Bruce Bromberg and Dennis Walker (no relation), Walker cut his debut album for the label, Cold Is the Night, in 1986. The set was a stark, uncompromising affair containing seven Walker originals that set the stage for four more wonderful HighTone releases: The Gift in 1988, Blue Soul (1989), and two volumes of Live at Slim's in 1991 and '92. With every release, Walker grew more polished and assured, his potential as enormous as his talent. He accumulated W.C. Handy Awards as Contemporary Blues Artist of the Year in 1988, '89, and '90.
Verve Records signed Walker in 1992, and the following year the major label issued his Blues Survivor album, reuniting him on two tracks with the Spiritual Corinthians. Walker returned in 1994 with the sizzling JLW, marking his first recorded collaboration with harmonica master James Cotton (whose presence also distinguishes Silvertone Blues; Joe returned the favor by guesting on the harp great's Grammy®-winning 1996 Verve album Deep in the Blues). Other high-profile guests on JLW included jazz saxophonist Branford Marsalis, NRBQ pianist Terry Adams, the mighty Tower of Power Horns, and singer Angela Strehli. Blues of the Month Club, Joe's acclaimed 1995 Verve album, found Walker sharing production credit with the great Steve Cropper, lead guitarist for the vaunted Stax/Volt house band Booker T. & the MG's. (Cropper also contributed some mean guitar to the memorable title cut, and the Memphis Horns added their perennially punchy punctuations to the set.) The Handys continued to take note, presenting Walker and his Bosstalkers with a coveted statue as Best Blues Band of '95.
Great Guitars (1997) paired Walker in stellar duets with a posse of legendary fretsmen. Ike Turner unleashed his furious whammy-bar pyrotechnics on "First Degree"; Buddy Guy cut loose on the Willie Dixon/Matt "Guitar" Murphy gem "Every Girl I See" (Murphy was himself on board for "Nighttime"); Robert Lockwood, Jr., unpacked his electric 12-string for "High Blood Pressure"; and an all-star contingent of ex-Elvis Presley lead guitarist Scotty Moore, Little Charlie Baty, Cropper, and Clarence "Gatemouth" Brown queued up to take their solos beside Walker on "Mile-Hi Club." Walker supplied original material for all but Guy, in addition to sharing the studio with Bonnie Raitt, Taj Mahal, and Otis Rush. Walker was no stranger to this sort of duet format, having guested on B.B. King's Grammy®-winning 1993 MCA Records extravaganza Blues Summit (where they teamed on an incendiary "Everybody's Had The Blues" to close the disc) and on B.B.'s live release How Blue Can You Get.
For his last Verve album, 1998's Preacher and the President, Walker ventured down to Alabama to record with the Muscle Shoals Rhythm Section, who provided the sinuous grooves on countless soul and pop hits dating back to the mid-'60s. Cropper again served as co-producer, and once more Walker's scribing skills were on dazzling display. His wicked wit informed the title track, which made light of hypocrisy in both the pulpit and the White House (where Walker has performed twice.)
Whether he's exploring traditional themes or remaining cutting-edge contemporary, Joe Louis Walker now ranks with the blues elite. "I was told by many people, 'Joe, don't try to be me, and don't try to be somebody else. Be yourself,'" he says. "I never was one of those guys to sit down and try to copy B.B. King note for note, or Albert King, or Freddy King. I enjoy the hell out of 'em, but I figure if I'm gonna do this here, I might as well do it and put my own stamp on it."