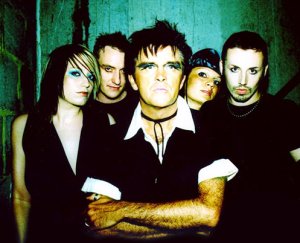 Visage is the eponymous debut album from the British New Romantic group Visage, recorded at Genetic Sound Studios in London released by Polygram Records on November 10, 1980. The album reached #13 in the UK and was certified "Silver" by the British Phonographic Industry in March 1981.
Pioneers of the New Romantic movement, the synth-pop group Visage emerged in 1978 from the London club Billy's, a neo-glam nightspot which stood in stark contrast to the prevailing punk mentality of the moment. Spearheading Billy's ultra-chic clientele were Steve Strange, a former member of the punk band the Moors Murderers, as well as DJ Rusty Egan, onetime drummer with the Rich Kids; seeking to record music of their own to fit in with the club's regular playlist (a steady diet of David Bowie, Kraftwerk and Roxy Music), Strange and Egan were offered studio time by another Rich Kids alum, guitarist Midge Ure. In late 1978, this trio recorded a demo which yielded the first Visage single, an aptly-futuristic cover of Zager & Evans' "In the Year 2525."
Adding Ultravox keyboardist Billy Currie as well as three members of Magazine - bassist Barry Adamson, guitarist John McGeoch, and keyboardist Dave Formula - Visage signed to Radar Records to release "Tar" in September 1979, followed a year later by their self-titled debut LP. The album yielded a major single in "Fade to Grey," an instant club classic which heralded synth-pop's imminent commercial breakthrough. The follow-up, "Mind of a Toy," was a Top 20 hit, but after releasing 1982's The Anvil, Visage began to disintegrate - first Ure exited to focus all of his energies on fronting Ultravox, then Currie and Formula broke ranks as well. 1984's Beat Boys was the group's final recording, although a remixed "Fade to Grey" was a UK Top 40 hit during the early '90s.