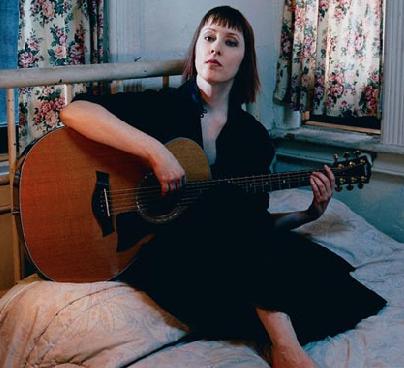 Suzanne Vega (born Suzanne Nadine Vega, 11 July 1959, Santa Monica, California) is an American songwriter and singer known for her highly literate lyrics and eclectic folk-inspired music. Vega's mother, Pat Vega, is a computer systems analyst of German-Swedish heritage. Her father, Richard Peck, is of Scottish-English-Irish extraction and works in graphics. Her stepfather, Ed Vega, is a writer from Puerto Rico. When Vega was two and a half, the family moved to New York City. She grew up in Spanish Harlem and the Upper West Side. At the age of nine she began to write poems; she wrote her first song at age fourteen. Later she attended New York's prestigious High School of Performing Arts, now on Amsterdam Avenue between 65th & 66th Street in Manhattan. (This school was seen in the film musical Fame). There she studied modern dance and graduated in 1977.
While majoring in English literature at Barnard College, she performed in small venues in Greenwich Village, where she was a regular contributor to Jack Hardy's Monday night songwriters group at the Cornelia Street Cafe. In 1984, she received a major label recording contract. Vega's debut album, Suzanne Vega, was released in 1985 and was well received by critics in the U.S.; it reached platinum status in the United Kingdom. Produced by Lenny Kaye, Steve Addabbo and Steven Miller, the songs feature Vega's acoustic guitar in straightforward arrangements. Vega's writing often featured vignettes of characters and even inanimate objects, such as in "Small Blue Thing". A video was released for the album's song "Marlene on the Wall", which went into MTV and VH1's rotations. During this period Vega also wrote lyrics for two songs on Songs from Liquid Days by composer Philip Glass. Her next effort, Solitude Standing (1987), garnered critical and commercial success including two hit singles: "Tom's Diner", and "Luka", which was an international success. "Luka" is written about, and from the point of view, of a battered child—at the time an uncommon subject for a pop hit. While continuing a focus on Vega's acoustic guitar, the music is more strongly pop-oriented and features fuller, more sensual arrangements. The a cappella "Tom's Diner" was later a hit again, remixed by two British dance producers under the name DNA, in 1991. Vega's third album, Days of Open Hand (1990) signified a change in style: the music became more experimental, and the lyrics expressed greater emotion.
In 1992 she released the album 99.9F° ("ninety-nine point nine Fahrenheit degrees"). It consists of an eclectic mixture of folk music, dance beats and industrial music. Her fifth album, Nine Objects of Desire, was released in 1996. The music varies between a frugal, simple style and the industrial production of 99.9F°. This album contains "Caramel", featured in the movie The Truth About Cats & Dogs and, later, the trailer for the movie Closer. A song not included on that album, "Woman on the Tier," was featured on the soundtrack of the movie Dead Man Walking. In 1997 she took a singing part on the concept album Heaven and Hell, a musical interpretation of the Seven deadly sins by her colleague Joe Jackson, with whom she had already collaborated in 1986 on Left of center from the Pretty in Pink soundtrack (with Vega singing and Jackson playing piano). September 2001 saw the release of a new album, Songs In Red and Gray. Three songs deal with Vega's divorce from record producer, Mitchell Froom, whom she married in 1995 and divorced in 1998. At the memorial concert for her brother Timothy Vega in December 2002, she began as the long-term subject of a direct cinema documentary, Some Journey, by director Christopher Seufert of Mooncusser Films.
In 2003, the twenty-one song greatest hits compilation Retrospective: The Best of Suzanne Vega was released. (The UK version of Retrospective included an eight-song bonus CD as well as a DVD containing twelve songs.) In the same year she was invited by Grammy Award-winning jazz guitarist, Bill Frisell, to play at the Century of Song concerts at the famed RuhrTriennale in Germany. In 2003, she hosted the American Public Media radio series American Mavericks, about 20th century American composers, which received the prestigious Peabody Award for Excellence in Broadcasting. Vega has a daughter, Ruby Froom (born 8 July 1994). The band Soul Coughing's Ruby Vroom album took its name from her, with Vega's approval, though she requested a slight change. On 11 February 2006, Vega married Paul Mills, a lawyer and a poet. They originally met each other at Folk City on West 4th Street in 1981. In their own words, Mr. Mills proposed to Miss Vega in May 1983, and she accepted his proposal on Christmas Day 2005. On 3 August 2006, Vega became the first major recording artist to perform live in the Internet-based virtual world, Second Life. The event was hosted by John Hockenberry of public radio's The Infinite Mind. On 17 September 2006, she performed in Central Park, as part of a benefit concert for The Save Darfur Coalition. During the concert she highlighted her support for Amnesty International, of which she has been a member for nearly a decade. In early October 2006 Vega took part in the Academia Film Olomouc (AFO) in Olomouc, the Czech Republic, the oldest festival of documentary films in Europe, in which she appeared as a main guest. She was invited there as the subject of the documentary film by director Christopher Seufert, that had a test screening at the festival. At the end of the festival she performed her classical songs, and added one brand new piece called "New York Is a Woman".
Vega is also one of the interviewed persons in the book Everything Is Just a Bet which was published in Czech in October 2006. The book contains twelve interview transcriptions from the talk show called Stage Talks that regularly runs in the Svandovo Theatre in Prague. Vega introduced the book to the audience of the Svandovo Theatre, and together with some other Czech celebrities gave a signing session. She signed with Blue Note Records in the spring of 2006, and released Beauty & Crime on 17 July 2007. The album was produced by Jimmy Hogarth, which won a Grammy for Best Engineered Album, Non-Classical. In 2007, Suzanne Vega, following the lead of numerous other mainstream artists released her track "Pornographer's Dream" as podsafe. The song spent two weeks at #1 during 2007 and finished as the #11 hit of the year on the PMC Top10's annual countdown.