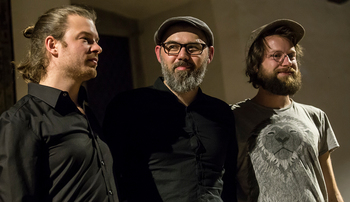 Swiss jazz pianist Colin Vallon (17 November 1980 in Lausanne) makes modern creative jazz with plenty of atmosphere, a post-bop sense of improvisation, and a completely fresh take on rhythmic interplay. Born in Lausanne in 1980, Vallon studied jazz privately before enrolling in the Swiss Jazz School at age 18. By the late '90s, he was performing regularly with his own trio in Switzerland and elsewhere in Europe. He released his debut solo album, Les Ombres, on Unit in 2004. His sophomore effort, Ailleurs, appeared in 2007 on Hatology. As Vallon's profile grew, he garnered several awards including the Fridl-Wald Foundation Prize, and took third place in the Montreux International Jazz Piano Solo Competition. In 2008 he received the Nico Kaufmann Foundation Prize and in 2009 he won the Pro Helvetia high-priority jazz promotion. When not performing, Vallon teaches at the Bern University of the Arts.

Rruga
In 2011, Vallon released his fourth studio effort, Rruga, on ECM with his long-standing trio featuring bassist Patrice Moret and drummer Samuel Rohrer. In 2012, Rohrer left and was replaced by Julian Sartorius. The pianist and his trio entered Oslo's Rainbow Studio in 2013 and emerged with Le Vent, released in March of 2014. The group toured internationally, playing festivals in Europe, Canada, the United States, Japan, and South Korea. That same year, Vallon composed the music for choreographer Martin Zimmermann's Hallo, and took part in the creation of the documentary film Gossenreiter.

Danse
In 2015, Vallon began a residency at Bee-Flat, Bern's premier jazz and world music club. He presented three new musical projects there: Ocre, a psychedelic rock quartet with Matthieu Michel on trumpet, Flo Götte on bass, and Domi Chansorn on drums; Coriolis, a minimal improv quartet with vocalist Joy Frempong, electronicist Strotter Inst, and clarinetist Hans Koch; and "Fauna," a composition for cellos, harps, saxophones, and drums, inspired by the animal world. Vallon's jazz trio entered a Lugano recording studio in early 2016 with producer Manfred Eicher. A few months later, the pianist was nominated for a Swiss Music Prize. The group's sixth album, Danse, was issued by ECM in early 2017.