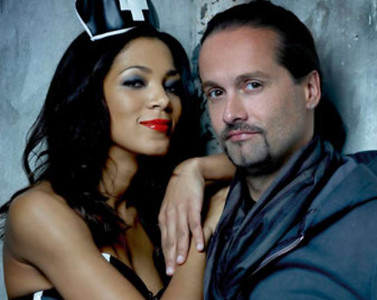 U96 is a German dance-music project formed by the DJ and producer Alex Christensen and a team of producers named Matiz (Ingo Hauss, Helmut Hoinkis, and Hayo Lewerentz).

The name of the project comes from the film Das Boot about the German submarine U-96 from the Second World War. The project's first hit, "Das Boot" (1991), is a techno adaptation of the film's title melody, which had been originally composed by Klaus Doldinger. An album of the same name was also released.

Its next album, Replugged (1993) was inspired by the electro sounds of the 1980s and by ambient and disco music themes. It was less commercially successful than the first album, but provided a couple of Top 10 hits in "Love Sees No Colour" and "Night in Motion".

The follow-up album Club Bizarre (1995) radically changed the group's sound. The album was dominated by a fast-paced Eurodance sound with a significant trance influence. The hit single releases from this album were "Love Religion" (with Daisy Dee) as well as the title track "Club Bizarre" with harmonies, which was reused later by Brooklyn Bounce. Motor Music also released the Club Bizarre Interactive CD-ROM. The audio part of this CD-ROM included several music tracks and the multimedia part featuring a discography, interviews with Alex Christensen, and a game for Mac OS and Windows PC.

In 1996, its fourth album, Heaven, was released. The album was highly commercial in sound, with greater emphasis on Eurodance, despite retaining some electro and trance influences. On this album, a new singer, Dea-Li (Dorothy Lapi), was featured, who participated in the production of four titles. The refrain in the song Heaven—although with a faster pace and different text—closely resembles Cyndi Lauper's 1984 hit song "Time After Time."

In the following single releases were "Seven Wonders" (1997), "Energie" (1998), "Beweg Dich, Baby" (1998) and "Das Boot 2001" (2000). The group released the compilation album Best Of 1991–2001 with some new songs from the unreleased album Rhythm Of Life. The last track "We Call It Love" was issued in 2003 as a promo single only. The group returned to the German Top 30 in 2006 with "Vorbei," which featured the vocals of guest singer Ben. Another album, Out of Wilhelmsburg, was released in 2007, albeit with a different group lineup.