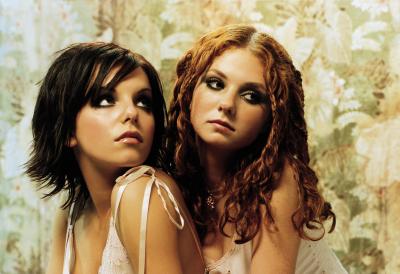 t.A.T.u. (Russian: Тату, listen (help·info))(IPA: [tä'tu]) is a Russian duo formed in Moscow, Russia in 1999 by Ivan Shapovalov. The group consists of Lena Katina and Yulia Volkova. Early on, Katina and Volkova were presented as a lesbian couple but their 2003 documentary, Anatomy of t.A.T.u., made it clear that this was just part of the group's image, and that they were not lesbians. In 2004, the group took a hiatus after they split from their producer. In 2005, they released Dangerous and Moving and Lyudi Invalidy. During 2006, t.A.T.u. released a compilation album and then ventured on their own after negotiating out of their contract with Universal Music. A third Russian studio album, titled Upravleniye Otbrosami is expected for a 2008 release, while their third English studio album, Waste Management, is expected to be released as the soundtrack for the upcoming film Finding t.A.T.u..
Ivan Shapovalov and his friend/business partner Alexander Voitinskyi developed plans to create a musical project in Russia. Many stories have been told about Shapovalov's purpose of creating the group. By the end of auditioning, Shapovalov and Voitinskyi narrowed their search down to 10 girls, including ex-members of the group Neposedi, Katina and Volkova. After completing the duo, the producers decided on the name Тату (Tatu). It is a shortened version for their longer name "Eta devushka lyubit tu devushku:" "this girl loves that girl". For the release of their first English-language album, they decided to go by t.A.T.u., using uppercased letters and periods to differentiate between an already existing Australian band also named "Tatu." The two began to record songs with their producers, and eventually, Voitinskyi left the project. Shapovalov decided to sign Elena Kiper as co-producer and co-writer for their debut album.
On September 26, 2003, the act released a compilation CD of remixes, titled Remixes. In November 2003, the CD was released in Russia, with two new tracks, and videos. The two new tracks were "Prostiye Dvizheniya" (which was previously released as a single but had not appeared on a commercial release before), and "Ne Ver, Ne Boysya." A DVD compilation of t.A.T.u.'s music videos and more titled Screaming for More was released on November 24, 2003. Anatomy of t.A.T.u. aired on Russian television on December 12, 2003. The documentary revealed that the girls were not lesbians. From January – March 2004, STS in Russia aired Podnebesnaya, a thirteen-episode reality show/documentary which chronicled the group recording their second album with producer Ivan Shapovalov. The girls recorded a few songs, some of which were used for their second album. Only a few months after the show aired, Katina and Volkova left Shapovalov, claiming the quality of the music being produced was too low, and that he was only interested in creating scandals. Yulia stated:

"He [Ivan] spends his time thinking up scandals instead of planning our artistic work. I'm sure our fans would rather hear new songs and new albums than new scandals."
On September 23, 2004, Volkova gave birth to Viktoria (Vika) Pavlovna Volkova, and she soon returned to the studio with Katina.
In August 2005, "All About Us" and "Lyudi Invalidy" were announced to be the first singles from the English and Russian albums, respectively. t.A.T.u. released their second English album on October 5, 2005 titled Dangerous and Moving. Its Russian counterpart was released on October 19, titled Lyudi Invalidy. The second single was "Friend or Foe". Soon after the video was released, the group's management replaced drummer Roman Ratej with Steve Wilson, and appointed a new bassist, Domen Vajevec. On April 17, 2006, t.A.T.u. returned to reality TV in Russia with t.A.T.u. Expedition, which was broadcast on Russian music channel Muz Tv. It chronicled the release of their second album, and recording the video for their third single, "Gomenasai" which was released during the airing of the show. t.A.T.u. performed in St. Petersburg, Russia on April 28 kicking off their Dangerous and Moving Tour. The DVD Truth: Live in St. Petersburg was released on September 12, 2007. Then, on August 30, 2006, the official website announced that the girls had left their record company, Universal/Interscope. On November 21, 2006, the region of the Komi Republic in Russia filed a lawsuit against t.A.T.u. over the album and song "Lyudi Invalidy". Leonid Vakuev, a human rights representative for the Komi Republic, cited words written in the booklet for the album, which said: "Disabled people [Lyudi Invalidy] do not know what it means to be a human being. They are fakes inside the human form. They do not live, but - function". Katina stated "Of course, we meant moral invalids, people who do not have soul and human feelings." When asked if they had anything against disabled people, she stated that she finds it offensive to refer to people by that term, and added "We take pictures together and make sure they have priority seats [at concerts].
On May 17 2007, t.A.T.u. issued a statement directed to their gay fans, "When t.A.T.u.'s second album came out, many of our fans of alternative sexual orientation thought that we lied and betrayed them. This is not true! We've never done that and we've always advocated love without boundaries." On May 26, they flew out to Moscow to take part in the Moscow Gay Pride demonstration.On September 12, 2007 t.A.T.u. released Truth. It was the group's first release since leaving Universal.
When t.A.T.u. was first formed by Shapovalov, the group's production company Neformat was born, with Shapovalov and Renski at the head. In 2004, the company was dissolved when t.A.T.u. left Shapovalov. Since 2005, T.A. Music has been the production company of t.A.T.u., located in Moscow, Russia. The release of Dangerous and Moving said that the company was comprised of t.A.T.u., Boris Renski, Dasha Mischenko, Eugenia Voevodina and Andrey Artischev.