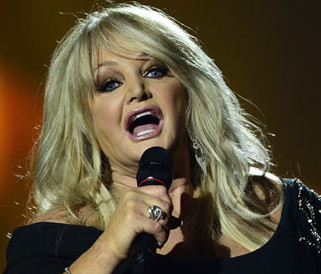 Bonnie Tyler (born Gaynor Hopkins on 8 June 1951) is a Welsh singer. Born in Skewen, she spent seven years performing in pubs and clubs around South Wales before being signed to RCA Records in 1975. Tyler is known for her distinctive husky voice, resulting from an operation to remove vocal nodules in the mid-1970s. Her singing has been compared to Rod Stewart and Kim Carnes, and she has been referred to as the 'International First Lady of Rock'.

Tyler first achieved major chart success in the 1970s with "Lost in France" and "It's a Heartache". She achieved further chart success in the 1980s with the two hit singles "Total Eclipse of the Heart" and "Holding Out for a Hero". Both "It's a Heartache" and "Total Eclipse of the Heart" are among the best-selling singles of all time, with sales in excess of six million. Her 1983 album Faster Than the Speed of Night debuted at number one on the UK Albums Chart, earning her a Guinness World Record for being the first female artist to do so. Her work has earned her two Grammy Award nominations, three Brit Award nominations, among other accolades.

Making a comeback in 2003, she released "Si demain..." with Kareen Antonn, which was a number one in France for ten weeks. Her latest album Rocks and Honey has had moderate success in Europe, with her single "Believe in Me" being used as the UK's entry for the Eurovision Song Contest 2013. Following the contest, Tyler received two Eurovision Song Contest Radio Awards for Best Song and Best Singer, making her the first UK representative to win the award.

Tyler and her husband Robert Sullivan decided to try to have a baby when she was aged 39. Tyler miscarried and did not conceive again. Some of Tyler's siblings have also had some success in the music business. Her brother, Paul Hopkins, is lead singer of local Swansea band, Sunshine Cab Co. He co-wrote most of Tyler's 1980s B-sides, including "Time" and "Gonna Get Better", as well as composing some tracks for her albums, such as "The Reason Why" from All in One Voice. Tyler's sister, Avis Hopkins, featured on Mal Pope's musical soundtrack of Cappuccino Girls, singing the track "Today's My Birthday". Avis Hopkins changed her name in the 1980s to Amanda Scott and released the track "Lies" in 1988. Through her husband, Tyler is related to actress Catherine Zeta-Jones and attended her wedding to Michael Douglas, performing "Total Eclipse of the Heart".

"Total Eclipse of the Heart" and "It's a Heartache" have estimated sales of over 6 million units each, and are amongst the best-selling singles of all time. Tyler's previous manager David Aspden aimed to target the UK and US music markets in the 1980s, though success there fluctuated. He decided to base Tyler in Germany, where at the time the Berlin Wall was in place. "We used to go through Checkpoint Charlie in East Germany. We must have gone through Checkpoint Charlie at least 20 times. The people weren't allowed to listen to normal radio, they weren't allowed to look at any European television and they weren't allowed to buy records. But when the wall came down, Bonnie's sales absolutely doubled overnight, it was incredible. They had access to the music, and they never forgot how she sacrificed going to East Germany, where nobody else would go," Tyler's husband stated. She was also one of the first western artists to tour the Soviet Union.

In 2004, Guinness World Records published British Hit Singles and Albums, which claimed that Tyler was the first British female to debut at number one in the UK Albums Chart with Faster Than the Speed of Night in 1983. This caused some confusion, since Kate Bush's album, Never for Ever had debuted in the Number One position in 1980. However, Tyler's record was that she was the first female British artist to debut at number one with her first album, Bush had several albums chart in the UK prior to the release of Never for Ever.

Main article: List of awards and nominations received by Bonnie Tyler
Tyler's first major award was received at the 10th World Popular Song Festival in Tokyo in 1979, where Tyler represented the United Kingdom with her single "Sitting on the Edge of the Ocean". She went on to win three Goldene Europa awards, one Echo Award, and a Steiger Award for lifetime achievement. In addition, she received three Grammy nominations in the 1980s, and three Brit Award nominations.

After the Eurovision Song Contest 2013, Eurovision Song Contest Radio hosted their annual awards, where Tyler was the first United Kingdom representative to receive an award. She won Best Song (with "Believe in Me") and Best Female Singer.

As well as music awards, Tyler has received local honours in Wales, and became freeman of Neath Port Talbot in 2011 for her "lifelong worldwide contribution in the field of entertainment." Swansea University presented Tyler with an honorary degree in July 2013; she was made a doctor of literature. In October 2013, Tyler was presented with the British Academy of Songwriters, Composers and Authors' (BASCA) award in the Savoy Hotel.