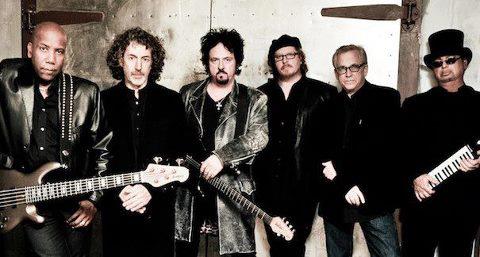 Toto is an American rock band formed in 1977 in Van Nuys in Greater Los Angeles, California. The band's current lineup consists of Joseph Williams (lead vocals), David Paich (keyboards, vocals), Steve Porcaro (keyboards), Steve Lukather (guitars, vocals), and Keith Carlock (drums). Original bass player David Hungate is currently scheduled to tour with Toto as a guest musician, as Mike Porcaro died on March 15, 2015. Toto is known for a musical style that combines elements of pop, rock, soul, funk, progressive rock, hard rock, R&B, blues, and jazz.

David Paich and Jeff Porcaro had played together as session musicians on several albums and decided to form a band. David Hungate, Steve Lukather, Steve Porcaro and Bobby Kimball were recruited before their first album release. The band enjoyed great commercial success in the late 1970s and 1980s, beginning with the band's eponymous debut released in 1978. With the release of the critically acclaimed and commercially successful Toto IV (1982), Toto became one of the best-selling music groups of their era. They are best known for the Top 5 hits "Hold the Line", "Rosanna", and "Africa". Several changes to the lineup have been made over the years. In 2008, Lukather announced his departure from the band, and the remaining band members later went their separate ways. In the summer of 2010, Toto reformed and went on a short European tour, with a new lineup, to benefit Mike Porcaro, who had been diagnosed with amyotrophic lateral sclerosis (ALS) and was no longer an active member of the band.

The band has released a total of 17 albums, and have sold over 35 million albums to date. The group was honored with several Grammy Awards and was inducted into the Musicians Hall of Fame and Museum in 2009.

In 2013, celebrating their 35th anniversary, the band embarked on tour across Europe and North America, along with Japanese dates to follow in 2014. Their show on June 25, 2013 in Lodz, Poland was recorded for a live release and was released on the 29th of April 2014. On November 5, it was confirmed both on Toto's and David Paich's official Facebook pages that a new studio album is in the works. The band plans to go into the studio early 2014. On January 18, 2014, former vocalist Fergie Frederiksen died after a long battle with liver cancer. After the 2013 leg of the 35th anniversary tour, it was revealed via the band's official website on January 23, 2014 that Simon Phillips had departed the band to pursue a solo career. Phillips was then replaced by Steely Dan drummer Keith Carlock.

While Keith Carlock was now part of the band, he did not join them for at least the North American tour and was filled in by Shannon Forrest. Bass player Nathan East, who has been touring with them since 2010, left after the Japanese tour to pursue his own projects. Instead, initial bass player David Hungate rejoined the band. They once again toured the United States in spring 2014 as co-headliners with singer Michael McDonald. It was their most comprehensive tour on the continent in years.

Toto released their thirteenth studio album and their first in nine years titled Toto XIV on March 20 (Europe), March 23 (UK and Oceania), and March 24, 2015 (North America). To promote the newly finished project, the band will hit the ground on a new world tour running with an extensive European headline arena tour with appearances at key festivals, along with North American tour to follow in the summer of 2015 and Asia later this year.

On March 15, 2015, former bassist Mike Porcaro died, due to complications from his battle with ALS, in his sleep at his home in Los Angeles.

On 6 April 2015, Toto announced that they will embark on 7 August 2015 in Mashantucket, Connecticut with veteran progressive band Yes on a joint Summer tour of North America due to end on 12 September 2015 in Coquitlam, British Columbia.