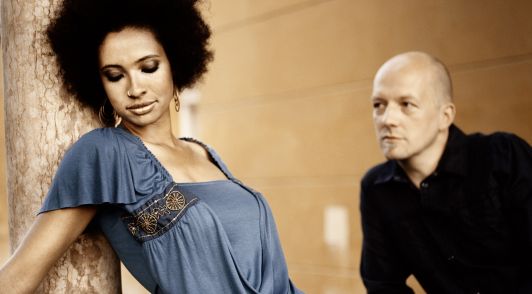 For the most part, the songs of Tok Tok Tok's new album are love songs. And the band makes no attempt to hide this. "There can't be enough love songs," says singer Tokunbo Akinro confidently. "Love is a universial topic that matters to everyone. It's something everybody has to deal with. We wanted to tell various stories about what can happen when you're in love: stories about the nice things and the not so nice things. And sometimes we also get a bit cheeky with our lyrics. It's still a taboo for women to act on the 'love market' the same way men do. Unlike men, women are not allowed to have their flings. So we wrote a couple of provoking songs in which women do what men do. Why shouldn't they?" Tok Tok Tok already can look back on ten years of career, seven studio and two live albums, two German Jazz Awards and an award of the French copyright collection society SACEM. Their music is regularly played on German, French, and Spanish radio stations, and their albums always enter the top ten of the German jazz charts. Besides, they have the fame of being an excellent live band celebrated by fans in Madrid, Paris, Berlin, or Prague. On the European acoustic soul and jazz scene Tok Tok Tok is a household name.
After signing a record deal with Univeral Music, the Freiburg-based band is heading into a new direction. The label that released albums by Diana Krall, Jamie Cullum, and Beady Belle will present Tok Tok Tok's new studio album "She And He". "We are concious that the first record you do for a new record company is extremely important, if not decisive. For me as a producer, this was enormously motivating," says Morten Klein, the male half of Tok Tok Tok's protagonists. "However, it was not unintentional that, during all these years, we recorded for an independent label," he continues. "We wanted to avoid being 'build up' from the start." "When we began performing we worked in a chamber music setting," adds singer and lyricist Tokunbo Akinro. "We met at the conservatory and started as a trio." The shift to the new record label provided Tok Tok Tok with a welcome opportunity to make some musical changes, too - the new songs have leaner forms and tighter textures. "On our most recent European tour, in which we performed the material of the last album, I sometimes already felt that I actually should make some changes," Klein relates. "I wanted the new songs to be more compact and more focussed and less jazzy. And I wanted to lay less stress on soloing."
Tok Tok Tok's previous seven studio albums had all been recorded by Icelandic sound engineer Hrólfur Vagnsson. For their latest live album, "Reach Out", the band hired Oliver Noack, a sound engineer they know from their hometown of Freiburg. The collaboration went so well that they continued it on "She And He". "Hrólfur is a specialist for recording purely acoustic music, he almost never edited our recordings," says Klein. "While working with Oliver on 'She And He', we had the chance to enhance the sound in the editing and mixing process." "In our music we always try to find a balance between 'the groove' and 'the song'," Klein explains. "Since our last recording we are working with a drummer on a regular basis, which, of course, made our music definitely more groovy. Besides this, on the new album we worked a lot on the elements of the songs, on the melodies, the lyrics." That's why "She And He" contains exclusively self-penned love songs. Contrary to popular believe and unlike other female/male duos (as f.e. Everything But The Girl's Tracy Thorn and Ben Watt or Tuck and Patti), Tokunbo and Morton are not a couple, but simply two musically like-minded souls. Their close cooperation and the shared love of soul music helped them to develop into one of the most demanded soul acts of Europe. When it comes to love, Tok Tok Tok accept no cynical approach. "I think that also a lot of adults act and feel like teenagers when they happen to fall in love again. Even if you have quite some experience in this field, it does not mean that you're no longer able to have big feelings," says Akinro. The songwriter is the daughter of a German mother and a Nigerian father. How did this cultural background influence her? "I personally experienced and felt the inner cultural conflicts," says Akinro who spent her early childhood in Nigeria. "At home we spoke German, in the streets I had to speak English." When she was ten years old the family moved to Germany. "At a certain point I managed to develop my own strong identity. I stamped my foot and declared: Yes, I belong here! Only when I started travelling around I realized that there was no need to decide on a certain culture."
Akinro loves touring with Tok Tok Tok. "With our band, consisting of Jens Gebel (keyboards), Christian Flohr (bass), and Matthias Meusel (drums), we played a lot internationally during the last few years, and we got to know many interesting locations we would not have visited otherwise. We met fanatstic people, young ones as well as old ones", remembers Tokunbo Akinro with a glare in her eyes. And to her these personal encounters are no less important than the musical success.