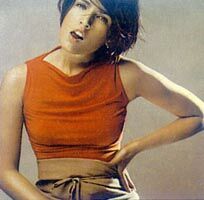 Tanita Tikaram (born August 12, 1969) is an English pop/folk singer/songwriter best known for the enigmatic hits "Twist in My Sobriety" and "Good Tradition" from her 1988 debut album, Ancient Heart (see 1988 in music). Successive releases failed to meet with similar commercial success although she has continued to release recordings as recently as 2005. Her style is based on her husky voice, acoustic guitar and quirky, poetic lyrics.
Ancient Heart, released when she was just 19 years old, became an international hit and led to a world tour. "Twist in My Sobriety" was accompanied by an award-winning black and white video, set in a rural village in the Bolivian Altiplano, and directed by Gerard de Thame. Three follow-up albums received mixed reviews and declining sales. Her co-producers and collaborators during this period were Rod Argent and Peter Van Hooke. Jennifer Warnes provided vocals on two tracks of Everybody's Angel.
In 1995, she released Lovers in the City, which she co-produced with Thomas Newman, and in 1998 collaborated with Marco Sabiu on the more pop music-oriented The Cappuccino Songs. In 2005, Tikaram released her latest album, Sentimental. The album, which features two collaborations with Nick Lowe, was warmly received by critics and fans, but was released only on the French label Naïve Records.
Tikaram was born in Münster, Germany, the daughter of a Malaysian mother and an Indo-Fijian British army officer, and grew up in Basingstoke, England. She is the sister of actor Ramon Tikaram. The lesbian nightclub Le Boobsbourg in Beaubourg, Paris credited Tikaram with coining its name, after mispronunciation of the district's name by American tourists.