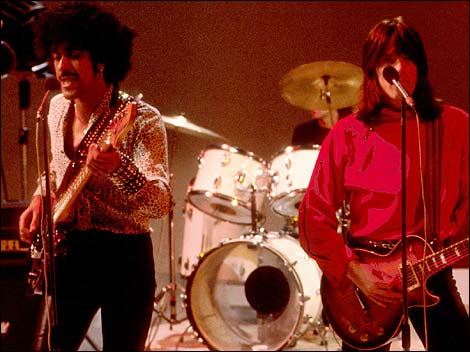 Thin Lizzy (Formed: 1970, Dublin, Ireland - Disbanded: 1983) is among rock music's elite and a synonym for classic rock. As one of the first bands to break out of Ireland, Thin Lizzy's music was hard, yet melodic; their lyrics romanticized stories of love, love-lost, and street life as well as Irish folklore. Their signature double guitar lead sound has influenced countless bands beyond the rock genre. With thirteen albums to their credit, they have had over fourteen top 20 hits in Europe while classic tracks such as "The Boys Are Back In Town", "Jailbreak", and "Cowboy Song" have become staples of American rock radio.
Formed in 1969 by Dublin school chums Phil Lynott and Brian Downey, Thin Lizzy scored their first top ten hit in 1972 with "Whiskey In The Jar" -- their reworking of the traditional Irish drinking song. Several years later when Lizzy lost original guitarist Eric Bell, Lynott brought in two players, American Scott Gorham and Scotsman Brian Robertson. While the latter was replaced by a string of players over Lizzy's career (including Gary Moore, Snowy White, Midge Ure, and eventually John Sykes) the move to have two main guitarists playing harmony leads proved to be their signature sound. According to Gorham, not only did new guitarists have to be good musicians, they also had to bring in a bit of their own unique style.
Lizzy's biggest break hit in 1976 with the classic track "The Boys Are Back In Town" from the album Jailbreak. Lizzy worked constantly releasing strong albums with more hit singles, however, hard living, drug abuse, and continuous touring eventually wore down the band. It was announced in 1982 that the tour for the album Thunder and Lightning would be their farewell and as luck would have it, Lizzy was once again on top.
The yearlong tour had them playing the major halls throughout Europe and Japan, along with the headlining spot at the Reading Festival. Despite sounding better than ever, Lizzy played their last show together on September 4th, 1983 at Germany's Monsters Of Rock Festival. In the years to follow, Lynott collaborated with other musicians and fronted a new band called Grand Slam, but the band never made it's mark, nor was Lynott able to live beyond his Lizzy legacy. Phil Lynott died on the 4th of January 1986, from heart failure and pneumonia from years of drug abuse. He was only 35.
Fortunately, the post Lizzy years proved fruitful for its other members. Sykes went on to join Whitesnake and record the band's best selling albums, Slide It In and Whitesnake '87. He then formed Blue Murder and followed through with a successful string of solo releases. Scott Gorham returned to London and started doing session work with friends before forming his own band, 21 Guns. Keyboardist Darren Wharton did session work as well before forming the band, Dare.
Yet while each member was busy doing their own projects, they reformed in 1994 to do a series of tribute shows to honor Lynott's name. Gorham, Sykes, Wharton, and Downey along with bassist Marco Mendoza performed concerts throughout Japan, America, and Europe. In 1999, Thin Lizzy returned to do a series of European dates, yet Downey opted to stay in Dublin. Veteran drummer Tommy Aldridge was brought in for the tour.
In 2000, the band released One Night Only, marking the first live album under the Thin Lizzy moniker in close to seventeen years. Recorded on their European tour, the members of Thin Lizzy pay homage to their celebrated past with a new fire and prove their songs have stood the test of time. It also marks the beginning of a new chapter for the band with a world wide tour to follow. As for the future, Gorham and Sykes are writing new material together enforcing that Thin Lizzy's magic will always remain.