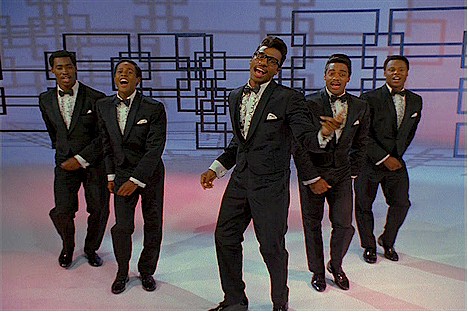 The Temptations (abbreviated as "The Temps" or "The Tempts") are an African American male song and dance group that achieved fame as one of the most successful acts to record for Motown Records. The group's repertoire has included, at various times during its five-decade career, R&B, doo-wop, funk, disco, soul, and adult contemporary music.
Formed in Detroit, Michigan in 1960 as The Elgins, the Temptations have always featured at least four African American male vocalists/dancers. The group, known for its recognizable choreography, distinct harmonies, and onstage suits, has been said to be as influential to soul as the Beatles are to rock. Having sold an estimated 22 million albums by 1982, The Temptations are one of the most successful groups in music history and were the definitive male vocal group of the 1960s. In addition, they have the second-longest tenure on Motown (behind Stevie Wonder), as they were with the label for a total of 40 years: 16 years from 1961 to 1977, and 24 more from 1980 to 2004 (from 1977 to 1980, they were signed to Atlantic Records). As of 2007, the Temptations continue to perform and record for Universal Records with only one original member, founder Otis Williams, in its lineup.
The original group included members of two local Detroit vocal groups: The Distants, which featured second tenor/baritone Otis Williams, first tenor Elbridge "Al" Bryant and bass Melvin Franklin; and first tenor/falsetto Eddie Kendricks and second tenor/baritone Paul Williams (no relation to Otis) from The Primes. Among the most notable future Temptations were lead singers David Ruffin and Dennis Edwards (both of whom became successful Motown solo artists after leaving the group), Richard Street (another former Distant), Damon Harris, Ron Tyson, Ali-Ollie Woodson, Theo Peoples, and G.C. Cameron. Like its sister female group, the Supremes, the Temptations' lineup has changed frequently over the years. Over the course of their career, the Temptations have released four Billboard Hot 100 number-one singles and 14 Billboard R&B number-one singles. Their material has earned them three Grammy Awards, while two more awards were conferred upon the songwriters and producers who crafted their 1972 hit "Papa Was a Rollin' Stone".
In January 1964, Smokey Robinson and Miracles bandmate Bobby Rogers co-wrote and produced "The Way You Do the Things You Do" with Eddie Kendricks on lead. The single became the Temptations' first Top 20 hit that April. "The Way You Do The Things You Do" and several pre-David Ruffin singles were compiled onto the group's first album, Meet The Temptations, released in 1964. While traveling as part of Motown's Motortown Revue later that year Robinson and another fellow Miracle, Ronnie White, wrote a song for the emotive Ruffin to sing lead on, which the group recorded in the fall of 1964. Released as a single on December 24, 1964, "My Girl", became the Temptations' first number-one pop hit in March 1965, and is their signature song to this day. After the success of "My Girl", Ruffin sang lead on the next three Temptations singles: "It's Growing", "Since I Lost My Baby" and "My Baby", all of which made it to the Top 20 in 1965. The b-side to "My Baby", "Don't Look Back", featured a stirring lead from Paul Williams, and was a sleeper hit on the R&B charts and a standard for vocal groups playlists.
Norman Whitfield had requested the opportunity to write for the group. In 1966, he was given the opportunity- should Robinson's "Get Ready" fail to chart in the Top 20, the next song would be his. "Get Ready" missed the mark, and Whitfield's "Ain't Too Proud to Beg" was released. The song did well, and Whitfield was made the group's main producer. He began pushing the group away from Robinson's ballad-based production towards a harder-edged and brass-heavy soul sound reminiscent of the work of James Brown. Nearly all of the pre-1968 Whitfield-produced Temptations singles featured David Ruffin on lead vocals, including the R&B number-one/pop Top 10 hits "Beauty Is Only Skin Deep" and "(I Know) I'm Losing You". Other important singles from this period included the incredibly popular, "You're My Everything", on which Kendricks and Ruffin share lead vocals, and "All I Need", produced by Whitfield's protégé Frank Wilson. Whitfield's writing partners during this period included Roger Penzabene, Temptations road show manager and guitarist Cornelius Grant, and Edward Holland, Jr.. After Eddie Holland left Motown with the rest of the Holland-Dozier-Holland songwriting/production team in 1967, Barrett Strong (who sang Motown's very first hit, 1960's "Money (That's What I Want)") began working with Whitfield and Penzabene on Temptations material. Two of Whitfield/Strong/Penzabene's collaborations, "I Wish It Would Rain" and "I Could Never Love Another (After Loving You)", became hits in 1968. Strong became Whitfield's sole collaborator after Penzabene's suicide in December 1967.
By May, The Temptations had found a permanent replacement first tenor in twenty-year-old Baltimore native Damon Harris. Otis Williams, Edwards, Franklin, Street, and Harris continued recording and performing, and Norman Whitfield continued producing hits for them. Among these were Top 40 hits such as "Superstar (Remember How You Got Where You Are)" (1971), a message from the Temptations to Sly Stone, Diana Ross and the estranged David Ruffin and Eddie Kendricks, and "Take a Look Around" (1972). The fall of 1972 saw the release of Whitfield's magnum opus, "Papa Was a Rollin' Stone". Originally a three-minute record written and produced for the Undisputed Truth, Whitfield took the sombre tune and created a sprawling, dramatic eleven and ¾-minute version for the Temptations. An edited seven-minute version was released as a single in September 1972, hitting number-one on the pop charts and number-five on the R&B charts. In 1973, "Papa Was a Rollin' Stone" won the Temptations their second Grammy for Best R&B Performance by a Group. Whitfield and arranger/conductor Paul Riser won the award for Best R&B Instrumental Performance with the instrumental version of "Papa" on the single's b-side, and Whitfield and Barrett Strong won the songwriters' Grammy for Best R&B Song. After "Papa Was a Rollin' Stone", Whitfield stopped working with Barrett Strong, and began writing the Temptations' material on his own. The success of "Papa" led Whitfield to create more elongated, operatic pieces, including the Top 10 hit "Masterpiece" (1973) and several of the tracks on the resulting Masterpiece album. Tensions developed between Whitfield and the group, who found Whitfield arrogant and difficult to work with. The group cited his habitual tardiness, his emphasis of the instrumental tracks over the vocals on many of his productions, and the declining singles and albums sales as other sources of conflict. Otis Williams complained about Whitfield's actions and the Temptations' stagnant sales to Berry Gordy, who intervened and reassigned them to Jeffrey Bowen, co-producer of the 1967 In a Mellow Mood album. The final Norman Whitfield-produced Temptations album, 1990, was released in late 1973, and included the Top 30 single "Let Your Hair Down". Whitfield left Motown shortly afterwards, and in 1975 established Whitfield Records, taking with him the Undisputed Truth, Willie Hutch, and Rose Royce, who performed the instrumental track for "Let Your Hair Down".
By this time, the Temptations' releases were no longer performing well on the pop charts, though they sometimes made the R&B Top 20. "Love on My Mind Tonight", a single from Surface Thrills, made it to number 17. "Sail Away", produced by a returning Norman Whitfield and featuring Ron Tyson's first lead vocal, peaked at number 13. Dennis Edwards was again fired in 1984, this time for missing rehearsals, or showing up hungover. He attempted a second solo career, scoring a hit with the 1984 single "Don't Look Any Further", a duet with Siedah Garrett. His place in the Tempations was taken by Ali-Ollie Woodson, a Detroit native who had been a potential candidate to replace Edwards back in 1977. The album Back to Basics was released; it was the first album featuring Ron Tyson, and featured one track with Woodson, "Stop the World Right Here (I Wanna Get Off)". Woodson's first lead on a single was 1984's "Treat Her Like a Lady", co-written by himself and Otis Williams, and co-produced by former Earth, Wind and Fire members Al McKay and Ralph Johnson. The single became their biggest success on R&B radio in some time, reaching number-two on the R&B charts, and just missing the Pop Top 40. The group experienced similar success the following year with the single "Lady Soul", another Top 5 R&B smash. Ollie Woodson remained with the Temptations until 1987, when he was fired and replaced by an again-returning Dennis Edwards. The group recorded one album during Edwards' third tenure, Together Again, released in late 1987. The following year, Otis Williams published his autobiography, Temptations, co-written with Patricia Romanowski, chronicling the careers of the group from the Primes/Distants days to the present, and focusing on the lives of Williams and Melvin Franklin. An updated version of the book was published in 2002. Edwards was fired for the third and final time in late 1989, with Woodson re-joining the lineup. Also that year, the Temptations were inducted into the Rock and Roll Hall of Fame, honoring Edwards, Franklin, Otis Williams, David Ruffin, Eddie Kendricks (now performing as "Eddie Kendrick"), and, posthumously, Paul Williams. Most of the Temptations, present and former, showed no ill feelings towards each other, although Otis Williams reported that Kendricks would not speak to him during the ceremony. The Temptations ended their induction with Paul Williams' signature song, "Don't Look Back", dedicated to his memory. After reuniting at the induction ceremony, Edwards, Ruffin, and Kendrick made plans to tour and record as "Ruffin/Kendrick/Edwards, Former Leads of The Temptations". The tour was carried out, much to the chagrin of Otis Williams and Motown, but production on an album was terminated when Ruffin, age 50, died on June 1, 1991 in Philadelphia after a drug overdose. Kendrick was diagnosed with lung cancer but continued to perform; he died on October 5, 1992 at the age of 52, in his native Birmingham.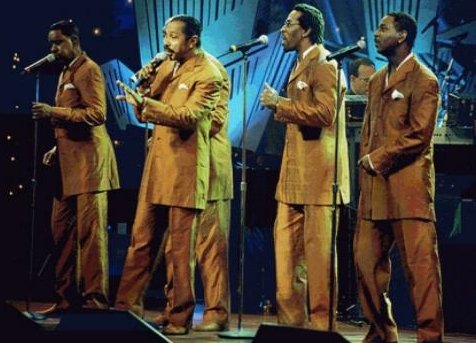 From the 1990s on, the Temptations' lineup began to change more frequently than before. Richard Street missed a performance in 1992 after undergoing emergency surgery to remove kidney stones. Otis Williams was not aware of Street's surgery, and called him, angry about Street's absence. Street felt Williams was unsympathetic, and as a result, he left the group in 1993 after twenty-two years. His replacement was St. Louis native Theo Peoples. Two years later, Melvin Franklin was forced to stop performing because of failing health. He died on February 23, 1995 at the age of 52, after suffering a brain seizure. Ray Davis, from Parliament-Funkadelic, came on as new bass singer, and the group recorded the pop standards album For Lovers Only, which contained two tracks led by Melvin Franklin. Davis left shortly after completing the album, due to a lung cancer diagnosis. The group continued as a quartet for a short time, before recruiting bass Harry McGilberry, a former member of the Futures. For Lovers Only would also be the last for lead Ali-Ollie Woodson; he was released from the group in 1996 due to health problems, having suffered two battles with throat cancer. He was replaced by his fill-in from his first health concern, new member Terry Weeks. The new Temptations lineup, consisting of Otis Williams, Ron Tyson, Theo Peoples, and newcomers Harry McGilberry and Terry Weeks, debuted at the halftime show of Super Bowl XXXII, which celebrated the fortieth anniversary of Motown. In 1998, The Temptations released Phoenix Rising, their first million-selling album in over twenty years. The album was anchored by the Theo Peoples-led single "Stay", a number-one hit on the adult contemporary charts that featured a sample from "My Girl". During the recording of Phoenix Rising, however, Theo Peoples departed, and was replaced by Barrington "Bo" Henderson. The completed album features both Henderson and Peoples (who later joined the Four Tops) on different tracks.
Temptations songs have been covered by scores of musicians, from R&B singers such as Luther Vandross ("Since I Lost My Baby"), to pop vocalists such as Bette Midler ("Just My Imagination"), to rock bands such as Rare Earth ("Get Ready"), Duran Duran ("Ball of Confusion (That's What the World Is Today") and the Rolling Stones ("Ain't Too Proud to Beg") and Mick Jagger's collaboration with reggae artist Peter Tosh on ("Don't Look Back"). In 1991, British singer Rod Stewart collaborated with the Temptations on the single "The Motown Song". The lives and careers of The Temptations were one of several inspirations for Robert Townsend's 1991 film about a 1960s Motown-esque male group, The Five Heartbeats.In 2004, Rolling Stone Magazine ranked The Temptations #67 on their list of the 100 Greatest Artists of All Time.