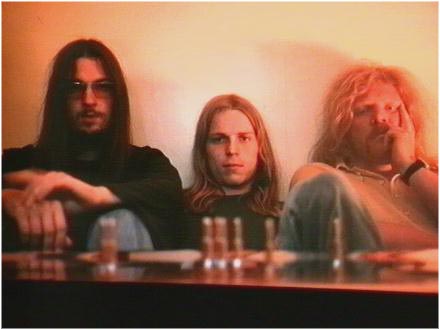 Tangerine Dream is a German electronic music group founded in 1967 by Edgar Froese. The band has undergone several personnel changes over the years, with Froese the only continuous member. Drummer and composer Klaus Schulze was a member of an early lineup, but the most stable version of the group during their influential mid-1970s period was as a keyboard trio with Froese, Christopher Franke, and Peter Baumann. Early in the 1980s, Johannes Schmoelling replaced Baumann, and this lineup, too, was stable and extremely productive. Tangerine Dream's early "Pink Years" albums had a pivotal role in the development of Krautrock. Their "Virgin Years" and later albums became a defining influence in New Age music, although the band themselves dislike the term. Although the group has released numerous studio and live recordings, a substantial number of their fans were introduced to Tangerine Dream by their film soundtracks, which numbers over sixty and includes Sorcerer, Thief, The Keep, Risky Business, Firestarter, Legend, Near Dark, and Miracle Mile.
In the late 60s and early 70s, several short-lived incarnations of Tangerine Dream were formed by Froese teaming up with various musicians from West Berlin's underground scene. A few of these collaborators included Steve Jolliffe, Klaus Schulze and Conrad Schnitzler. The most notable of Froese's collaborations ended up being his partnership with Christopher Franke. Franke joined Tangerine Dream in 1970 from the group Agitation Free to replace Schulze as the drummer, and eventually (together with Peter Baumann, whose sequencer work is often mislabelled as 'all' Franke's work) became Tangerine Dream's sequencer guru and was responsible for some of the pulsing rhythmic synthesizer lines that came to define the band's music. Franke left Tangerine Dream over creative differences with Froese nearly two decades later in 1987. Other long-term members of the group included Peter Baumann (1971-1977), who later went on to found the New Age label Private Music, to which the band was signed from 1988 to 1991; Johannes Schmoelling (1980-1985); Paul Haslinger (1986-1990); and, most recently (1990 onwards), Froese's son Jerome. A number of other members were also part of Tangerine Dream for shorter periods of time. In contrast to session musicians, they also contributed to some compositions of the band during their stay. The five most notable such members are Steve Schroyder (organist, 1971-72), Michael Hoenig (who replaced Baumann for a 1975 Australian tour and a London concert, included on Bootleg Box Set Vol. 1), Steve Jolliffe (wind instruments and vocals on Cyclone and the following tour; was also part of a short-lived 1969 line-up), Ralf Wadephul (in collaboration with Edgar Froese recorded album Blue Dawn, but it was released only in 2006; also credited for one track on Optical Race (1988) and toured with the band in support of this album), and Linda Spa (saxophonist who appeared on numerous albums and concerts between 1990 and 1996, as well as 2005 onwards). As of 2007 Tangerine Dream comprises Edgar Froese, with the collaboration of Thorsten Quaeschning, who helped in the composition of Jeanne D'Arc (album) (2005) and Madcap's Flaming Duty (2007) with Chris Hausl on vocals. For concerts and recordings they are joined mainly by Iris Camaa and Linda Spa.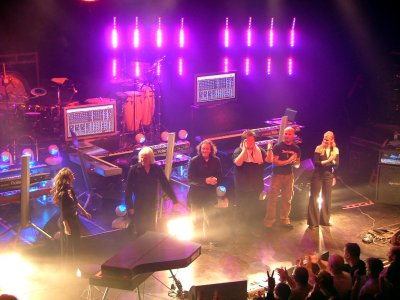 West Berlin in the mid-1960s to study art. He worked as a sculptor and studied under Salvador Dalí, among others. His first band, the R&B-styled The Ones, was gradually dismantled after releasing only one single, and Froese turned to experimentation, playing minor gigs with a variety of musicians. Most of these gigs were in the famous Zodiak Free Arts Lab, although Froese's band was also invited to play for his former teacher Dalí. Music was mixed with literature, painting, early forms of multimedia, and more. Only the most outlandish ideas attracted any attention, and Froese summed up this attitude with the phrase: "In the absurd often lies what is artistically possible". As members of the group came and went, the direction of the music continued to be inspired by the Surrealists, and the group came to be called by the surreal-sounding name of Tangerine Dream (prior to this the group had sometimes gone under the title of The Tangerines Psychedlic Light Dreams or the Tangerine Dream band). Froese was fascinated by technology and skilled in using it to create music. He built custom-made instruments and, wherever he went, collected sounds with tape recorders for use in constructing musical works later. His early work with tape loops and other repeating sounds was the obvious precursor to the emerging technology of the sequencer, which Tangerine Dream quickly adopted upon its arrival. The first Tangerine Dream album, Electronic Meditation, was a tape-collage Krautrock piece, using the technology of the time rather than the synthesized music they later became famous for, and was a collaboration between Froese, Klaus Schulze, and Conrad Schnitzler. Electronic Meditation was published by Ohr in 1970, and began the period known as the Pink Years (the Ohr logo was a pink ear). But starting with their second album, Alpha Centauri, the group has been a trio or occasionally duo of electronic instruments, commonly augmented by guitar from Froese (or, much later, other musicians as well), and occasionally also other instruments. Of these, drums from Chris Franke and organ from Steve Schroyder (on Alpha Centauri) or Peter Baumann (on subsequent releases) feature prominently in the band's music during the early 70s. They also started their particularly heavy usage of the Mellotron during this period.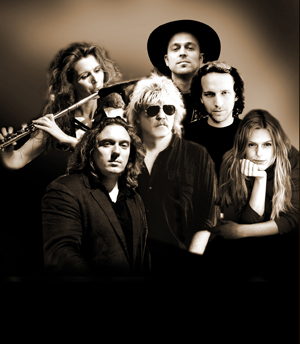 The band's 1973 album Atem was named as Album of the Year by British DJ John Peel, and this attention helped Tangerine Dream to sign to the fledgling Virgin Records in the same year. Soon afterward they released the album Phaedra, an eerie soundscape that unexpectedly reached #15 in the United Kingdom album charts and became one of Virgin's first bona-fide hits. Phaedra was the first commercial album to feature sequencers and came to define much more than just the band's own sound. The creation of the album's title track was something of a fluke; the band was experimenting in the studio with a recently-acquired Moog synthesizer, and the tape happened to be rolling at the time. They kept the results and later added flute, bass-guitar and Mellotron performances. The cantankerous Moog, like many other early synthesizers, was so sensitive to changes in temperature that its oscillators would drift badly in tuning as the equipment warmed up, and this drift can easily be heard on the final recording. This album marked the beginning of the period known as the Virgin Years. In the 1980s, along with other electronic music pioneers such as Jean Michel Jarre and Vangelis, the band were early adopters of the new digital technology which revolutionized the sound of the synthesiser. Their technical competence and extensive experience in their early years with self-made instruments and unusual means of creating sounds meant that they were able to exploit this new technology to make music quite unlike anything heard before. To the modern listener, their albums of that period may not seem so exceptional, but only because the technology they adopted at that time is now used almost universally.
The group has had recording contracts with Ohr, Virgin, Jive Electro, Private Music, and Miramar, and many of the minor soundtracks were released on Varese Saraband. In 1996, the band founded their own record label, TDI and more recently Eastgate. Subsequent albums are today generally not available in normal retail channels but are sold by mail-order. The same applies to their Miramar releases, the rights to which the band has bought back. Meanwhile, their Ohr and Jive Electro catalogs (known as the "Pink" and "Blue" Years) are currently owned of Sanctuary Records. Edgar Froese also released a number of solo recordings which are similar in style to Tangerine Dream's work. Jerome Froese released a number of singles as TDJ Rome, that are similar to his work within the Dream Mixes series; in 2006 he released his first solo album Neptunes. Jerome is presently on hiatus from Tangerine Dream to concentrate on his solo career. He has recently finished his second solo album Shiver Me Timbers which was released on October 29, 2007. To celebrate their 40th anniversary (1967-2007), Tangerine Dream announced their only UK concert at London Astoria on April 20, 2007. The band performed their studio album Madcap's Flaming Duty which was released in the UK by Voiceprint on April 2, 2007. TD also played a totally free open air concert in Eberswalde on July 1, 2007 and at the Alte Oper in Frankfurt on Main on October 7, 2007.