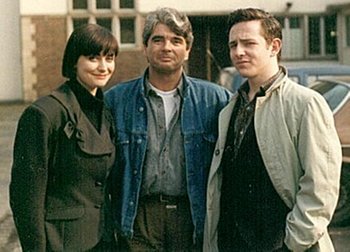 Swing Out Sister is a British "sophisti-pop" group best known worldwide for their 1986 song "Breakout". Other hits include "Twilight World", "Waiting Game" and a remake of "Am I the Same Girl?" Though their album sales in the U.S. and Europe have leveled off since the 1980s, they continue to attract a loyal fanbase. The group is also very popular in Japan.

Although Swing Out Sister is currently a duo, they began as a trio in the UK. The group was formed by Andy Connell (keyboards) and Martin Jackson (drums), and were later joined by Corinne Drewery (vocals). The name came from a 1945 movie starring Arthur Treacher, called Swing Out, Sister, and they claim they chose the name because it was the only thing the band could agree on, in that they all hated it. Both Connell and Jackson had been playing in other bands prior to forming SOS, while Drewery was actually a fashion designer and model before she became the band's lead vocalist.

In 2008 and 2009, Swing Out Sister went back on tour and appeared at the Jakarta Convention Center then toured several venues in Tokyo, Nagoya, Osaka and Fukuoka and in the Philippines.

The song "O Pesadelo Dos Autores" from the album "The Living Return" (1994) features a medley of cover versions of "Brazilian Rhyme", "Celebration Suite", "Come With Me", "My Cherie Amour", "The Smiling Hour", and "Butterfly".
In 2002, Swing Out Sister and female Japanese singer Akiko recorded a cover version of Antonio Carlos Jobim's "Waters of March".
In September 2005, Swing Out Sister's version of "Am I the Same Girl?" was used for promos of Martha Stewart's new NBC show Martha. The song was later used as the introductory theme song of the show.