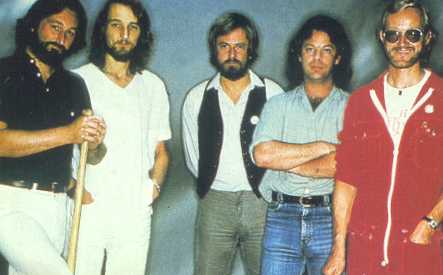 Supertramp are a British progressive rock band that had a series of top-selling albums in the 1970s and early 1980s. Their early music included ambitious concept albums, but they are best known for their later hits including "Dreamer", "Goodbye Stranger", "Give a Little Bit" and "The Logical Song". Supertramp attained superstardom in the United States, Canada, and most of Europe. However, they were not quite as popular in the UK (where most of the band members are actually from). Nonetheless, the album, "Breakfast in America", was still a big hit, reaching number #3 on the UK charts while the album had two top 10 singles.
Backed by a Dutch millionaire named Stanley August Miesegaes, vocalist, pianist and ex-drummer Rick Davies (born Richard Davies, July 22, 1944 in Swindon, Wiltshire, England) used newspaper advertising in Melody Maker to recruit an early version of the band in August 1969, an effort which recruited vocalist/guitarist and keyboardist Roger Hodgson (born Charles Roger Pomfret Hodgson, March 21, 1950 in Portsmouth, Hampshire, England). Other members of this embryonic Supertramp group included Richard Palmer (guitar, balalaika, vocals) (born Richard Jeffrey Charles Palmer-James, 11 June 1947, in Bournemouth, Dorset) and Robert Millar (percussion, harmonica) (born 2 February 1950). Initially, Roger Hodgson sang and played bass guitar (and on the side, guitar, cello and flageolet). The band was called Daddy from August 1969 to early 1970, when the band became Supertramp, a name taken from W.H. Davies' book, The Autobiography of a Super-Tramp, published in 1908.
They were one of the first groups to be signed to the UK branch of A&M Records. The first album, Supertramp, was released in July 1970 in the UK only (it was first issued in the US in 1977). Although it was very interesting musically, it proved a commercial disappointment. However, they were able to earn a slot on the bill of the 1970 Isle of Wight Festival, which was headlined by the likes of The Doors, The Who, and Jimi Hendrix. Richard Palmer abruptly quit six months after the album's release. Robert Millar suffered a nervous breakdown shortly afterwards. For the next album, Indelibly Stamped, released in June 1971 (in both UK and US), Frank Farrell (bass) (born in 1947 in Birmingham, West Midlands), Kevin Currie (percussion) (born in Liverpool, Merseyside) and Dave Winthrop (flute and saxophone) (born 27 November 1948, in New Jersey, USA) replaced Millar and Palmer, while Roger Hodgson switched to guitar. "Indelibly Stamped" featured rocking Beatlesque tunes, with vocal harmonies similar to Simon and Garfunkel songs (Davies now serving as the band's second lead singer, alongside Hodgson, who suggested that the band should have two lead vocalists), more commercial approach and eye-catching cover artwork. Supertramp had established themselves as a "cult" band. Sales, however, failed to improve and sold even less than their debut. In early 1972, Miesegaes withdrew his support from the band after paying off debts. All members gradually quit except Hodgson and Davies. (These two first albums were later reissued during Supertramp's popularity peak and have maintained a certain appeal with die-hard fans. The first album is melancholic and quieter and the songs are spread out more than they would be later on. Roger Hodgson once called it his favourite Supertramp album. The second album is their most traditionally rock album, and certainly their heaviest sound.)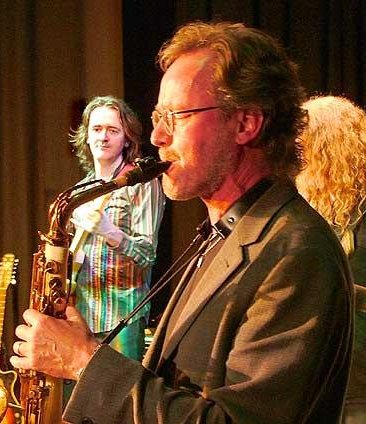 In late 1972, after being persuaded to carry on, Davies and Hodgson went on an extensive search for replacements, which first brought aboard Dougie Thomson (born Douglas Campbell Thomson, March 24, 1951 in Rutherglen, Glasgow, Strathclyde, Scotland) (bass), who played with the band almost a year before auditions resumed to complete the line-up. In 1973, auditions restarted and brought in Bob Siebenberg (born Robert Layne Siebenberg, October 31, 1949 in Glendale, California, USA, drums, and credited for several years as Bob C. Benberg, the story goes, to stay under the radar of British Immigration), and John Helliwell (born John Anthony Helliwell, February 15, 1945 in Todmorden, Yorkshire, England) (saxophone, other woodwinds, occasional keyboards, backing vocals), joining original members Davies and Hodgson and the newly brought in Thomson, completing the line-up that would create the group's defining albums. Hodgson would also begin playing keyboards in the band in addition to guitar, usually acoustic and electric pianos on his own compositions. His inspirational piano method would become a staple in the band, as heard on "Dreamer," "The Logical Song," "Take the Long Way Home," and many others, and would earn him the nickname "hammerheads" in the band. The classic Supertramp keyboard is a Wurlitzer electric piano (model 200A) with its unmistakable bright sound and biting distortion when played hard. Crime of the Century, released in September 1974, began the group's run of critical and commercial successes, hitting number four in Britain, supported by the iconic countercultural opening track "School", and the top-10 single "Dreamer". Its B-side "Bloody Well Right" hit the US Top 40 in May 1975. Siebenberg would later opine that he thought the band hit its artistic peak on this, their third album, though their greatest commercial success would come later. The band continued with Crisis? What Crisis? released in November 1975. It achieved good though not overwhelming commercial success. The following album, Even in the Quietest Moments, released in April 1977 spawned their hit single Give a Little Bit, and the FM radio staple Fool's Overture. During this period, the band eventually relocated to the United States and moved steadily from the progressive styles of their early albums towards a more song-oriented pop sound. This trend reached its zenith on their most popular album, Breakfast in America in March 1979, which reached Number 3 in the UK and Number 1 in the United States and spawned four successful singles, "The Logical Song", "Take the Long Way Home", "Goodbye Stranger" and "Breakfast in America". The album has since sold over 18 million copies worldwide. The run of successes was capped with 1980s Paris, a 2-LP live album, in which the band stated its goal of improving on the studio versions of their songs. Interestingly, instead of focusing on songs from the hugely successful Breakfast in America, it included nearly every song from Crime of the Century, another testament to the importance of that album in the group's development.
Though Supertramp's songs later in the band's career were credited to both Roger Hodgson and Rick Davies, each wrote separately. Hodgson and Davies' differing singing and songwriting styles provided these albums with an interesting counterpoint, contrasting Davies' determined blues-rockers and songs of broken relationships ("Another Man's Woman", "From Now On", "Goodbye Stranger") with Hodgson's wistful introspection ("Dreamer", "School", "Fool's Overture", "The Logical Song"), but Hodgson felt constrained by the arrangement and left the band after the tour for their next album, ...Famous Last Words... (1982) which contained the Top 20 hit "It's Raining Again" and the Top 40 hit "My Kind of Lady". There was much speculation behind the reasons why Roger Hodgson left Supertramp. In an interview in the 90's Hodgson stated that family was the main reason he left the band. He also went on to say that his wife at the time and Rick Davies' wife did not get along very well and it became a big conflict for the group. He said there were never any real personal or professional problems between him and Rick Davies as some people thought.

Having left the band in 1983, Hodgson began a solo career, his biggest hit "Had A Dream (Sleeping With the Enemy)" coming from his first solo album In the Eye of the Storm, in 1984. The Davies-led Supertramp soldiered on, releasing Brother Where You Bound the same year. This included a Top 30 hit single, "Cannonball", along with the title track, a 16-minute exposition on Cold War themes highlighted by guitar solos from Pink Floyd's David Gilmour. The album reached #21 on the US charts. 1987's Free as a Bird included more straightforward Davies rockers, including "I'm Beggin' You", which reached Number 1 on the US dance charts, a curious accomplishment for an "art rock" band.
After 1987's tour, Thomson left the band due to a disagreement with Davies about the use of Hodgson-penned songs during live performances. One of the conditions of allowing Davies to continue with the name Supertramp was that no Hodgson songs would be performed. Hodgson was dismayed to attend a concert and find that the band was performing his songs such as "Take the Long Way Home" and "The Logical Song." These songs were usually sung by Crowded House's Mark Hart (Hodgson's replacement on stage), and the Scottish bass player was against this move. When Supertramp reunited in 1997, Thomson declined an invitation to return and eventually quit playing for good.
In 1993, Davies approached Hodgson in a failed attempt to bring him back into the band. In interviews published on his and other fan forums, Hodgson later claimed he had been more than willing to rejoin Supertramp, but only if Davies' wife, Susan, abstained from interfering in band affairs (an issue before Hodgson left). Sue Davies was in Artist Relations at A&M (welcoming the band and helping them settle) when Supertramp moved to Los Angeles in the mid-70s and, as the romance between Davies and her blossomed, she quit A&M and started managing the band. Having to deal with two Davieses instead of one increased Hodgson's frustrations and prompted his departure. Davies declined to exclude his wife from his professional affairs, and Hodgson never heard from him again.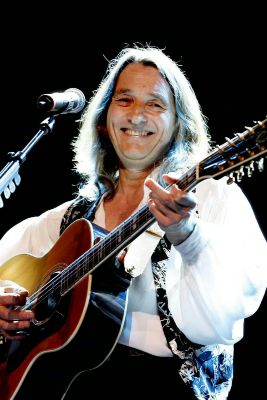 In 1997, Davies re-formed Supertramp with former members Helliwell, Siebenberg and Hart, plus several new musicians. The result was Some Things Never Change, a polished effort which echoed the earlier Supertramp sound. Ironically, that same year saw the release of Rites of Passage, Roger Hodgson's first solo album since Hai Hai in 1987. Rites of Passage was a live album featuring both new works from Roger as well as three Supertramp songs ("Take the Long Way Home", "The Logical Song" and "Give a Little Bit").

In an ironic reversal two years later, the re-formed Supertramp released a live album, It Was The Best Of Times while Roger released a studio album. Open The Door. Another live album, Is Everybody Listening?, a recording of Supertramp at the Royal Albert Hall in 1975, was released in 2001. Early 2002 saw the release of another album by Davies and Supertramp, Slow Motion (sold direct in North America). Another attempt to reunite the band, including Hodgson, fell apart in 2005. Rick Davies has since left California and resides in Long Island (East Hampton).
In the past few years, Roger Hodgson has donated Give A Little Bit to raise funds for Tsunami Relief efforts and other causes. It's been used by the Red Cross, United Way, the Make a Wish Foundation, and The Oprah Winfrey show requested the use of Give A Little Bit as part of their "Gift of Giving Back Program". In the UK it was used during the "ITV Telethon".
2006 was a busy year for Roger Hodgson. Throughout the summer of 2006, he has been touring Europe (France, Belgium, Portugal, Denmark, Switzerland, and Germany), as well as the US (St. Paul, MN) and Canada (fall 2006) and his DVD "Take The Long Way Home – Live In Montreal" has gone Platinum and to the #1 spot in Canada, in its first 7 weeks of release. He has also been asked to mentor Canadian Idol's Top 7 contestants, alongside Dennis DeYoung (a founding member of the group Styx). In March 2006, Roger Hodgson was honoured for his song Give A Little Bit at the 23rd Annual ASCAP awards in Los Angeles. The American Society of Composers, Authors and Publishers gave the award in acknowledgment of the song being one of the 50 most played songs of 2005. Roger Hodgson appeared solo at the Diana Memorial Concert at Wembley Stadium on 1st July 2007. The band were one of the late Princess of Wales' favourites.
In 2008, Supertramp's music will be featured in the film movie adaptation of Irvine Welsh's best-selling novel Ecstasy: Three Tales of Chemical Romance.
In 2001, the German band Scooter used parts of The Logical Song in their single Ramp! (The Logical Song), and in 2007 Gym Class Heroes used parts of Breakfast in America in their single Cupid's Chokehold. In 2005 The Goo Goo Dolls covered Give a Little Bit on their Let Love In album.