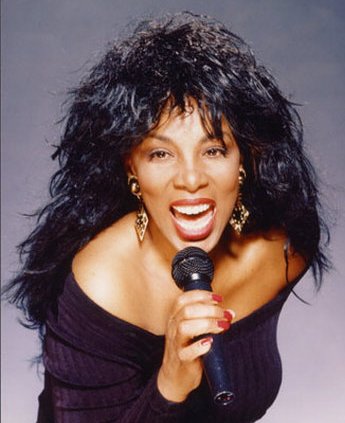 Born LaDonna Gaines in Boston, she grew up in a strict religious household. She first realized her talent singing before her church's congregation. In the late 1960's, she sang in the rock group, Black Crow, then moved to Germany as a star performer in a number of musicals such as HAIR and PORGY & BESS.
Working as a demo & session vocalist in the early 1970's, she met Giorgio Moroder and Pete Bellotte. The three recorded her first album, LADY OF THE NIGHT, which became a substantial hit in Germany and much of Europe, producing a couple of major hit singles, including THE HOSTAGE. Her next LP, LOVE TO LOVE YOU broke ground in the US and other major global markets. For the next 10 years, Donna Summer would dominate the charts, night clubs, and airwaves.
Labeled as disco, her sexual lyrics and vocal style was actually rooted in rock and roll. The new electronic sound and her playful vocals created the freshest sound in popular music. Her single I FEEL LOVE is one of the most influential songs of the 20th Century, creating new possibilities in music that would lead to New Wave and Techno music. The importance of I FEEL LOVE has been acknowledged by many, including Deborah Harry, John Lennon, and Bruce Springsteen. After I FEEL LOVE dominated the international music scene in late 1977, Donna Summer was unstoppable. She was a constant in the Top Five singles market, with LOVE"S UNKIND, LAST DANCE, MACARTHUR's PARK, and HEAVEN KNOWS.
Her 1977 album, ONCE UPON A TIME, is arguably her greatest accomplishment. Combining ambient, electronic, dance, rock, pop, gospel, and r&B, the LP explores with emotional range the hardships of fullfulling life's dreams. Side 2 of the LP extends musical ground broken with I FEEL LOVE, and establishes the direction of pop music with hypnotic ambient grooves swirling around Summer's sublime vocals. WORKING THE MIDNIGHT SHIFT, NOW I NEED YOU, and QUEEN FOR A DAY sound as fresh as if recorded in 2005, a major accomplishment when considering the changes of popular music since 1977!
Undoubtedly her popular peak, 1979 was the year of Donna Summer. Her breakthrough album, BAD GIRLS, (her first recorded outside Germany) dominated the music scene, suprising many with her hard rock vocals on HOT STUFF. Tracks such as LOVE WILL ALWAYS FIND YOU, WALK AWAY, CAN'T GET TO SLEEP TONIGHT, THERE WILL ALWAYS BE A YOU, and SUNSET PEOPLE are as perfect and inventive as mainstream pop music can be. The range of artist that BAD GIRLS influenced is substantial. From Michael Jackson to Madonna, the Eurythmics to New Order, the Pet Shop Boys to Nine Inch Nails, Donna Summer's work in the 1970's demolished the confinements of rock and pop music The creative potential for electronic music is still being explored today, yet in 1979, only Donna Summer's music suggested its range.
She opened the 1980's with her 3rd #1 LP in a row, a greatest hits package that blended all her hits into one non-stop dance floor experience. During this period of her life, Ms. Summer began to retreat from stardom, seeking to lessen the madness super stardom injected in her life. Even so, she scored a number of major hits in the 1980's, including ON THE RADIO, THE WANDERER, STATE OF INDEPENCE, SHE WORKS HARD FOR THE MONEY, LOVE IS IN CONTROL, AND THIS TIME I KNOW IT'S FOR REAL. But generally, Ms. Summer had restructered her life to focus on her family and writing country music, including a number #1 hit for Dolly Parton.
Donna Summer continues to fill concert halls and dominate the Billboard Dance charts, only rivaled by Madonna and Janet Jackson. She has been recording in preparation for a new album, a possible Broadway Play and autobiography. According to Ms. Summer, who has recorded hundreds of unreleased tracks, she is considering opening her entire catalog, unreleased tracks included, for puplic download on her own website.