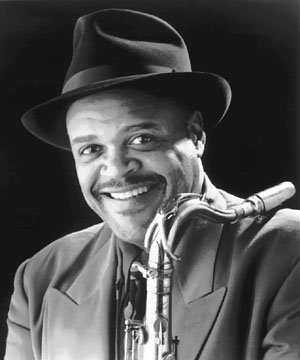 Tenor saxophonist John Stubblefield ranks among the most powerful and innovative soloists of the post-Coltrane generation, collaborating with a who's who of modern jazz and avant-garde giants including Charles Mingus, whose big band Stubblefield later spearheaded. Born February 4, 1945, in Little Rock, AK, Stubblefield first studied the piano, but moved to saxophone as a teen. The product of a strictly segregated African-American neighborhood, he absorbed the music of the itinerant blues and gospel performers moving in and out of his environment, and their influence on the deeply emotional soloing that defines his best work proved profound. (Another huge inspiration was saxophonist Don Byas, the Basie alum who also called Little Rock home.)
At 17 Stubblefield joined local R&B combo York Wilburn & the Thrillers, with whom he made his recording debut. He then spent a year on the road with soul legend Solomon Burke before studying music at A&ME College in Pine Bluff, AK, concurrently leading his own modern jazz quintet. After graduation, Stubblefield settled in Chicago in 1967, soon signing on with the pioneering avant-garde jazz collective the Association for the Advancement of Creative Musicians (AACM); he studied under Muhal Richard Abrams and appeared on Joseph Jarman's landmark 1968 set As If It Were the Seasons.
Stubblefield remained with the AACM until 1970, when he relocated to New York City and joined its East Coast counterpart, the Collective Black Artists. He played with Mary Lou Williams, Tito Puente, and the Thad Jones/Mel Lewis Orchestra. Upon joining Mingus in 1972, Stubblefield added alto saxophone, oboe, flute, and bass clarinet to his arsenal, but after five months with the group he and Mingus suffered a falling-out that effectively left Stubblefield blacklisted throughout much of the New York jazz community. He finally landed with Nat Adderley's quintet, resisting Mingus' overtures for him to return to the fold, and in 1973 briefly played behind Miles Davis as well. During the mid-'70s, Stubblefield also served as an instructor with the famed Jazzmobile program.
He cut his first disc as a leader, Midnight Sun, in 1976 - subsequent efforts for the Enja and Soul Note labels include 1984's Confessin', 1987's Countin' on the Blues, and 1990's Sophisticatedfunk. Following Mingus' death, his widow Sue assembled the Mingus Big Band in 1992 to carry on her husband's legacy. Stubblefield served as its lead tenor and occasional conductor, and was one of the few bandmembers who had actually played alongside Mingus in his prime. Even after he was diagnosed with cancer in the spring of 2004, Stubblefield remained the Mingus Big Band's guiding force, conducting much of its I Am Three album from his wheelchair. He died July 4, 2005.