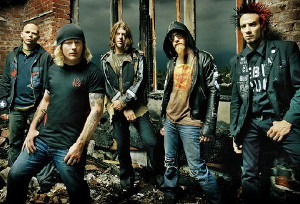 Stone Sour is an American rock band formed in Des Moines, Iowa in 1992, performing for five years, before disbanding in 1997. They reunited in 2000 and since 2006, the group has consisted of Corey Taylor (lead vocals), Josh Rand (guitar) and Roy Mayorga (drums). Longtime members Joel Ekman (drums, percussion), Shawn Economaki (bass guitar), and Jim Root (guitar) left the group in 2006, 2011, and 2014 respectively. To date, Stone Sour have released five studio albums Stone Sour (2002); Come What(ever) May (2006); Audio Secrecy (2010); House of Gold & Bones – Part 1 (2012) and House of Gold & Bones – Part 2 (2013). They also released a digital live album, Live in Moscow, in 2007. Stone Sour earned the group two Grammy Award nominations, both for Best Metal Performance, for the singles "Get Inside", in 2003, and "Inhale", in 2004. The album went on to become RIAA certified Gold. In 2006, following the release of Come What(ever) May, the group received another Grammy Award nomination for Best Metal Performance for the single "30/30-150". Stone Sour has sold over four million albums worldwide.

Throughout the band's career, their musical style has been described as alternative metal, heavy metal, and hard rock. Their music features double bass drum patterns, heavy guitar riffs, dual guitar harmonies and vocally combining screaming with singing. Guitarist Josh Rand stated in an interview, that he tries to bring metal aspect and elements of thrash metal in their music. He also stated that his writing style is different than compared to Slipknot's writing style.

Stone Sour's House of Gold & Bones - Part 1 and House of Gold & Bones – Part 2 are mainly known as their concept album. When asked about this, Josh Rand stated: "I don't think so, because I still think it's us. We never said that we would be Genesis or Dream Theater or Yes or any of those types of bands. We're not a prog band. We said we're going to adopt the ideas of those stories and stuff, but it's still going to be a Stone Sour record, where you can still pull those individual songs. We just wanted to offer something more - in a world where it's all about singles, we just wanted to do something different. We've always evolved from record to record, if you listen to our entire catalog." Both parts of their albums have been critically acclaimed.