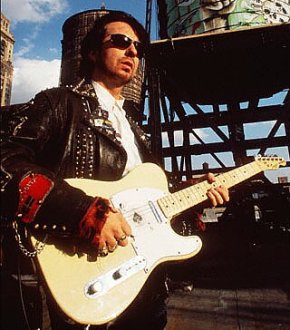 Best known as one-half of the groundbreaking synth-pop duo Eurythmics, Dave A. Stewart was also a highly successful producer and, on occasion, a solo artist. David A. Stewart (as he also sometimes was credited on record) was born September 9, 1952 in Sunderland, England; the product of an upper-middle class family, he enjoyed his first taste of musical success during the early 1970s while fronting the band Longdancer. The group seemed poised for big things after signing to Elton John's Rocket Records, but they quickly fizzled out; Stewart soon resurfaced in a variety of short-lived groups, and eventually began writing songs with friend Peet Coombes. In the late 1970s he was also introduced to an aspiring singer named Annie Lennox; the two became lovers, and with Coombes they formed a group dubbed the Tourists, issuing a trio of new wave-influenced LPs between 1979 and 1980.

When the Tourists came to a halt in late 1980, Stewart and Lennox's romance ended as well; they agreed to continue their musical partnership, however, rechristening themselves Eurythmics. Their soulful synth-pop sound was created solely via Stewart's technological mastery, capped off by Lennox's powerful vocals; after the title track of 1983's Sweet Dreams (Are Made of This) became an international smash, Eurythmics rose to become one of the 1980s' most successful and innovative artists, scoring such major hits as 1984's "Here Comes the Rain Again," 1985's "Would I Lie to You?" and 1986's "Missionary Man." In 1985, Stewart also scored his first outside success as a producer, working on Aretha Franklin's comeback album Who's Zoomin' Who; that same year, he also helmed Tom Petty and the Heartbreakers' hit Southern Accents. In the years to follow, he went on to produce music for Mick Jagger, Bob Dylan and the Neville Brothers.

By the end of the 1980s, Eurythmics' popularity was on the decline, and after 1989's We Too Are One failed to recapture the magic of their earlier work, they essentially disbanded, with only a hits compilation and a live LP to follow. Stewart, who in 1987 had married Bananarama/Shakespear's Sister vocalist Siobhan Fahey, initially turned to soundtrack work, scoring Lily Was Here in 1989; a year later, he put together a new band, the Spiritual Cowboys, with ex-Pretenders drummer Martin Chambers. Sporting a more atmospheric, guitar-driven sound than his previous work, the Spiritual Cowboys issued two albums, a 1990 self-titled effort and 1991's Honest, neither of which caught on with audiences. Stewart then spent the next several years in relative silence, accepting a few production jobs but otherwise staying out of the limelight. In 1995, he finally issued his proper solo debut, Greetings From the Gutter.
Jason Ankeny - All Music Guide
Official Homepage: www.davestewart.com