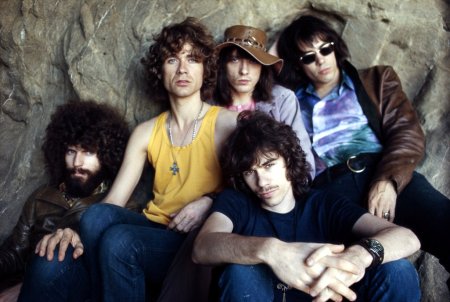 Steppenwolf is a rock band that helped establish heavy metal music in the late 1960s along with bands like Blue Cheer and Iron Butterfly. The band was formed in 1967 in Los Angeles by vocalist John Kay, guitarist Michael Monarch, bassist Rushton Moreve, keyboardist Goldy McJohn and drummer Jerry Edmonton after the dissolution of its predecessor, The Sparrows. The band has sold more than 25 million units worldwide, releasing 8 gold albums and 13 Hot 100 singles, including three top-10 hits in "Born to Be Wild", '"Magic Carpet Ride", and "Rock Me". Steppenwolf enjoyed worldwide success from 1968 to 1974, but clashing personalities led to the end of the core lineup. Today, frontman John Kay is the only original member left, having served as lead singer for almost all of the 40 years since 1967. Kay has stated that there will be no more Steppenwolf tours, but according to band manager Charlie Wolf, he has left open the possibility of doing "a half dozen shows in '09".
Steppenwolf had its roots in a Toronto blues-influenced rock band called The Sparrows, which was established in 1964 by brothers Dennis , Jerry Edmonton and Nick St. Nicholas (German born, like Kay). Kay joined The Sparrows in September 1965 to sing and play guitar after the original singer, Jack London, left the group. Shortly thereafter, Goldy McJohn, who had once played in The Mynah Birds with Neil Young and Rick James, was brought in to replace departed keyboardist Art Ayre. The band shortened its name to The Sparrow in May 1966. The band had some success in Toronto, and then Stanton J. Freeman became their Manager and took them to New York where he booked them into The Barge in Westhampton for a month and arranged a record deal with Columbia Records. The Album was not released until Steppenwolf became popular. Freeman then took them to San Francisco for the "Summer of Love". Dennis Edmonton and Nick St. Nicholas quit at this point to pursue other musical ventures. 17-year-old Michael Monarch and Rushton Moreve replaced them for a short time in The Sparrows before the band changed its name to Steppenwolf, at the suggestion of Dunhill Records producer Gabriel Mekler, who facilitated the band's signing with his employer.
Steppenwolf rocketed to world-wide fame after their third single, "Born to Be Wild", and their cover of Hoyt Axton's "The Pusher" were prominently used in the 1969 cult film Easy Rider (both titles originally had been released on the band's debut album). In the movie, "The Pusher" accompanies a drug deal, and Peter Fonda stuffing dollar bills into his Stars & Stripes-clad fuel tank, while "Born to Be Wild" is then seen in the opening credits, with Fonda and Hopper riding their Harley choppers through the American West. The song, which is closely associated with motorcycles ever since, introduced to rock lyrics the signature term "heavy metal" (in fact, not about a kind of music, but about a motorcycle: "I like smoke and lightning, heavy metal thunder, racin' with the wind..."). The song had already reached number 2 on the charts by the summer of 1968. It had been written by Jerry Edmonton's elder brother(and former Sparrow guitarist), Dennis, who had begun using the pen name Mars Bonfire. This was followed by several more hits, including "Magic Carpet Ride" (which reached #3) from Steppenwolf The Second and "Rock Me" (which reached #10) from At Your Birthday Party. Many fans consider their double album Steppenwolf Live (an extended single album in the UK) the best of Steppenwolf's releases, though John Kay expressed a personal dislike for the album in his autobiography, Magic Carpet Ride. Monster, which criticized US policy of the Nixon-era, and Steppenwolf 7 were the band's most political albums,which included the song Snowblind Friend a song about the era and attitudes of drug problems. They are still fondly remembered by fans as two of the best rock & roll snapshots of the attitudes of the late 1960s and early 1970s. There were several changes in the group's personell after the first few years. Moreve was fired from the group in 1969 for missing gigs after he became afraid to return to LA, convinced that it was going to be leveled by an earthquake and fall into the sea. Rob Black filled in for Moreve until Nick St. Nicholas, Kay's old German buddy and former Sparrow member, came aboard. Monarch quit after disagreements with Kay that same year and was replaced by Larry Byrom . St. Nicholas' tenure with the group proved to be brief and he himself was let go in 1970 after incurring Kay's wrath by showing up onstage in a bunny suit and playing his bass loudly and out of tune. The above tales were related by Kay in his 1994 autobiography Magic Carpet Ride (co-written with Canadian author John Einarson ) . George Biondo was then recruited and guitarist Kent Henry replaced Byrom in 1971. The band broke up in 1972 following the release of another political concept album, For Ladies Only, and Kay went on to a successful though inconsistent solo career, scoring a minor solo hit in 1972 with "I'm Movin' On" from his album Forgotten Songs and Unsung Heroes. Kay toured Europe as The John Kay Band in 1972 and Steppenwolf was on the bill too with Kay fronting both groups. His rapport with Steppenwolf and the audiences' enthusiastic responses convinced him that maybe Steppenwolf had disbanded prematurely.
Steppenwolf reformed in 1974 with its core linup of Kay, Edmonton, and McJohn, along with longtime bassist Biondo and newcomer Bobby Cochran, Eddie Cochran's nephew. The band signed with Mums Records in retaliation for what Kay perceived as a lack of support by Dunhill Records for his solo album. Their first album apart from Dunhill was Slow Flux which included their last Top-40 hit, "Straight Shootin' Woman". Following the tour in support of the album's release, McJohn was dismissed for what Kay described as a decline in his quality in play, as well as erratic behavior. McJohn was replaced by Andy Chapin on Hour of the Wolf in 1975, though McJohn appeared in artwork for the single to Caroline (Are You Ready) and claims that his keyboard work can be heard on many of the album's tracks. After the album peaked at #155, the band attempted to break up, but the label, now having been absorbed by Epic Records, insisted Steppenwolf record one more album to satisfy their contractual obligations. The ensuing album, Skullduggery (1976), featuring Wayne Cook on keyboards, was released without a tour to support it, and Steppenwolf disbanded a second time.
From 1977 until 1980 there were a variety of Steppenwolfs put out on the road by a disreputable concert promoter named Steve Green. Another promoter, David Pesnell, reportedly acted as manager for an incarnation featuring former members Nick St. Nicholas, Goldy McJohn and Kent Henry, but without Kay himself. A new studio album, produced by Phil Spector, was attempted in 1978 but abandoned due to Pesnell and Spector's hateful relationship with each other. The relationship ended with a well documented fist fight between the two at the Whiskey-A-Go-Go in which Pesnell sent Spector to the hospital where he stayed for three nights. Assault charges were dropped against Pesnell after it was determined by the Los Angeles Police Department that Spector had instigated the fight. Another album, The Night Of The Wolf, was said to have been recorded and produced by Pesnell in 1979 featuring such songs as "Night of the Wolf" and "I Don't Want To Lose You" but never released. A concert tour in the U.S., Canada and Europe was promoted by Pesnell with the opening acts including Iron Butterfly. The St. Nicholas/McJohn grouping eventually disbanded due to exhaustion and heavy drug use by Nick St. Nicholas, Goldy McJohn, drummer Frankie Banali. St. Nicholas formed yet another version and went back out on the road. McJohn also eventually headed back out himself with another lineup that sometimes included Kent Henry. Frankie Banali later went on to join Quiet Riot. After hearing of the bogus Steppenwolfs, John Kay was furious since an original agreement among the bandmembers in the early 70s stated that anyone leaving forfeited any rights on the group's name, while the last original members standing when the group disbanded(Kay and Jerry Edmonton, as it turned out)would have exclusive claims on the name hereafter. At their lawyers' advice, Kay & Edmonton agreed to license the name to the others. This licensing agreement stated that Goldy & Nick would have to give up their Steppenwolf record royalties forever in order to go forward. They both(perhaps unknowingly or not totally appreciating what they were giving up) agreed. Eventually, the agreement was terminated after promised fees were not paid to Kay & Edmonton. John Kay then took to the road in 1980 with a new lineup as John Kay & Steppenwolf to drive the fake groups off the road and out of business once and for all.