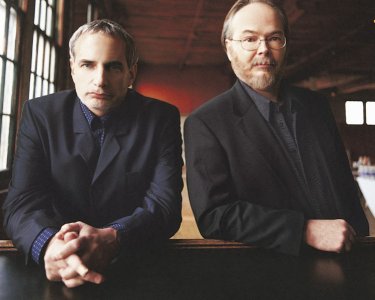 Steely Dan is a Grammy-Award winning American Jazz Fusion/Rock band centered on core members Walter Becker and Donald Fagen. The band's peak of popularity was in the 1970s, when it released six albums that blended elements of jazz, rock, funk, R&B, and pop. Their music is characterized by complex jazz-influenced structures and harmonies, literate and sometimes obscure or ambiguous lyrics filled with dark sarcasm, and their adroit musicianship and studio perfectionism. The group toured from 1972 to 1974, but in 1975 became a purely studio-based act. They disbanded in 1981, but have since reunited. They had two reunion tours in the summers of 1993 and 1994 and new studio releases in 2000, Two Against Nature, and 2003, Everything Must Go, with accompanying tours. They have sold more than 30 million albums worldwide.
Donald Fagen and Walter Becker met at Bard College in Annandale-on-Hudson, New York in 1967 and began playing in local groups (one of these, The Bad Rock Group, included future comedy star Chevy Chase on drums). After Fagen graduated in 1969, the two moved to Brooklyn and tried to peddle their tunes in the Brill Building in midtown Manhattan. Kenny Vance, a member of the pop group Jay and the Americans, who had a production office in the building, took an interest in their material that led to work on the soundtrack of the low-budget Richard Pryor film You've Got to Walk It Like You Talk It or You'll Lose That Beat (1971) and jobs with the band's rhythm section. A series of demos made (supposedly) between 1968 and 1971 while under contract to Vance have been available on unofficial CDs and on various Steely Dan fan sites for some time. This collection features approximately twenty-five tracks, and are unique for two reasons. First, the stripped down production and decidedly "lo-fi" nature of these tracks (many songs are just Fagen and his piano) is completely contrary to known Steely Dan works. Second, although some of these songs (Caves of Altamira, Brooklyn, Barrytown, and a few others) eventually were recorded on a mass-produced album, the majority were never released formally. Although they had a few notable successes—Barbra Streisand recorded their song "I Mean To Shine" on her 1971 "Barbra Joan Streisand" album—they made little significant headway until one of Vance's cronies, Gary Katz, moved to Los Angeles to become a staff producer for ABC Records. He hired Becker and Fagen as staff songwriters and they flew to Los Angeles. Katz would produce all their 1970s albums with a collaboration with engineer Roger Nichols. After realizing their songs were too complex for other ABC artists, at Katz's suggestion they formed their own band with guitarists Denny Dias and Jeff "Skunk" Baxter, drummer Jim Hodder and singer David Palmer, and Katz signed the band to ABC as recording artists. Being fans of Beat Generation literature, Fagen and Becker named the band for a dildo in the William Burroughs novel Naked Lunch. The addition of Palmer as a second lead vocalist was due to a combination of Fagen's resistance to singing in front of an audience and the label's feeling that his voice was not "commercial" enough. Fagen lacked confidence in his voice and was known to have suffered from occasional bouts of stage fright. In 1972, ABC sent out promotional copies of Steely Dan's first single, "Dallas" backed with "Sail the Waterway." It is unclear if "stock" copies were ever released to the general public, and if they were, the single sold so poorly that promotional copies are more abundant today (whereas the reverse is true for most releases). Neither song has ever been included on a compilation or album of any kind, or re-released in any form, with few exceptions: a 12" European EP titled "Plus Fours" - this 1978 EP features "Dallas," "Sail the Waterway," "Do It Again," and "Haitian Divorce." "The Probe Family Sampler" - released by Music for Pleasure in the UK - included "Dallas."
In 2000, they released their first studio album in twenty years, Two Against Nature. It was not only a return to form but proved to be one of the surprise successes of the year, and in February 2001, it earned them four Grammy Awards. They won in the categories for Best Engineered Album - Non-Classical, Best Pop Vocal Album, Best Pop Performance by Duo or Group with Vocal ("Cousin Dupree"), and Album of the Year. Their win for Album of the Year came as a shock as they defeated Eminem and his highly controversial album The Marshall Mathers LP. In March 2001, Steely Dan was inducted into the Rock and Roll Hall of Fame. In the summer of 2000, they took to the road for another US tour followed by an international tour later that year. A DVD was also released under the same title, which is essentially a live-in-the-studio concert performance of popular tunes from throughout Steely Dan's career.
The band's Heavy Rollers Tour began May 5, 2007, at the Beale Street Music Festival in Memphis, TN. The tour included North America, Europe, Japan, Australia, and New Zealand, making it both the largest and most exhaustive Steely Dan tour ever. The tour took its name from lyrics in the song "Gaucho" ("We've got heavy rollers, I think you should know") from the album of the same name. In early March 2008, Steely Dan announced on their website that they will be playing the Montreal Jazz Festival in July. Since that time, a number of further live performances have been announced on their website.