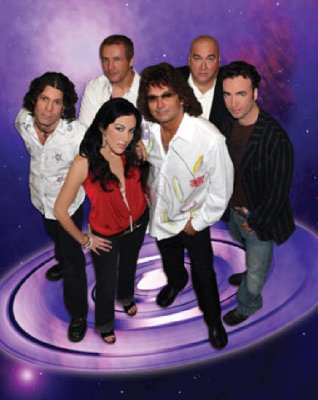 Starship was an American rock band popular during the mid to late 1980s. Although a continuation of Jefferson Starship, its change in musical direction, loss of key Jefferson Starship personnel, and name change sparked a new identity.
In 1984, Paul Kantner, the last remaining founding member of Jefferson Airplane, left Jefferson Starship, and then took legal action over the Jefferson Starship name against his former bandmates. Kantner settled out of court and signed an agreement that neither party would use the names "Jefferson" or "Airplane" unless all members of Jefferson Airplane, Inc. agreed to it (Bill Thompson, Paul Kantner, Grace Slick, Jorma Kaukonen, Jack Casady). The band briefly changed its name to "Starship Jefferson" while legal proceedings occurred, but ultimately the name was reduced to simply "Starship". Freiberg left after the lawsuit, but before the next album was recorded. The next album, Knee Deep In The Hoopla was released in 1985 and scored two #1 hits. The first was "We Built This City", written by Bernie Taupin, Martin Page, Dennis Lambert, and Peter Wolf; the second was "Sara". No previous incarnation of the band had ever had a #1 hit. The album itself reached #7, went platinum, and spawned two more singles: "Tomorrow Doesn't Matter Tonight" (#26), and "Before I Go" (#68). In 1987, "Nothing's Gonna Stop Us Now" was featured in the film Mannequin and hit #1, although only Slick and Thomas (plus Craig Chaquico's guitar solo) appeared on it. At that time, the song made Slick the oldest female vocalist to sing on a number-one Billboard Hot 100 hit, at the age of 47. She held this record until Cher broke it at the age of 52, in 1999 with "Believe".) The following year, the band's song "Wild Again" (which reached #73 on the Billboard singles chart) was used in the movie Cocktail. By the time No Protection was released, bassist, keyboardist Pete Sears had left the band due to the commercial direction the music had taken. Sears went on to play keyboards with former "Jefferson Airplane" members, Jorma Kaukonen and Jack Casady in "Hot Tuna" for ten years. Starship's "No Protection" was not released until well after "Nothing's Gonna Stop Us Now" (its most popular single) had peaked on the charts, but still went gold; in addition to "Nothing's Gonna Stop Us Now" (#1), it featured the singles "It's Not Over ('Til It's Over)" (#9), and "Beat Patrol" (#46). The last song on the album, "Set The Night To Music", would later become a huge hit when re-recorded as a duet between Roberta Flack and Maxi Priest. Grace Slick left Starship in 1988, announcing that she was retiring from music. Slick, now in her late forties, was becoming more self-conscious about her age. As Kantner, Sears and Freiberg had left the band, all the new and remaining members were more than a decade younger than her. To this day Grace maintains that old(er) people "don't belong on a rock and roll stage." With Slick's departure, Thomas became sole lead singer. The revamped lineup released Love Among the Cannibals in 1989. On September 24 that year, Donny Baldwin seriously injured Mickey Thomas in a fight. Thomas had to have reconstructive facial surgery and Baldwin was fired from the band. A tour in support of Cannibals was canceled, and manager Bill Thompson told RCA that the band was done making records.
The band dissolved in 1990; the following year RCA assembled a greatest hits album, Greatest Hits (Ten Years and Change 1979-1991), which featured two new tracks that featured only Thomas from the band's previous lineup. Thomas revived Starship in 1992 as "Starship featuring Mickey Thomas" with different personnel and has toured steadily ever since. The same year, Kantner also revived the Starship name, as Jefferson Starship - The Next Generation; as of 2008, both Donny Baldwin and David Freiberg are members.