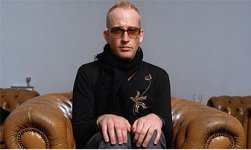 Johan Renck (born October 5, 1966) is a Swedish musician (under the stage name Stakka Bo), music video director, and now feature film director. He has directed music videos for a number of artists including Kylie Minogue's "Love at First Sight", Madonna's "Hung Up" and "Nothing Really Matters", Robbie Williams's "Tripping" and "She's Madonna", The Libertines' "What Became of the Likely Lads", New Order's "Crystal" and Beyoncé's "Me, Myself and I".
Stakka Bo scored a hit in 1993/1994 with the song "Here We Go". This song has been featured on an episode of Beavis and Butt-Head with Beavis stating he thinks "Ace of Base sucks." The song also featured in the videogame UEFA Euro 2004 and the film Alien Autopsy.
Renck recently completed his first feature film entitled Downloading Nancy, which was premiered at 2008 Sundance Film Festival on January 21, 2008 in Park City, Utah.