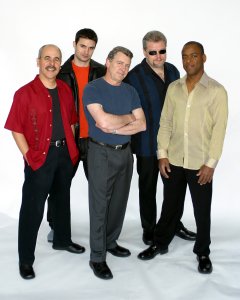 Spyro Gyra (IPA: /ˌspaɪroʊˈdʒaɪrə/) is an American jazz fusion/ smooth jazz band that was originally formed in the mid-1970s in Buffalo, New York, USA. With over 25 albums released and 10 million copies sold, they are among the most prolific as well as commercially successful groups of the scene. Among their most successful hit singles are "Shaker Song" and "Morning Dance", which received significant play on popular music radio stations, and are still frequently heard nearly 30 years later on jazz and easy listening stations. Their music, which has been influential in the development of smooth jazz, combines jazz with elements of R&B, funk and pop music. Although generally considered to be more "jazz" than "smooth", Spyro Gyra's music has been criticized for being light-weight and for emphasizing melody over improvisation. They have nevertheless been praised as skilled instrumentalists and for their live performances, which average nearly 100 per year. With the exception of alto saxophonist, songwriter and founding bandleader Jay Beckenstein and keyboardist Tom Schuman, the personnel has changed somewhat over time as well as between the studio and the live stage.
As the popularity of the group increased, the band played more places around town, becoming a regular at the Tralfamadore Cafe in its original location, in a basement under a non-descript storefront on Main Street. That led to more opening slots for national acts and performances in nearby cities, Rochester and Cleveland. There were two main guitar players who appeared as part of the band around this time, Alfred "Fast Freddy" Rapillo (who would later go on to play for Rick James) and Rick Strauss. Tom Walsh had moved to California and the drum chair was alternately taken by Tom Duffy, Ted Reinhardt and others. Tom Schuman, who had been sitting in with the band since almost the beginning, when he was only sixteen, became a fixture in 1977 and the group had two keyboard players for a brief period until Jeremy Wall left the performing band in 1978. The first eponymous album, self released in late 1977, reflected these personnel as well as some guests like Dave Samuels and Rubens Bassini, who would be part of Spyro Gyra recordings for years to come. That album attracted the attention of locally based Amherst Records, who then re-released the first album with new artwork. This debut album would go on to become one of Billboard's Top 40 Jazz Albums of 1978. Bronx-born Gerardo Velez, who started his career with Jimi Hendrix at Woodstock and would go on to play with many other artists and most recently as a member of Chic, became a regular around this time. He would gain fame with the early fans as Spyro Gyra's "dancing percussionist". The follow-up recording, Morning Dance, financed by Amherst, made it possible to record part of the album in New York City and include more notable guests like John Tropea, Will Lee, Steve Jordan, Michael Brecker, Randy Brecker and Suzanne Ciani. In the course of recording Morning Dance Eli Konikoff replaced Ted Reinhardt on drums and Freddy Rapillo returned to the group to replace Rick Strauss. Late in 1978, prior to the release of the album, Rochester guitarist Chet Catallo replaced Freddy Rapillo in the band. The musical chairs of the revolving band membership, borne out of the jam scene beginnings of the band along with the appearance of guest musicians, set the template for the next few albums. The performing band became a standardized unit while the early recordings remained more of a collaboration of Jay Beckenstein, co-producer Richard Calandra and Jeremy Wall accompanied by some of the biggest names in the NYC jazz world.
The 1990's provided the band with new challenges and a stable line-up for most of the decade. Guitarist Julio Fernandez rejoined the band for their 1991 Collection CD, a Best Of... which also featured two new songs. These two new songs on Collection marked the debut of drummer Joel Rosenblatt who had previously played with artists ranging from Michel Camilo to Pure Prairie League. The next CD, 1992's Three Wishes marked the debut of bassist Scott Ambush and completed what was to become the most long lived version of the band's core lineup in its history. Three Wishes was notable for its stripped down, more acoustic approach to the majority of the songs. The next CD, Dreams Beyond Control, was another about-face in the production approach which featured a large cast of supporting players and singers. Alex Ligertwood, of the Santana band, provided lead vocals, a "first" on a Spyro Gyra album. Also featured on this CD were the Tower Of Power horns, Howard Levy of Bela Fleck and the Flecktones, Brazilian percussionist Cyro Baptista, former member and now Allman Brothers band member Marc Quiñones and the NYC based No Sweat Horns. Despite being as well received as it was, this effort was swimming against the tide of the fashion made popular by the juggernaut that was Smooth Jazz radio in the 90's. The group made some effort to bridge that gap with their next release Love and other obsessions. This release featured two more traditional Smooth Jazz type vocals with guests Deniece Williams, Barrington Henderson, Billy Cliff and a host of other backing vocalists and musicians (which now included Dave Samuels who left the band to pursue his own Caribbean Jazz Project). The vocal tunes were an odd fit with the band's identity and this release marked the group's last flirtation with traditional R&B vocals. The instrumental "Ariana" from this album, did go on to become a #1 song at Smooth Jazz radio. The band's next release, Heart Of The Night, marked a conscious effort to produce a "themed" album of songs signifying the "moods of the night" from romantic to jumpin' at the club. The group's last studio album for GRP, 1997's 20/20 was named for its distinction of being the band's twentieth release in twenty years. This release was notable for its jazz version of James Taylor's "Sweet Baby James" and for the Spyro Gyra debut of guest trumpeter Chris Botti. The band's last CD for GRP was 1998's live album, Road Scholars, the title being a sly nod to the band's history of twenty plus years of thousands of shows. This album was not as big a seller as the group's studio releases, but it began a critical reappraisal of the group's place in jazz history spurred by extended versions of familiar tunes, including the ten minute plus piano trio version of the group's first hit, "Shaker Song." The Nineties closed out with "Got The Magic," a single release on Windham Hill Jazz, a new effort of the venerable new age label to expand their identity into a Smooth Jazz realm. This album featured another #1 song at Smooth Jazz radio, "Silk and Satin," and a jazzy vocal by Basia Trzetrzelewska written by Jeff Beal and his wife Joan. Jeff had made his Spyro Gyra debut as a trumpeter and songwriter on 1990's "Fast Forward" and has been very busy with soundtrack work, including the HBO blockbuster Rome (TV series).