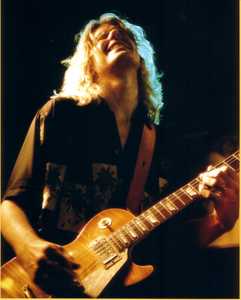 Tony Spinner (b. 9 June 1963) has been touring with Toto since 1999, having been selected by David Paich as a backup guitarist and backing vocalist. He is noted to be given the lead vocals of the song "Stop Loving You", originally performed by former Toto member Joseph Williams.When Tony is not touring with Toto he plays in The Tony Spinner Band.
Tony was born in Cape Girardeau, MO on June 9, 1963. His family wasn't musical as far as playing instruments, but they listened to music a lot especially Marty Robbins, Elvis Presley, Tom Jones and a wide variety of others. Tony always got excited when a tv show would have a musical guest. He loved to watch shows like Sonny and Cher, Dean Martin and Glen Campbell.
Tony always liked music as far back as he can remember: "I started off liking '50's rock-n-roll celebrities such as Little Richard and Chuck Berry who I still like today and I also remember liking songs that told stories like "Bad, Bad Leroy Brown" by Jim Groce and "Uneasy Rider" by the Charlie Daniels Band." At the age of 8 he took guitar and piano lessons for a short time but he really wanted to play the saxophone, because it always was the lead solo instrument in most of the '50's music that he listened to at the time. At age 14 Tony really got serious with guitar after watching the movie "Woodstock" and seeing Alvin Lee with 10 Years After and Jimi Hendrix. Tony tried out for a jazz band but it only lasted a day and a half on guitar: "On the second day of rehearsal the band leader figured out that I couldn't read music and sent me on my way. He said I couldn't play in the jazz band without learning to read music. I still can't read and I still don't play jazz!" During his highschool period Tony and his buddies always had a band. They changed the name of the band almost every week, because they couldn't agree on a name! They played hard rock like Van Halen, Ted Nugent and Queen. The musician that influenced him most was Chuck Berry: "His music still gets me excited when I listen to it. He really wrote some great lyrics. Jimi Hendrix was very influential because he was so expressive with his music. Stevie Ray Vaughan got me out of hard rock and back into the blues and boogie that was my first love and of course Rory Gallagher was a big influence, because he taught me to play from the heart and not to think too much with your head. Don't worry about trying to impress people with fancy guitar licks...but play from your heart!"
Tony started getting serious about music in junior high school. His friend Kevin Rellegert bought a bass guitar from a Sears catalog and he and Tony would work up songs together. Eventually they found a drummer and started a band. The first gig was at a talent show at the Jackson, Mo. Fair. They lost to tap dancers! "The judges were old and were holding their ears the whole time we were playing, but the audience seemed to like us." The music Tony likes to play most is boogie and blues because it feels very natural to him. He liked it from the start and it makes him feel good! The music he never gets tired of listening to are albums from the original Allman Brothers Band with Duane and Barry. He collects their bootlegs as well as bootlegs of Jimi Hendrix, Rory Gallagher, Robin Trower and he spends most of his spare time listening to them. Lately he is also listening a lot to Norah Jones and Doyle Bramhall II. He likes bands that improvise live with their music. That's interesting to him!
One of the first gigs with his band was at a place called "The Hideaway" in Illinois: "It was always hard to find a gig when I first started playing music. I remember driving across the Mississippi River from my home town of Cape Girardeau, Missouri to Illinois and convincing a club owner to give my band a chance. Well this guy did and that's pretty much where we started. It taught me that persistance is the key to getting anywhere in life!" The first time he met Kim Edens was the night he moved to Arkansas from Missouri more than 20 years ago. He moved to join a band and the guitar player took him to see Kim's band play. He knew right away that Kim was a great drummer. Tony met Sonny Hunt when he recorded at his studio with a band he was in and he bumped into Mark Fender off and on in different night clubs; they played the same circuit. It was early 2001 that The Tony Spinner Band started playing together. Such is the respect he has with the musician fraternity in the U.S. that Tony has joined the grammy award winning Toto band and has performed on all their shows since 1999, singing background vocals (high harmonies) plus electric and acoustic guitar. He now sings lead vocals with TOTO on their big hit "I can't stop Loving You". He appears on the Toto CD "Livefields" and on the Toto "Live in Amsterdam" DVD released in September 2003.
Tony Spinner has three records of his own released on the Blues Bureau International Label. The first record, "Saturn Blues" was recorded in 1993, "My '64" in 1995, and "Crosstown Sessions" in 1996. He was also chosen to record on the label's tribute albums to Stevie Ray Vaughan and Albert King, "Hat's Off to Stevie Ray," and "Fit for A. King." His most recent work includes a remake of "Up From the Skies" on the "Voodoo Crossing, a tribute to Jimi Hendrix" CD released in November 2003. Since 1998, he has also performed on two records and toured with Paul Gilbert, formerly of Mr. Big, playing electric and acoustic guitar and singing background vocals. Prior to 1998, Tony toured as guitarist and background vocalist for the Pat Travers Band. Tony likes playing early 60's strats and his personal favorite is a 1960 Fiesta Red Strat named Vern. He owns the '64 Chevy SS on the cover of "My 64" and it is one of his most prized possessions and one of his favorite hobbies. Tony is currently writing and recording his forthcoming CD titled "Chicks and Guitars" which is tentatively scheduled for a late 2004 release. When Tony is not touring with TOTO he plays in the United States and The Netherlands with this own group The Tony Spinner Band.